SOP's ATRIUM Cardiology Collaborative Launches New Mobile App
Application available to download for Android and iOS offers guidance to health care professionals in selecting and dosing anticoagulant therapy for patients.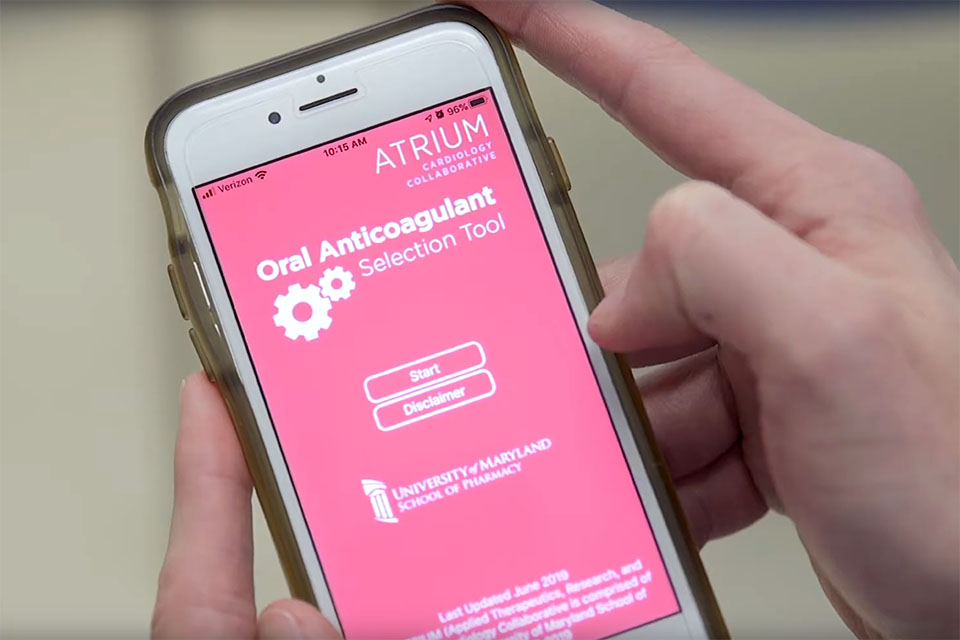 By Malissa Carroll
February 26, 2020
The University of Maryland School of Pharmacy's Applied Therapeutics, Research, and Instruction at the University of Maryland (ATRIUM) Cardiology Collaborative has launched a new mobile application (app) that helps guide health care professionals in selecting and dosing the most appropriate oral anticoagulant medication for patients. Available to download at no cost for Android and iOS devices, the ATRIUM Anticoagulation Tool offers personalized dosing recommendations for a new class of anticoagulants known as direct-acting oral anticoagulants (DOACs), as well as traditional anticoagulants such as warfarin.
"Several new anticoagulants have come on the market in recent years, and each of these agents has different dosing recommendations based on the condition it will be used to treat and other variables unique to the individual patient," says Kristin Watson, PharmD, BCCP, associate professor in the Department of Pharmacy Practice and Science (PPS) and member of the ATRIUM Cardiology Collaborative. "It is a complicated process, and failure to use the correct dose can result in harm to the patient. Our application guides clinicians in selecting the right dose based on a patient's unique medical history and condition, which translates into helping us achieve the best outcomes for those patients."
A Starting Point for Health Care Decision Making
Anticoagulants – commonly known as "blood thinners" – help treat existing blood clots as well as prevent new clots from forming. These medications are used in the treatment of conditions such as atrial fibrillation, peripheral artery disease, and deep vein thrombosis. Traditional anticoagulants, such as warfarin and heparin, are effective in treating these conditions, but require regular monitoring to help prevent bleeding. Introduced in 2011, DOACs have been shown to be just as effective as traditional anticoagulants in treating and preventing blood clots, require less monitoring, and begin working faster than the older medications.
The ATRIUM Anticoagulation Tool includes a menu of diseases that these medications are often used to treat. After selecting the condition for which the medication will be used, health care professionals enter information about the patient, including his/her age and kidney function. Based on the information entered by the clinician, the app provides options and dosing recommendations for the anticoagulants that may work best for the patient. It can provide information and dosing recommendations for both traditional anticoagulants and newer DOAC medications.
"Our goal is to give health care professionals a tool that can help guide them in their decision-making process," says Watson. "This app is a resource that provides clinicians with a starting point from which they can work to determine which agent might be the most appropriate and its suggested dosing. Ultimately, it is up to the clinician to make the decision about what medication is best for their patient."
"We believe that this app will be immensely useful in facilitating quick decision making by physicians, pharmacists, and other health care professionals," adds Vijay Ivaturi, PhD, assistant professor in PPS and pharmacometrician in the Center for Translational Medicine (CTM) at the School of Pharmacy, who collaborated with the ATRIUM Cardiology Collaborative to develop the app. "In the future, we plan to integrate the app into a broader clinical decision support system that will allow clinicians to make dosing recommendations 'on the fly' for patients who need it most."
Developing Tools to Help Health Care Professionals Care for Patients
Established in 2015, the ATRIUM Cardiology Collaborative focuses on the pharmaceutical care of patients with cardiovascular diseases. Its members strive to be recognized as leading experts in cardiovascular pharmacotherapy through advanced-level clinical practice, interprofessional education, and significant contributions to science. The ATRIUM Anticoagulation Tool represents the group's first endeavor into app development.
"This is our first foray into the app space, and we hope it's not our last," says Brent Reed, PharmD, BCCP, FCCP, associate professor in PPS and member of the ATRIUM Cardiology Collaborative. "Our goal is to empower health care professionals who care for patients with cardiovascular disease, and we are always looking for ways to do that better. We are looking forward to feedback from clinicians and others who use our app to not only improve the tool itself, but also to identify other gaps in knowledge that we could tackle in the future."
Related News Stories