SOP Welcome Day Previews Life as a Student Pharmacist for Incoming Students
Event offers opportunity for new students to network with faculty, staff, and current students, while learning about campus life.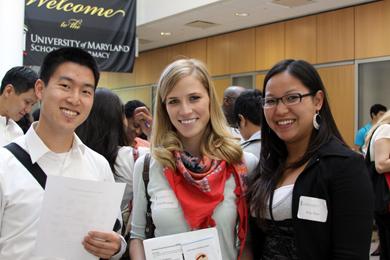 By Malissa Carroll
June 20, 2013
On June 14, members of the University of Maryland School of Pharmacy's Class of 2017 gathered in Pharmacy Hall for New Student Welcome Day. This event, which offered incoming students a chance to meet one another and learn more about the School, is hosted by the School each year to introduce new students to the curriculum and set expectations for their first year as student pharmacists.
"New Student Welcome Day offers an opportunity for us to engage with the incoming class and answer students' questions about what to expect during their first few months of pharmacy school," says Cherokee Layson-Wolf, PharmD, CGP, BCACP, FAPhA, associate dean for student affairs and associate professor in the Department of Pharmacy Practice and Science. "Because networking is such an important aspect of the pharmacy profession, this day also provides new students with the chance to interact with each other and other members of the School community, including faculty and current students."
Following a brief introduction to the School of Pharmacy, students were introduced to their class' faculty advisor, Ebere Onukwugha, MS, PhD, assistant professor in the Department of Pharmaceutical Health Services Research.
"Being admitted to the School of Pharmacy is quite a privilege, and each of you should feel very proud and accomplished to be sitting here today," said Onukwugha. "The next four years will keep you busy and present you with many opportunities to develop those professional, clinical, research, and communication skills that will serve you well during your career as a pharmacist. I am here to serve as a resource and guide to you, and to answer any questions that you might have along the way."
Students also received important information about financial aid and the curriculum. During lunch, students had an opportunity to attend a student organization fair, where representatives from more than a dozen student groups at the School of Pharmacy were available to answer questions about their organizations and help new students get involved in the School community.
Brandon Keith, a third-year student pharmacist and president of the Student Government Association, spoke to students about the importance of getting involved in the School community, highlighting events such as professional roundtables and Legislative Day as opportunities for students to further their engagement in the profession. "Networking is very important in the pharmacy profession, not only outside of the School, but within the School as well," he said.
Students were also sized for their white coats during this time, which they will don for the first time during the School's annual White Coat Ceremony in September to mark their entry into the profession as student pharmacists.
In the afternoon, students from the School's satellite campus at the Universities at Shady Grove returned to their campus to meet with faculty and learn more about student life at Shady Grove, while students on the Baltimore campus attended presentations that highlighted life in Baltimore.
"The best part of the day was having the opportunity to meet and interact with my future colleagues," said Songe Baek, an incoming member of the School's Class of 2017. "With all of the information that we have been given today, I'm more excited than ever to start my first semester at the School of Pharmacy."
Related News Stories