School of Pharmacy Hosts Welcome Day for Incoming Students
Annual event provides members of the Class of 2020 with a sneak peek at life as a student pharmacist.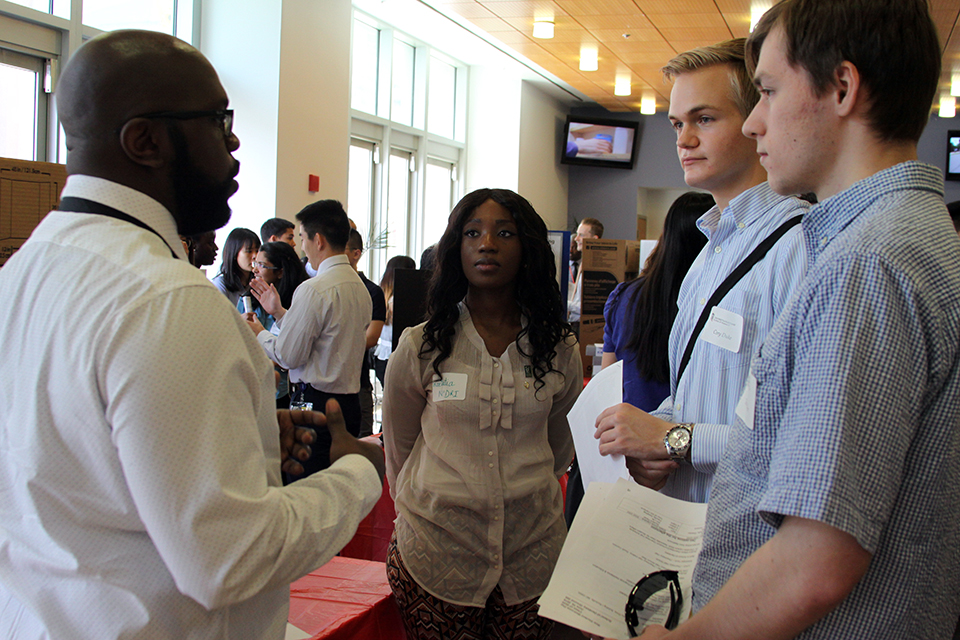 By Malissa Carroll
June 23, 2016
The University of Maryland School of Pharmacy hosted its annual New Student Welcome Day for members of the Class of 2020 on June 10. Designed to introduce new students to the curriculum and set expectations for their first year as student pharmacists, this event offered students the opportunity to meet one another for the first time, while learning more about the School.
"Today marks the first day of an intense, but incredible four-year journey for the members of your class," said Natalie D. Eddington, PhD, FCP, FAAPS, dean and professor of the School of Pharmacy, who welcomed students to the event. "The path that you have chosen will require a lot of dedication and hard work on your behalf, and I encourage you to take advantage of the world-class resources available to help you succeed in our Doctor of Pharmacy (PharmD) program. You will be taught by outstanding faculty who are nationally and internationally recognized in their areas of expertise. Get to know them, understand what it is that excites them about the profession, and learn from their experiences. I wish you all the best of luck as you begin this new phase in your lives."
Steven Fletcher, PhD, associate professor in the Department of Pharmaceutical Sciences (PSC) and class advisor for the Class of 2020, echoed Eddington's message to the students, encouraging them to speak with and seek advice from faculty during their time at the School. "We have many remarkable faculty members at the School, and their doors are always open to students. Take advantage of that. Our faculty are always happy to help," he said.
Cherokee Layson-Wolf, PharmD, BCACP, FAPhA, associate professor in the Department of Pharmacy Practice and Science (PPS) and associate dean for student affairs, provided students with a brief introduction to the School and its Office of Student Affairs. She highlighted the wide range of support services available at the School, emphasizing the important role that the Career Navigation program will play as students begin to consider the field in which they want to apply their pharmacy education.
"Some of you might think that you already know what you want to do in your careers as pharmacists," said Layson-Wolf. "However, as you start to interact with our faculty and hear from guest speakers who come to the School from academia, government, and industry, you might find that you change your mind. The goal of the Career Navigation program is to make sure that you understand and are well-versed in all of the different career options available to you."
In addition to receiving important information about financial aid and the curriculum, new students had an opportunity to attend a student organization fair. Representatives from numerous student groups at the School of Pharmacy were on-hand to answer questions about their organizations and help new students find ways to get involved with the School, as well as the local community.
"No matter what avenue of pharmacy you are interested in, there is a place for you at the School of Pharmacy," said Andrew Wherley, a second-year student pharmacist and treasurer for the School's Student Government Association (SGA). "Our student organizations encompass nearly every facet of the pharmacy profession, but they all share a common goal to uplift and improve the health of residents living in our local community. I encourage you to use today's event to see where your talents can be leveraged to make the greatest impact on this important work."
Students were also sized for their white coats during the event, which they will don for the first time during the School's annual White Coat Ceremony in September to mark their entry into the profession as student pharmacists. Later that afternoon, students from the School's satellite campus at the Universities at Shady Grove returned to their campus to meet with faculty and learn more about student life at Shady Grove, while students on the Baltimore campus attended additional presentations that highlighted life in Baltimore.
"I wanted to attend the School of Pharmacy because all of the pharmacists that I currently work with – and all of the pharmacists that you hear about across the state – are graduates of the School," said Jessica Krummel, an incoming member of the Class of 2020. "I knew that the School had a prestigious reputation, and was recently ranked as one of the top 10 schools of pharmacy in the country. After attending today's sessions, I feel more excited than ever to start my first semester."
Related News Stories