SOP Hosts Welcome Day for Incoming Students
Day-long event provides members of the Class of 2021 with a sneak peek into life as a student pharmacist.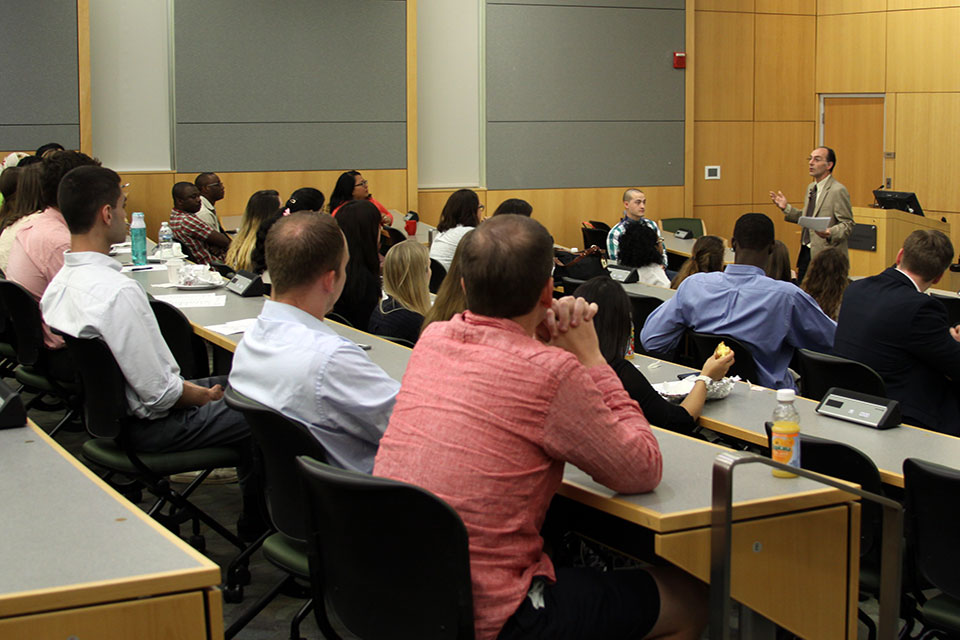 By Malissa Carroll
June 19, 2017
The University of Maryland School of Pharmacy hosted its annual New Student Welcome Day for members of its Doctor of Pharmacy (PharmD) Class of 2021 on June 9. With activities designed to introduce new students to the curriculum and set expectations for their first year as student pharmacists, this event offered students the opportunity to meet one another for the first time, while learning more about the School.
"I want to congratulate each of you for achieving entrance into one of the top ten ranked schools of pharmacy in the country," said Andrew Coop, PhD, associate dean for academic affairs and professor in the Department of Pharmaceutical Sciences (PSC) at the School. "As students at the University of Maryland School of Pharmacy, you will receive a world class, comprehensive education spanning the fields of biochemistry and medicinal chemistry to observational-based studies and direct patient care. Understand that the curriculum is rigorous and you will be challenged from the first day, but do not lose sight of the big picture – that we are training you to be our peers, to replace us, and to do better than us."
In addition to providing important information about financial aid and upcoming coursework, as well as sizing students for their white coats, which they will don for the first time during the School's annual White Coat Ceremony in September, New Student Welcome Day introduced students to a pioneering new initiative at the School – pharmapreneurism. Trademarked by the School earlier this year, pharmapreneurism describes the School's commitment to supporting and best positioning both faculty and students to achieve their career aspirations and address the nation's health care, research, policy, and societal needs.
William "Lafon" Jones, a second-year student pharmacist and representative for the School's Student Government Association (SGA), spoke about how students could begin to embrace their pharmapreneurial spirit by attending the student organization fair held during New Student Welcome Day to learn more about how to get involved with the School and local community. "There are many opportunities at the School of Pharmacy that will allow you to position yourself as a leader. However, it is important to remember that being a leader can come not only from the positions that you hold, but also simply by being yourself and taking the initiative when the opportunity presents itself," he said.
Following a fun-filled scavenger hunt across the School, students from the School's satellite campus at the Universities at Shady Grove returned to their campus to meet with faculty and learn more about student life at Shady Grove, while students on the Baltimore campus attended additional presentations that highlighted life in Baltimore.
The School of Pharmacy looks forward to welcoming back the Class of 2021 in August for New Student Orientation. To see more highlights from New Student Welcome Day, view the video below.
Related News Stories