SOP Researcher's Entrepreneurism Recognized with Phase I Innovation Grant
Bruce Yu, PhD, to lead investigation of novel, inexpensive method to detect protein aggregation in biopharmaceutical drugs.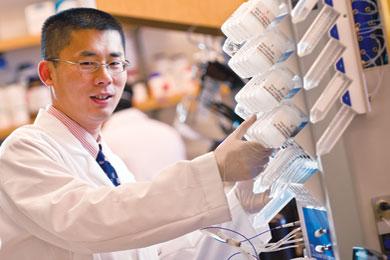 By Malissa Carroll
February 3, 2014
Bruce Yu, PhD, associate professor in the Department of Pharmaceutical Sciences (PSC) at the University of Maryland School of Pharmacy, has received a $100,000 grant from the Maryland Innovation Initiative for his pioneering work to develop a new test that uses inexpensive nuclear magnetic resonance (NMR) and magnetic resonance imaging (MRI) devices to detect protein aggregation in biopharmaceutical drugs – protein-based medications used to treat a wide range of illnesses, including autoimmune disorders, cancer, and diabetes, that are designed to structurally mimic compounds such as antibodies, hormones, and enzymes, naturally found in the human body.
This groundbreaking technology has the potential to be implemented at more than 40,000 retail pharmacies across the United States, which currently have no way to detect protein aggregation for drugs that have already been packaged.
"Research institutions like the School of Pharmacy lead the way in innovation by translating our scholarly research into marketable initiatives," says Andrew Coop, PhD, professor and chair of PSC. "The research currently underway in Dr. Yu's laboratory reinforces this commitment to entrepreneurship and the School's mission to lead pharmacy education, scientific discovery, patient care, and community engagement in the state of Maryland and beyond. We are thrilled to be part of this important work and cannot wait to see how the results transform current industry practices and impact patient care."
When the proteins that make up biopharmaceutical drugs aggregate, or clump together, the drug's safety and efficacy can be severely compromised. In some cases, protein aggregation can lead to immunogenicity in patients who consume those drugs, which causes the antibodies that naturally form in the body as part of an immune response to change how the drug reacts in the body — often making the drug less effective — or trigger a serious allergic reaction.
"All protein-based drugs have the potential to aggregate," says Yu. "Manufacturers perform a variety of tests to determine whether aggregation has occurred, but these tests require that the vial containing the drug be opened. Once the vial is open, the medication cannot be given to the patient, so no more testing is conducted once the drugs are packaged and shipped to retail pharmacies. We aim to change that with our technology."
Yu's test will use inexpensive NMR and MRI devices to detect protein aggregation through the drug's packaging. If his research proves successful, the mobility and ease with which these devices can be used offers the potential to expand testing into local retail pharmacies. This expansion would provide pharmacists with a method – apart from the expiration date printed on the packaging – to help determine if the biopharmaceutical drugs on their shelves are safe and effective for patients.
"The devices that we are using are most often found in industrial settings, where scientists use them to assess quality control," says Yu. "These instruments are much less expensive and easier to use, which gives us the potential to make this technology widely available to retail pharmacies across the country."
Yu says that he stumbled upon the idea for this new while conducting research for another project in 2011. "My lab was developing biomaterials for tissue engineering and drug delivery applications. We had the expertise to perform NMR spectroscopy on these biomaterials, and we were curious whether the NMR properties would correlate to other properties of these materials, namely their mechanical properties," he recalls.
After finding a correlation between the biomaterials' NMR properties and mechanical properties, his curiosity was piqued, as he states, "We thought, why stop there? We conducted additional tests, and those results showed another correlation between NMR properties and protein aggregation."
Yu envisions this research – currently in Phase I of development – evolving into Phase II and III grants from the Maryland Innovation Initiative. He is also actively collaborating with a number of external partners to apply this research to other applications, further facilitating the translation of this promising technology from the academic to the commercial sector.
Related News Stories