SOP's Yu Awarded $600,000 Grant to Develop New Biomanufacturing Analytical Technologies
Grant is among the initial group of awards issued by the National Institute for Innovation in Manufacturing Biopharmaceuticals (NIIMBL).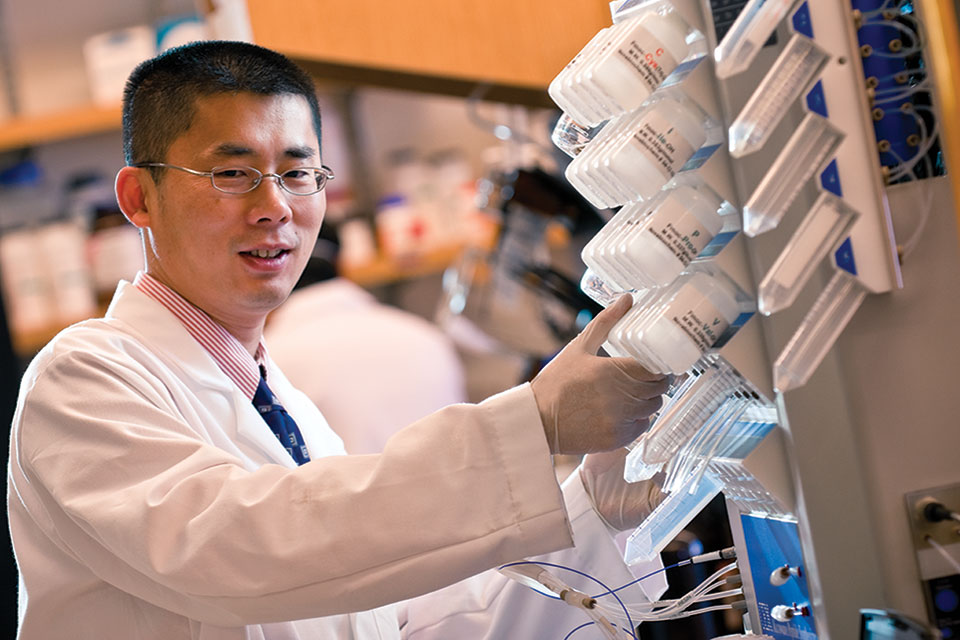 By Malissa Carroll
August 30, 2018
Bruce Yu, PhD, professor in the Department of Pharmaceutical Sciences (PSC) at the University of Maryland School of Pharmacy, has been awarded a $600,000 grant from the National Institute for Innovation in Manufacturing Biopharmaceuticals (NIIMBL) to develop new analytical technologies for use in biopharmaceuticals manufacturing. The grant is among the first group of awards to be issued by NIIMBL – a new national institute established in 2016 to advance leadership in pharmaceutical manufacturing across the United States.
"Being one of the first institutions to receive grant funding from NIIMBL truly cements our School's reputation as a leader in scientific discovery and the development of safer and more effective drugs in the state of Maryland and beyond," says Paul Shapiro, PhD, professor and chair of PSC. "Dr. Yu's work in the development of non-destructive analytical technologies for the manufacturing of biopharmaceuticals is breaking new ground in the field of drug manufacturing, and this new grant plays a key role in allowing him to continue this promising research. We are very excited about the new developments that will result from this project and how they will improve the production new drugs."
While most medications are produced using traditional chemical manufacturing processes, biopharmaceuticals – which include vaccines, certain medications for cancer and autoimmune diseases, as well as emerging drugs for cell and gene therapies – are made with living cells and can be complex to manufacture on a large scale. Biopharmaceutical manufacturers rely on a wide range of process analytical technologies (PAT) – systems that take timely measurements of critical quality and performance attributes of raw and in-process materials and processes – to help ensure the quality of their drugs.
However, Yu notes that the technologies currently available are prone to a number of limitations. "Current technologies often require manufacturers to manipulate their samples through dilution, separation, labeling, or the use of special cuvettes (tubes). There is a clear need for new technologies that allow manufacturers to quickly assess the quality of their products without the need for additional manipulation of the sample," he says.
Titled "Flow Water Proton NMR as Contact-Free Real-Time In-Line PAT for Continuous Biomanufacturing," the project that Yu's grant supports aims to leverage water proton nuclear magnetic resonance (NMR) spectroscopy, which relies on the water proton transverse relaxation rate to measure protein aggregation in a biopharmaceutical drug, to develop a PAT that can be used by biopharmaceutical manufacturers to help ensure the quality of the drugs that they manufacture without the need to manipulate the sample or remove it from the production line.
If Yu's efforts are successful, this will be the first PAT of its kind available on the market, resulting in reduced costs and improved product quality for biopharmaceutical manufacturers.
"The goal of our research is to determine whether flow water NMR can serve as an in-line PAT for the manufacturing of biopharmaceuticals," says Yu. "There really are no other technologies similar to the one that we aim to develop available at this time. In fact, all existing in-line analytical technologies require physical contact between the process stream and the sensor. The success of our research could truly transform the field."
Yu and his team plan to collaborate with researchers from ChromaTan Corporation, a biotechnology company based in Pennsylvania, to conduct their study, which began in early March and will conclude in August 2019.
---
About the University of Maryland School of Pharmacy
Established in 1841, the University of Maryland School of Pharmacy is ranked as one of the top ten schools of pharmacy in the United States. The School is a thriving center for professional and graduate education, pharmaceutical care, research, and community service. Its faculty create the future of pharmacy by pioneering new roles for pharmacists in advanced clinical practice and conducting cutting-edge research in drug discovery and development, comparative effectiveness and patient-centered outcomes, and disease management. A contemporary curriculum, innovative educational experiences, and strategic professional relationships help to inspire excellence in the School's more than 800 students, residents, and postdoctoral fellows. Together, we are critical thinkers, lifelong learners, and leaders who are sought for our expertise.
About NIIMBL
The National Institute for Innovation in Manufacturing Biopharmaceuticals (NIIMBL) is a public-private partnership with the goal of advancing innovation in biopharmaceutical manufacturing. NIIMBL is part of Manufacturing USA™, a network of manufacturing innovation institutes across the country that bring together industry, academia, and the public sector to propel early-stage research, accelerate new products to market, and train tomorrow's workforce in order to secure America's future. NIIMBL is funded through a cooperative agreement with the National Institute of Standards and Technology (NIST) in the U.S. Department of Commerce and leverages additional support from industry, academic institutions, non-profit organizations, and the states of Delaware, Maryland, North Carolina, and the Commonwealth of Massachusetts. The NIIMBL mission is to accelerate biopharmaceutical innovation, support the development of standards that enable more efficient and rapid manufacturing capabilities, and educate and train a world-leading biopharmaceutical manufacturing workforce, fundamentally advancing U.S. competitiveness in this industry.
Related News Stories