SOP Colloquium Honors Legacy of Beloved Faculty Member, Pharmacy Pioneer
Family and friends gather to remember Dr. Peter Lamy and celebrate his work to improve the quality of medication use in the elderly.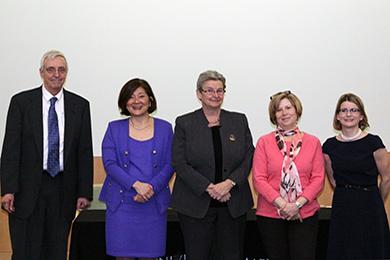 By Malissa Carroll
April 22, 2014
On April 9, the Peter Lamy Center on Drug Therapy and Aging at the University of Maryland School of Pharmacy hosted a colloquium titled "Challenges in Medication Management in Older Adults with Dementia: How Have Research and Policy Impacted Clinical Practice?" to honor the 20th anniversary of the death of Peter Lamy, MSc, PhD, former Parke-Davis Chair in Geriatric Pharmacotherapy at the School and internationally renowned pioneer in geriatric pharmacotherapy. The colloquium was attended by more than 150 participants, including faculty, staff, and students from the School, as well as many practicing pharmacists and policy makers.
"This special event not only serves as a forum for sharing the latest information about medication therapy management in the elderly, but also provides an opportunity for us to recognize the contributions of a trailblazer," said Natalie D. Eddington, PhD, FCP, FAAPS, dean and professor of the School of Pharmacy. "During his more than 30-year career at the School, Dr. Lamy developed one of the most recognized elder health programs in the country, and was widely published in the areas of geriatrics and gerontology. We are very fortunate to have had him as part of our School's community, and we are pleased to have his friends and family with us to honor his legacy."
"The School of Pharmacy has terribly missed Dr. Lamy's scholarship and leadership since his death 20 years ago," added Bruce Stuart, PhD, current Parke-Davis Chair in Geriatric Pharmacotherapy in the Department of Pharmaceutical Health Services Research (PHSR) and director of the Lamy Center, who organized the event. "Today's program on the research, policy, and clinical issues surrounding the treatment of dementia in older adults is one that highlights special challenges currently facing health care professionals across the country and truly reflects Dr. Lamy's values. He was a tireless crusader of bringing science to the practice of clinical pharmacy."
The colloquium kicked-off with a panel presentation that featured a summary of recent research on appropriate and inappropriate medication use in dementia care. It also addressed how Medicare policy has influenced dementia management, as well as how research and policy have influenced the care of persons with dementia in long-term care settings.
Afterwards, attendees gathered in the Ellen H. Yankellow Grand Atrium for a special reception, where family and friends — including Robert (Buzz) Kerr, PharmD, professor emeritus at the School and one of Lamy's former colleagues; Ilene Zuckerman, PharmD, PhD, professor emerita at the School and one of Lamy's former students; Madeline Feinberg, PharmD, adjunct faculty at the School; Walter Weglein, retired executive from Parke-Davis, the pharmaceutical company that helped fund Lamy's work and launch his elder care programs; and David Roffman, PharmD, BCPS, AQ Cardiology, professor in the Department of Pharmacy Practice and Science (PPS) — spoke about their time with the pharmacy legend.
Speaking on behalf of the Lamy family, Rudi Lamy shared what might be considered the secret of his father's success in the field of geriatric pharmacotherapy, saying, "One day I asked him, 'How did you become such an expert in geriatric medicine?'" To which his father replied, "When I started, there was nobody else."
Born in Breslau, Germany, Lamy earned his bachelor's and master's degrees, as well as his doctorate, from the Philadelphia College of Pharmacy and Science. He came to the University of Maryland in 1963, where he held dual appointments at the School of Pharmacy and the School of Medicine. In 1978, he established the Center for the Study of Pharmacy and Therapeutics for the Elderly, the first center of its kind in a pharmacy school.
"Dr. Lamy was at the forefront of medication safety," said Kerr. "He recognized a future problem in medication use among the elderly and created a program to address that problem. Even though there were only four people on our team, he really pushed us to change the world. I think we all gained from that experience. We gained the knowledge that if you want to do this successfully, you have to do it right and you have to work very hard."
Lamy also published more than 400 articles in the area of geriatrics and gerontology during his career, garnering recognition as the preeminent scholar in this field. He won pharmacy's highest award, the American Pharmacists Association's Remington Honor Medal, in 1988.
"Dr. Lamy was truly a maverick in the field," said Zuckerman. "He was instrumental in forming my passion for studying drugs in the elderly, and I still treasure his book Prescribing for the Elderly. Although some of the facts may have changed since it was first published in 1980, I believe that the principles that Dr. Lamy wrote about still hold true today. We can still learn from his work, and I know that I will continue to do so."
Though Lamy passed away in 1994, he continues to be remembered as a man of ideas who "worked beyond the walls." Video from the colloquium is available to view here.
Related News Stories