SOP Alumnus' Entrepreneurial Lecture Imparts Valuable Life Lessons
Dr. John Gregory speaks to UMB faculty, staff, and students about his experience as an entrepreneur and offers tips for business success.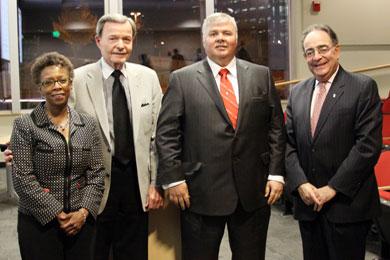 By Malissa Carroll
December 4, 2013
Pharmacist, businessman, and all-around "self-made man," John M. Gregory, BSP, DPS, returned to his alma mater at the University of Maryland School of Pharmacy on Nov. 19, to spend the afternoon with faculty, staff, and students discussing his experiences as an entrepreneur and offering valuable tips from lessons learned throughout his career.
"Dr. Gregory is one of the very first successful entrepreneurs to graduate from the University of Maryland, Baltimore (UMB)," said Jay A. Perman, MD, president of UMB. "Entrepreneurism is essential to the University's core mission to improve the human condition, and Dr. Gregory is representative of the kind of graduate that I believe our University produces. Regardless of whether they are practitioners or researchers, our graduates are professionals who are dedicated to improving health and society."
Natalie D. Eddington, PhD, FAAPS, FCP, dean and professor of the School of Pharmacy, added, "Dr. Gregory has always been somewhat of a legend – an alumnus who went on to found one the School's first spin-off companies and become a member of our Board of Visitors. He is also one of the School's most ardent supporters, giving of both his time and resources to support our mission of leading the way in pharmacy education, scientific discovery, patient care, and community engagement in the state of Maryland and beyond."
In an evening lecture titled "UPM Pharmaceuticals, Inc.: A Model of Successful Collaboration and Commercialization," Gregory recalled his journey from pharmacy school to successful businessman. He graduated from the School of Pharmacy in 1976, later moving to Bastian, Va., where he opened the only retail pharmacy in a county of 5,000 people. Though a small enterprise compared to his later endeavors, Gregory recalled that it was his experience serving as the county's only pharmacist that taught him the first basic truth about being an entrepreneur –
"People prefer to do business with people they like and trust," he said. "I knew my customers and gave them personalized service. I counseled them about how to stay healthy. I became an indispensable part of their lives. The majority of my customers believed that I cared about them not because of what I said to them, but because of what lengths I was willing to go to serve them."
In 1984, Gregory co-founded General Injectables and Vaccines, which employed an innovative business model to supply injectables and other perishable vaccine products directly to physicians' office using a toll-free (800) phone number. "It sounds simple today, but it was trend-setting back then," he assured.
Gregory offered additional words of wisdom to the audience that emphasized the importance of setting a company apart from its competitors, whether that involves offering customers a product or service they will not find elsewhere or simply remembering their birthdays.
"We programmed our computers to notify us about a physician's birthday two days beforehand," recalled Gregory. "That gave us enough time to send him a birthday cake using two-day air delivery. I received calls and letters all of the time from nurses and other office personnel telling me how special that simple gesture made the doctor feel. It was another thing that made that office want to do business with us."
To further expand his business, Gregory purchased a 500,000 square-foot pharmaceutical manufacturing facility located in Bristol, Tenn., in 1993. Renamed King Pharmaceuticals, the company was owned by Gregory, his wife, and five siblings. While some people may find it difficult to manage a business with family members, Gregory maintains that it worked well for his family. And, when asked by a student for the most important piece of advice he could offer to someone who wanted to start a business, Gregory did not hesitate to respond. "Make sure you get your spouse onboard with you," he proclaimed.
Kings Pharmaceuticals continued to grow as the company purchased more small, brand-name products from large pharmaceutical companies, which they remarketed in a unique way. In less than a decade, it evolved from a 90-employee, family-owned business to an S&P 500 Index company on the New York Stock Exchange with revenues exceeding $1 billion. It was purchased by Pfizer, Inc., in 2010.
"From first-hand knowledge, I can tell you that a solid understanding of the business side of the pharmaceutical industry is absolutely essential for graduates of this School," said Gregory. "Unless you learn how to take an idea from the lab all the way to the consumer arena, you're missing a chance to improve the health and well-being of your fellow man."
Now serving as chairman and chief executive officer of UPM Pharmaceuticals, Inc., a drug development and contract manufacturer launched by School of Pharmacy faculty to serve the pharmaceutical and biotechnology industries, Gregory says his career has come full-circle.
"In May 2013, UPM purchased the same 500,000 square-foot manufacturing facility in Bristol that Pfizer upgraded after purchasing King Pharmaceuticals," announced Gregory. "It's also the same facility that my family and I purchased when we launched King Pharmaceuticals in 1993. Talk about déjà vu. UPM now offers a full range of development, testing, and manufacturing services – a seamless transition from early stage formulation all the way to commercialization and comprehensive laboratory support."
Gregory's entrepreneurial lecture, which was held in the Discover Auditorium at the University of Maryland BioPark, was co-hosted by the School of Pharmacy and UM Ventures, an initiative launched by UMB and the University of Maryland, College Park, to channel the technical resources and research expertise of the University of Maryland and engage partners in industry and social ventures to expand the University's real world impact.
Related News Stories