School of Pharmacy Names Inaugural Gyi Endowed Professor in Pharmapreneurship
Gift from family of late Felix Gyi establishes professorship to lead the trademarked pharmapreneurship initiative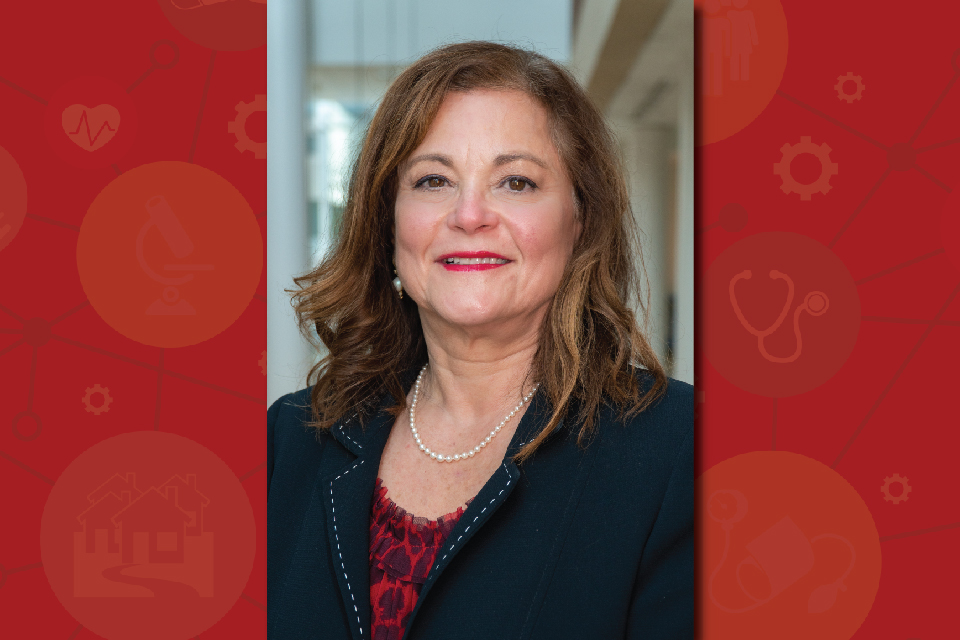 By Becky Ceraul
October 18, 2021
The University of Maryland School of Pharmacy announced on Oct. 4 the appointment of Magaly Rodriguez de Bittner, PharmD, FAPhA, FNAP as the Felix Gyi Endowed Memorial Professor in Pharmapreneurship. In this new role, Rodriguez de Bittner will lead all pharmapreneurial activities at the School, providing focus, direction, and support for the groundbreaking initiative.
"Dr. Rodriguez de Bittner has a reputation for adopting and implementing cutting edge practices in patient care, says Natalie D. Eddington, PhD, FAAPS, FCP, dean and professor of the School of Pharmacy. "She has proven herself to be a leader in pharmacy practice transformation and is a true pharmacy pioneer who has worked steadily throughout her career to advance the role of pharmacists as integral members of the health care team. She was a natural choice for this pivotal position."
In 2017, the School of Pharmacy marked its 175th anniversary by launching our trademarked Pharmapreneurship initiative, which describes the School's commitment to supporting and best positioning our world class faculty, our wonderful students, and our exceptional staff to achieve their career aspirations and therefore address our nation's health care, research, policy, and societal needs through innovation.
"Pharmapreneurship puts a name on the unprecedented opportunity and unique experiences we have in igniting creativity, confidence, and fearlessness to empower our faculty, students, and our staff to be critical thinkers and problem solvers," says Eddington.
After receiving her Bachelors in Pharmacy at the University of Puerto Rico and her Doctor of Pharmacy degree from the University of Maryland School of Pharmacy, Rodriguez de Bittner joined our faculty as an assistant professor in 1984.
During her 37 year career at the School of Pharmacy, she has held numerous leadership positions, including associate dean for academic affairs, chair of the Department of Pharmacy Practice and Science, and director of the award-winning Maryland Patients, Pharmacists, Partnerships Program.
She is currently executive director of our Center for Innovative Pharmacy Solutions and associate dean for clinical services and practice transformation.
A nationally recognized pharmapreneur who has dedicated her career to developing and implementing new health care delivery models across a variety of practice settings, Rodriguez de Bittner has received many awards in recognition of her achievements, including the American Pharmacists Association (APhA) Foundation Pinnacle Award for Individual Career Achievement, the Maryland Innovator of the Year Award, and the University of Maryland, Baltimore Founders Week Entrepreneur of the Year Award. She is a past-president of both the Maryland Pharmacists Association and the APhA Foundation and is a current member of the APhA Board of Trustees.
 "I am extremely honored to be named the inaugural Gyi Endowed Professor," stated Rodriguez de Bittner. "This is indeed a great opportunity to continue my lifelong goal of transforming pharmacy practice and research by bringing innovation, creativity, and problem solving to health care. This professorship has special meaning since I had the pleasure of knowing Felix Gyi, graduating the same year from the University of Maryland School of Pharmacy and sharing the same passion for pharmapreneurship. I am extremely thankful to my family, my School of Pharmacy colleagues, and the Department of Pharmacy Practice and Science for their support throughout my career."
"Our department is excited to see this wonderful recognition added to the list of accomplishments for Dr. Rodriguez de Bittner," said Jill Morgan, PharmD, professor and chair of the Department of Pharmacy Practice and Science. "She has been an inspiration to many pharmacists and students over the years, working tirelessly to advance the profession. I look forward to her new endeavors that will be made possible with this professorship."
Terry Gyi, BSP '83, PharmD '06, and her daughter Rebecca Gyi-Hovis, MD, established this endowed professorship in memory of their late husband and father Felix A. Khin-Maung-Gyi, BSP '83, PharmD, MBA, chair and founder of Chesapeake Research Review and one of the School of Pharmacy's nine Founding Pharmapreneurs. The Gyi family also funded the Gyi Memorial Scholarship for Pharmapreneurship in 2019 that provides one full year of tuition to a second- or third-year student pharmacist who has demonstrated an interested in pursuing entrepreneurial activities. Two students have received the scholarship since its establishment.
"I know that Felix would be honored to see his legacy live on at his alma mater and offer my sincere gratitude to Terry and Rebecca for their investment in the School and in pharmapreneurship," says Eddington.
Related News Stories