School of Pharmacy Announces New Board of Visitors Members
As seven long-time Board of Visitors members conclude their service to the School, seven new members are welcomed by the administration.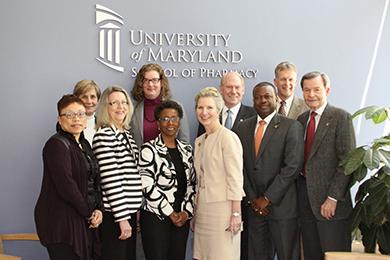 By Malissa Carroll
May 15, 2014
Natalie D. Eddington, PhD, FCP, FAAPS, dean and professor of the University of Maryland School of Pharmacy, has appointed seven new members to the School's Board of Visitors. A distinguished group of professional, business, and government leaders who are committed to the mission and goals of the School, the Board of Visitors provides advice and counsel to the dean, advocates for the School in pursuit of its aims, and assists the School with fundraising.
"The School of Pharmacy's Board of Visitors brings together successful men and women who share a commitment to the continued growth and development of the School and its mission to lead pharmacy education, scientific discovery, patient care, and community engagement in the state of Maryland and beyond," says Eddington. "These individuals provide sound, quality advice that helps us continue to provide a first-class educational experience for our students. Whether they are assisting with the development of new programs and initiatives, identifying new experiential learning opportunities, advocating for the School and the pharmacy profession, or fundraising on our behalf, we truly appreciate their continued support."
The new members of the Board include:
Thomas E. Menighan, BSPharm, MBA, FAPhA, executive vice president and chief executive officer of the American Pharmacists Association (APhA)
Stephen J. Allen, RPh, MS, FASHP, executive vice president of the American Society of Health-System Pharmacists (ASHP) Foundation
Judy Britz, PhD, executive director of the Maryland Biotechnology Center
Mary Baxter, BSP, MBA, vice president of national practice leader performance and outcomes at Cardinal Health
Joseline A. Pena-Melnyk, representative for Anne Arundel County and Prince George's County in the Maryland House of Delegates
John Spearman, president and chief operating officer at Laurel Regional Hospital
Audra Stinchcomb, PhD, founder and chief scientific officer of AllTranz, Inc.
Wenxue Wang, president and chairman of the board for China Fortune Land Development, Ltd.
Menighan received his Bachelor of Science in Pharmacy from West Virginia University School of Pharmacy in 1974, and his Master of Business Administration from Averett College in 1990. Before accepting his current position at APhA, he founded and served as president of SynTegra Solutions, Inc., a company that provides supply chain and chargeback auditing and consulting in risk management, 340B systems, anti-counterfeiting, and the technology of medication information. He has also served in numerous volunteer roles within the pharmacy profession throughout his career.
An experienced health-system pharmacy professional, Allen received his bachelor's degree in pharmacy from the University of Rhode Island, and a master's degree in hospital pharmacy from the University of Maryland School of Pharmacy, where he also completed a residency in hospital pharmacy practice. Before accepting his current position at the ASHP Foundation, he served as director of pharmacy at Children's National Medical Center, Kaiser Permanente, and Georgetown University Hospital.
Britz, a self-described "serial entrepreneur," earned her doctorate in immunology and medical microbiology from Stanford University. She completed two postdoctoral fellowships in cellular immunology at Yale University and Johns Hopkins University, and has more than 25 years of experience in the in vitro diagnostics industry. Britz has previously served as president and chief executive officer of Cylex, Inc., and general manager of Sienna Biotech, Inc., where she successfully developed and marketed a series of patented diagnostic products to hospitals in the United States, Europe, and Asia.
Baxter brings more than 25 years of diverse experience in hospital administration, health care strategy consulting, and clinical pharmacy to the School's Board of Visitors. She received her Bachelor of Science in Pharmacy from the Virginia Commonwealth University School of Pharmacy, and her Master of Business Administration from the University of Richmond. She currently works with her team at Cardinal Health to help hospital leaders achieve improved efficiencies, clinical savings, and better patient outcomes.
Pena-Melnyk is a democratic member of the Maryland House of Delegates, representing constituents in Anne Arundel County and Prince George's County. She was first elected to the House of Delegates in 2006, after serving on the College Park City Council from 2003 to 2006. Pena-Melnyk previously worked as an assistant United States attorney in Washington, DC, and as an attorney with the Defender Association of Philadelphia. She currently serves as a member of the Health and Government Operations Committee, Subcommittee on Government Operations, and Subcommittee on Public Health and Long Term Care.
Spearman's diverse background as a health care executive includes more than 20 years of experience in planning, business development, trauma systems development, domestic and international trauma system consultation, negotiation of hospital affiliation, and physician contracts. He previously served as the senior vice president for global affairs at the University of Maryland Medical Center, where he specialized in trauma and emergency care services, systems development, and community and legislative relations.
In addition founding and serving as chief scientific officer of AllTranz, Inc. — a transdermal specialty pharmaceutical company — Stinchcomb is a professor in the Department of Pharmaceutical Sciences at the School of Pharmacy. Her research focuses on transdermal prodrugs, microneedle-enhanced delivery, and translational research models for public-private partnerships. She received her doctorate in pharmaceutics from the University of Michigan and served as a professor at the University of Kentucky College of Pharmacy in Lexington, Ky, before joining the School in 2011.
Wang gained notoriety in China with the establishment of his business, China Fortune Land Development, Ltd. The product of a merger with Zhejiang King Refrigeration Industry, China Fortune Land Development, Ltd., has allowed Wang to invest in 17 industrial parks across China. Recently, the company entered a strategic cooperation framework agreement with China Aerospace and Technology to co-develop an aerospace technology industrial park in Guan, located in the Hebei province.
While the School is excited to welcome these individuals to its Board of Visitors, it would also like to express its gratitude to the following Board members who have recently concluded their service:
David A. Blake, BSP '63, PhD '66, president of DAB Consultants, Inc.
Albert Brzeczko, PhD '90, vice president of technical affairs for Acura Pharmaceuticals, Inc.
Mark A. Levi, BSP '70, PD, chief executive officer of Joppa Road Pharmacy
David G. Miller, BSP '85, RPh, executive vice president and chief executive officer of the International Academy of Compounding Pharmacists
Robert G. Pinco, JD, attorney at Buchanan Ingersoll, PC
Alex Taylor, BSP '76, division chief of clinical services at Maryland Medicaid
George C. Voxakis, PharmD '96, president of American Liberty Financial Services, Inc.
"The School of Pharmacy would like to thank these individuals for the significant contributions that they have made to the School and its students," says Eddington. "Their commitment to the School and its mission was invaluable in helping us to achieve a number of milestones in recent years, including the expansion of our Doctor of Pharmacy (PharmD) program to the Universities at Shady Grove, the opening of Pharmacy Hall Addition in 2010, and the establishment and expansion of our world class Maryland Patients, Pharmacists, Partnerships (P3) Program. Without their counsel, the School of Pharmacy would not be where it is today."
Current members who will continue their service on the Board of Visitors include:
Harold E. Chappelear, DSC '98, LLD (Hon), president and chief executive officer of UPM Pharmaceuticals, Inc.
Gina McKnight-Smith, PharmD '97, MBA, FASCP, CGP, clinical coordinator at Provider Synergies
David Rudolph, EdD, member of the Maryland House of Delegates
Jermaine Smith, RPh, director of college relations and professional development at Rite Aid Pharmacy
Ellen H. Yankellow, BSP '73, PharmD '96, president and chief executive officer of Correct Rx Pharmacy Services, Inc., who serves as chair of the Board of Visitors
Related News Stories