Pioneering Psychiatric Pharmacist Raymond Love Retires from UMSOP
Professor and alumnus retired on May 31.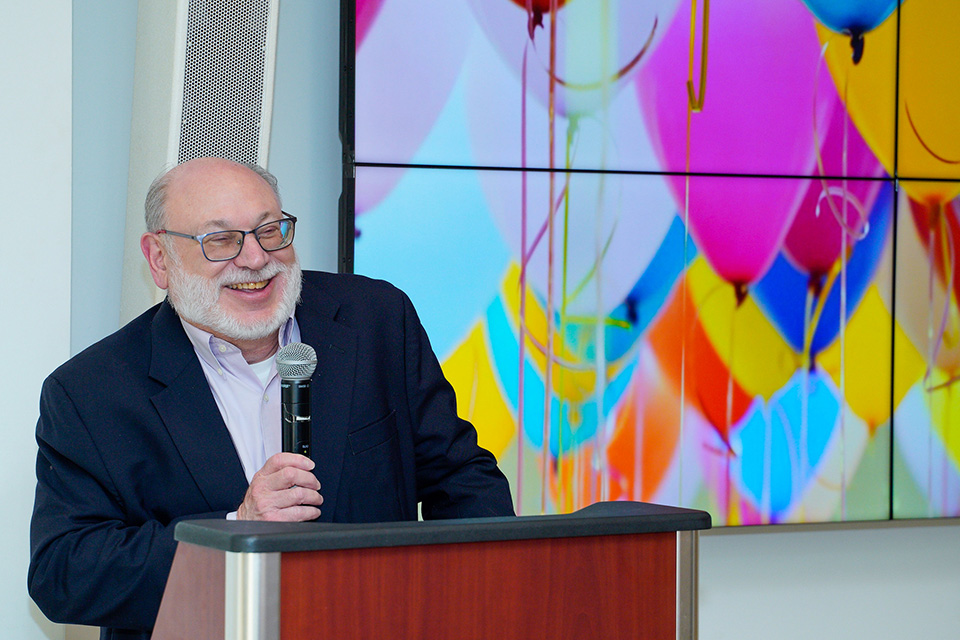 By Andrew Tie
June 14, 2023
Colleagues, family, and friends came together on May 9 to celebrate the career of Raymond C. Love, PharmD, BCPP, FASHP, professor in the Department of Practice, Sciences, and Health Outcomes Research (P-SHOR), who officially retired from the University of Maryland School of Pharmacy (UMSOP) at the end of May.
After a 45-year career, which included 35 at UMSOP, Love is heading for retirement. In addition to his role as professor, Love held a secondary appointment as a professor in the University of Maryland School of Medicine's Department of Psychiatry. He also served as director of UMSOP's innovative Mental Health Program and vice chair of collaborative initiatives in P-SHOR.
"Ray, over your decades of service to the School and to the state, you have made a lasting impact on students, your faculty and staff colleagues, your collaborators, and most importantly on patients," said Natalie D. Eddington, PhD, FCP, FAAPS, former dean and professor of the School in her remarks at the celebration. "Your retirement is an opportunity to express our sincerest thanks for being such a deeply involved member of our faculty. Thank you again for your exceptional contributions during your career here. You are the epitome of expertise, influence, and impact."
Eddington announced at the event that the University of Maryland, Baltimore has granted Love professor emeritus status, becoming the 24th UMSOP faculty member with the honor.
A Career of Many Firsts
Love started his career at UMSOP as part of the first Doctor of Pharmacy (PharmD) class that graduated in 1977. He returned to the School as a faculty member in 1986 and focused on increasing access to behavioral health care.
Throughout his career, Love often made history while trailblazing a path in psychiatric pharmacy.
He was the first director of a University of Maryland affiliated Area Health Education Center, the first full-time psychiatric clinical pharmacist in Maryland as director of pharmacy at the Thomas B. Finan Center, and the first director of the Mental Health Program.
He was also heavily involved in advocacy at the state and local levels. Love wrote, advocated for, and implemented the first clinical review panel law for the state of Maryland and founded the clozapine authorization and monitoring program. He was also appointed by the governor as the first faculty member to become a commissioner on the Maryland Board of Pharmacy.
He was a founding member of the Board of Pharmacy's emergency preparedness committee and helped organize the provision of antibiotics for Maryland postal workers during the post-9/11 anthrax scare.
At UMSOP, Love was the principal investigator (PI) or co-PI for more than $175 million in grants and contracts in psychiatric pharmacotherapy research and service. His many contributions have been honored by the American Society of Health-System Pharmacists, the Maryland Pharmacists Association, the Maryland Society of Health-System Pharmacy, US Pharmacopeia, and the American Association of Psychiatric Pharmacists. 
Love also developed the first residency based solely at UMSOP, which served as the model for the School's current cohort of residences and post-PharmD fellowships.
"Thank you for all the work you've done for our students and for your patients, but you have also had a big impact on faculty and residents," said Jill Morgan, PharmD, BCPS, BCPPS, FNAP, professor and chair of P-SHOR, who noted Love has mentored more than 40 residents. "Ray, you always have a home at our School."
Desire to Help Others
Love said his entry into pharmacy was out of a desire to help others, a trait he acquired from observing his parents and grandparents.
"I knew I liked chemistry, but all I really wanted to do was make things work better for everyone and provide opportunities for other people," Love said. "I want to thank all of you for joining me in that quest."
He also credited his success to the many colleagues and fellow faculty and staff collaborators he had over the years.
"Any success that I've had has been because I was surrounded by the best people, and that's all of you," Love said. "Thank you for your friendship, your collegiality, your sacrifices, your hard work, your respect, and your love. Despite my retirement, I look forward to continuing our relationships, and from the bottom of my heart, thank you."
Related News Stories