PHSR Students Honored for Accomplishments in Health Services Research
Candice Yong and Lauren Wagner receive scholarship awards acknowledging their contributions to the field.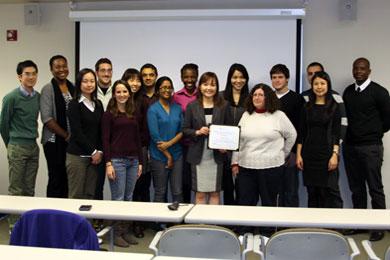 By Malissa Carroll
November 21, 2013
The Department of Pharmaceutical Health Services Research (PHSR) at the University of Maryland School of Pharmacy hosted its annual Graduate Program Awards Presentation and Reception on Nov. 14, to present the Arthur Schwartz Memorial Scholarship and Donald O. Fedder Memorial Fellowship to two exceptional students in the department's graduate program.
"The awards that we are presenting today were established in memory of two amazing individuals who shared very special relationships with the Pharmaceutical Health Services Research Graduate Program at the School of Pharmacy," said C. Daniel Mullins, PhD, professor and interim chair of PHSR. "These awards offer us the important opportunity to continue sharing the memories and legacies left by these individuals with future generations of health services researchers."
Ebere Onukwugha, MS, PhD, assistant professor and director of the PHSR graduate program, continued, "We are very grateful to have this opportunity to honor our current students and allow them to reflect on the events that have led them to their current positions, while remaining cognizant of the importance of 'paying it forward' by living a life of service, a concept epitomized by both Dr. Schwartz and Dr. Fedder."
As the first student admitted to the PHSR Graduate Program, Arthur (Artie) Schwartz showed great interest in drug use and pharmaceutical marketing issues. Although he died at an early age, his wife Karen Schwartz established the Arthur Schwartz Memorial Scholarship in his honor to provide funding for future students in the program based on academic standing and financial need.
This year, the scholarship was presented to Candice Yong, a doctorate degree candidate in the program.
Yong received her bachelor's degree in pharmacy from the National University of Singapore. She spent two years as a pharmacist at Changi General Hospital, where she counseled patients and provided medication therapy management services. She also prepared drug monographs for the hospital's Pharmacy and Therapeutics Committee, which led to her interest in research and desire to learn about the long-term outcomes of the patients to whom she was providing pharmacy services. For her dissertation, Yong is examining the cost and management of fracture risk among prostate cancer patients treated with androgen deprivation therapy.
"It is a great honor to receive the Schwartz Scholarship, and I would like to thank each person who has helped and guided me during my time in the PHSR graduate program," said Yong. "When you are as far away from home as I am, it is very important to have good friends and mentors with whom you can surround yourself, and I am very thankful to these individuals for all of their support. It has really made a difference as I worked towards achieving success in the program."
Donald Fedder, DrPH, MPH, BSP, FAPhA, a public health pharmacist and long-time School of Pharmacy faculty member, forged the path for the inclusion of professional pharmacy in public health and brought national attention to the importance of patient behaviors and chronic disease management. Established in his honor, the Donald O. Fedder Memorial Fellowship supports the training and development of a graduate student whose work focuses on social justice, pharmacy advocacy, or public health.
Lauren Wagner, another doctorate degree candidate in the PHSR Graduate Program, received this year's fellowship.
Born and raised in Portsmouth, Va., Wagner graduated from Norfolk State University in 2008, where she majored in biology as part of the Dozoretz National Institute for Mathematics and Applied Sciences (DNIMAS) program, a scholarship program designed to address the shortage of minorities in the fields of science, technology, engineering, and mathematics. After a life-changing experience in high school, during which she had an opportunity to meet a young mother who unknowingly transmitted HIV to her unborn child, she pledged to conduct research that would one day improve the lives of individuals living with this chronic disease. Her dissertation will investigate race and age disparities in discontinuing HIV medication among patients diagnosed with both HIV/AIDS and a serious mental illness.
"Dr. Fedder was truly committed to the community and was always interested in serving the underserved," said Susan dosReis, PhD, associate professor in PHSR and Wagner's advisor in the graduate program. "I cannot think of anyone who continues his legacy better than Lauren. The passion that she has for individuals with HIV/AIDS and health disparities research goes very deep, and I am confident that the field will be very well-served by having someone like her among its ranks."
Karen Schwartz and Aaron Schwartz, as well as Michaeline Fedder attended the ceremony to represent their respective families.
Related News Stories