Scholarship Awards Recognize Up-and-coming Health Services Researchers
Eight graduate students in the PhD in PHSR program honored for superior scholastic achievements.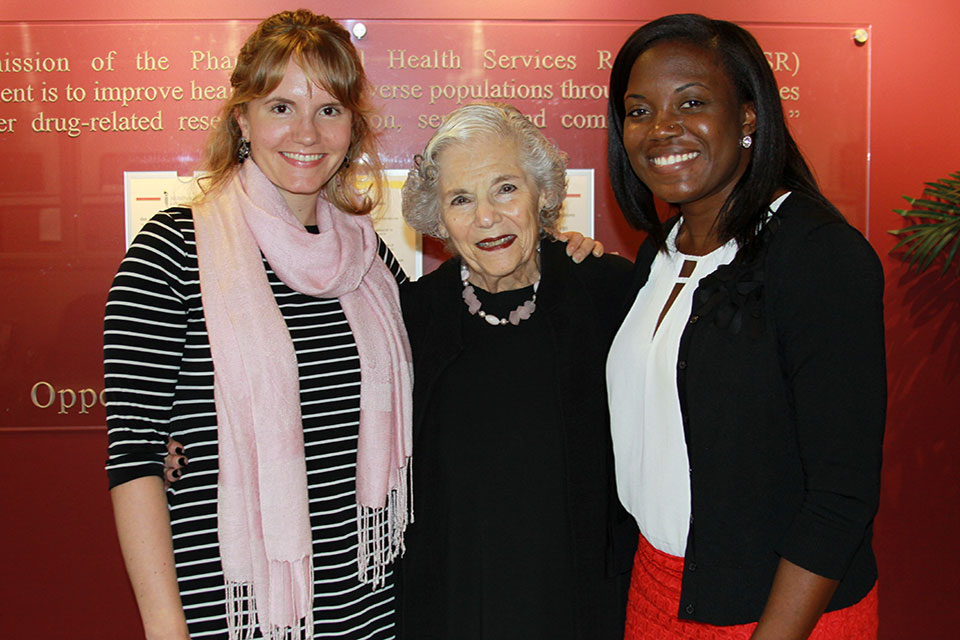 By Malissa Carroll
October 30, 2017
The Department of Pharmaceutical Health Services Research (PHSR) at the University of Maryland School of Pharmacy hosted its Graduate Program Awards Presentation and Reception on Oct. 2, to present the Donald O. Fedder Memorial Fellowship, the Harris Zuckerman Scholarship Award, and the Arthur Schwartz Memorial Scholarship to eight exceptional students in its PhD in PHSR program. The event recognized students who received the awards in the 2015-2016, 2016-2017, and 2017-2018 academic years.
"These student awards were established by individuals or families who shared special relationships with the PhD in PHSR program at the School of Pharmacy," said Francis Palumbo, PhD, JD, professor in PHSR and director of the program. "We present these awards to outstanding students each year as a way to share their legacies with future generations of health services researchers."
Established by Michaeline Fedder in honor of her husband Donald Fedder, DrPH, MPH, BSP, FAPhA, a public health pharmacist and long-time faculty member at the School of Pharmacy who passed away in 2010, the Donald O. Fedder Memorial Fellowship supports the training and development of a graduate student whose work focuses on social justice, pharmacy advocacy, or public health. At the event, Elisabeth Oehrlein; Melissa Ross, PhD, who graduated from the PhD in PHSR program in May 2017; and O'Mareen Spence – the 2016, 2017, and 2018 recipients of the award, respectively – had an opportunity to share their journey in the program, as well as an overview of their current research, with members of the audience.
"Since joining this program, my work engaging patients has shown me firsthand how the experience of receiving a serious or chronic diagnosis can affect patients," said Oehrlein, who spoke about the parallels between her research in risk factors for stroke among patients diagnosed with atrial fibrillation and the research conducted by Fedder more than 20 years ago. "Working with claims data, it can be easy to forget that there is a real person behind every diagnosis code or outcome. So, when you're working with claims, please remember that every time you see a diagnosis code for stroke, atrial fibrillation, or any other disease area that you might work in, there is a real person behind that diagnosis whose life was forever changed as a result of it. That experience can be incredibly scary. I think remembering this can help us conduct the highest quality research."
The Harris Zuckerman Scholarship Award was endowed by Ilene Harris, PharmD '83, PhD, retired professor and chair of PHSR, to assist students interested in jointly pursuing Doctor of Pharmacy (PharmD) and PhD degrees. Named in honor of her parents – Daniel Harris, MD, and Ann Harris – the scholarship provides support for the training, development, and advancement of graduate students in the PhD in PHSR program at the School. Students Aida Kuzucan, PharmD '15; Anna Hung, PharmD '14; and Joey Mattingly, PharmD, MBA, who also serves as an assistant professor in the Department of Pharmacy Practice and  Science (PPS), were recognized at the event as the 2016, 2017, and 2018 recipients of the award, respectively.
Accepting the award, Mattingly spoke about his experience as a teenager and young adult watching his grandmother, whom he affectionately referred to as "mammaw," cope with multiple chronic illnesses, particularly the expenses that she and his grandfather incurred as a result of the medications that she was prescribed. Although Mattingly explained that his grandmother passed away during his first year in pharmacy school, he noted that he plans to use the funds from the scholarship award to help support his research and "help mammaws around the world."
As the first student admitted to the PhD in PHSR program, Arthur (Artie) Schwartz demonstrated great interest in drug use and pharmaceutical marketing issues. Following his death at an early age, his wife Karen Schwartz established the Arthur Schwartz Memorial Scholarship to provide funding for future students in the program based on academic standing and financial need. Students Jan Sieluk, MPharm, and Aakash Gandhi were celebrated as the 2016 and 2018 recipients of the scholarship, respectively.
"When I was a little kid, my father traveled to Denver and bought a huge map of the United States," recalled Sieluk, a native of Poland whose current research focuses on the costs associated with chronic obstructive pulmonary disease (COPD) caused by alpha-1 antitrypsin deficiency, a genetic condition that can result in serious lung disease in adults or liver disease at any age. "That map ended up over my bed. I looked at it every morning when I woke up, and every night before I went to bed. I knew that I needed to be part of this country. After graduating from the Medical University of Warsaw, I reached out to C. Daniel Mullins, PhD, professor and chair of PHSR. I thank him for bringing me here, nominating me for this award, and helping to make my American dream come true. I will be forever indebted to him."
Palumbo, accompanied by each student's mentor, presented the recipients with their awards.
"Our department is humbled by the generous support of the Fedder, Harris, and Schwartz families, whose gifts help to alleviate the financial challenges that our students must often overcome in the pursuit of their education," said Palumbo. "The students recognized today have demonstrated remarkable drive and dedication in both their studies and research, and are truly deserving of these distinguished awards. We look forward to all that they are sure to accomplish as they leave our program prepared to enter the dynamic field of health services research."
Related News Stories