PHSR Names New Graduate Program Director
Graduate program co-founder Dr. Frank Palumbo assumes leadership of program, allowing previous director, Dr. Ebere Onukwugha, to focus on her work as executive director of the department's Pharmaceutical Research Computing center.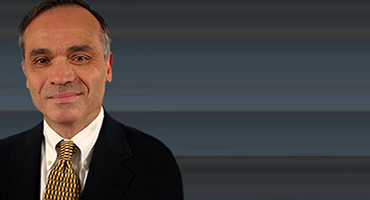 By Malissa Carroll
August 7, 2015
The Department of Pharmaceutical Health Services Research at the University of Maryland School of Pharmacy has named Frank Palumbo, PhD, JD, professor in PHSR, as the new director of its graduate program. Palumbo succeeds Ebere Onukwugha, MS, PhD, associate professor in PHSR, who led the program since 2013, as part of a planned transition to allow Onukwugha to focus on her responsibilities as executive director of the department's Pharmaceutical Research Computing (PRC) center.
"Dr. Onukwugha has worked diligently to lead the PHSR graduate program over the past two years, overseeing faculty during an in-depth revision of the administration of the program's comprehensive exam to ensure that students are ready to enter the workforce upon graduation," says C. Daniel Mullins, PhD, professor and chair of PHSR. "Dr. Palumbo is well-respected across the country for his numerous contributions to the fields of economics and social and administrative sciences, and has been a strong advocate for our graduate students throughout his career at the School. I am pleased to announce his new role as director of the PHSR graduate program, and look forward to watching the program continue to grow under his leadership."
Palumbo received his Bachelor of Science in pharmacy from the Medical University of South Carolina and completed both his master's degree and doctorate in health care administration at the University of Mississippi. He later received his Juris Doctor from the University of Baltimore School of Law, joining the faculty at the School of Pharmacy in 1975, where he co-founded the PHSR graduate program with David Knapp, PhD, professor emeritus and former dean of the School of Pharmacy, and Robert Beardsley, RPh, PhD, professor and vice chair for administration in PHSR.
"I am very pleased to have an opportunity to lead the program that I helped to establish many years ago," says Palumbo. "It has been truly exciting to watch the program grow over the years, beginning with only one student and evolving to include nearly 30 students in its most recent year."
Palumbo has served as the principal investigator on a number of major federal research grants throughout his career, and remains active in several professional organizations, including the American Society for Pharmacy Law, for which he is a past president. As the graduate program's new director, he will be tasked with not only maintaining the exceptional coursework and research opportunities available to the program's current students – upholding the program's ranking as 'one of the best' of its kind in the nation – but also contributing to its continued growth by personally overseeing the launch of its new master's degree in Fall 2016.
"I thank all of the faculty members before me who have assumed responsibility for the leadership and direction of this unique multidisciplinary health services graduate program," says Palumbo. "I look forward to building on their successes, maintaining the high quality of the program and attracting ever more eminently qualified students to its one-of-a-kind offerings."
Palumbo will continue his work as executive director of the School's Center on Drugs and Public Policy (CDPP) — which examines the dynamic connections between theory and practice in the health care arena, assessing the impact on regulation, policy, and health care treatment standards — during his service to the department's graduate program.
Related News Stories