Four Future Health Services Researchers Honored with Scholarship Awards
Special event recognizes students Maya Hanna, Patience Moyo, Priyanka Gaitonde, and Joseph Vandigo for their superior academic performance.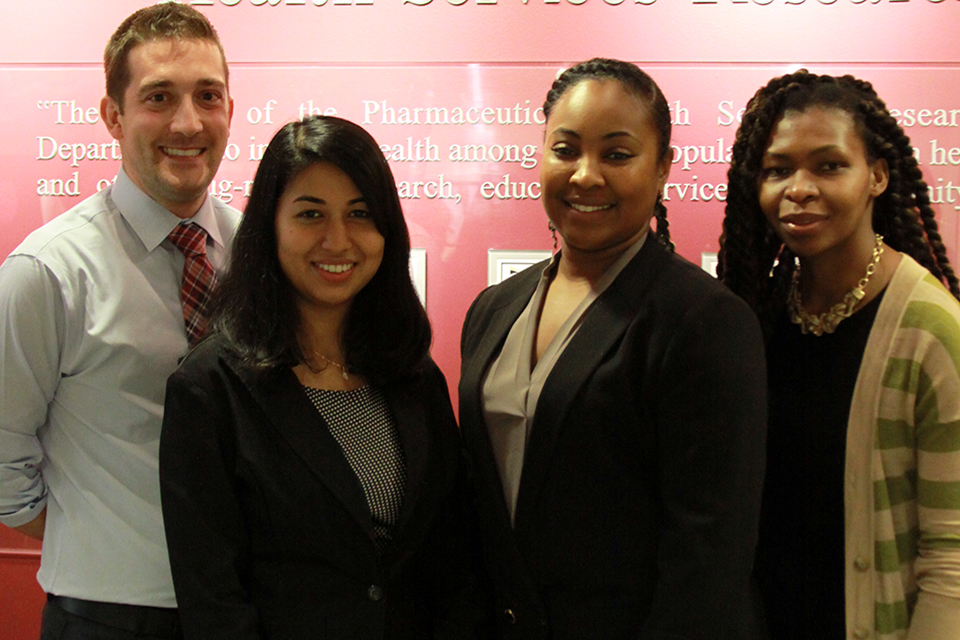 By Malissa Carroll
December 9, 2015
The Department of Pharmaceutical Health Services Research (PHSR) at the University of Maryland School of Pharmacy hosted its annual Graduate Program Awards Presentation and Reception on Nov. 20, to present the Arthur Schwartz Memorial Scholarship and the Donald O. Fedder Memorial Fellowship to four exceptional students in its PhD in PHSR program.
"The Arthur Schwartz Memorial Scholarship and Donald O. Fedder Memorial Fellowship were established in memory of two extraordinary individuals who shared special relationships with the PhD in PHSR program at the School of Pharmacy," said Frank Palumbo, PhD, JD, professor in PHSR and director of the PhD in PHSR program. "We present these awards each year to several outstanding students as a way to continue sharing the memories and legacies left by those remarkable individuals with future generations of health services researchers."
As the first student admitted to the PhD in PHSR program, Arthur (Artie) Schwartz demonstrated great interest in drug use and pharmaceutical marketing issues. Following his death at an early age, his wife Karen Schwartz established the Arthur Schwartz Memorial Scholarship to provide funding for future students in the program based on academic standing and financial need. This year, the scholarship was presented jointly to Priyanka Gaitonde and Joseph Vandigo.
Originally from India, Gaitonde received her Bachelor of Science in Pharmacy (BPharm) from the University of Pune and her master's degree in pharmacy administration from St. John's University in New York. She worked for more than a year as an analyst with an evidence-based pharmaceutical pricing and market access consultancy before enrolling in the PhD in PHSR program. Under the guidance of her mentor Fadia Shaya, PhD, professor and vice chair for academic affairs in PHSR, Gaitonde is working to assess drug use patterns for specialty medications prescribed to older adults to treat rheumatoid arthritis.
"I am truly honored to have been selected as one of the recipients of this year's Arthur Schwartz Memorial Scholarship," said Gaitonde. "The remarkable accomplishments of the previous recipients of this award serve not only as a testament to the high quality of students in this program, but also as a reminder that I must continue to strive for excellence in all of my academic endeavors to uphold the legacy of Dr. Schwartz."
A graduate of both Southeastern Louisiana University and the University of Louisiana at Monroe, Vandigo joined the PhD in PHSR program in 2010. Under the mentorship of C. Daniel Mullins, PhD, professor and chair of PHSR, he has collaborated with researchers from across the University of Maryland, Baltimore (UMB) and beyond on a number of projects in the fields of pharmacoeconomics and patient-centered outcomes research (PCOR), including helping to launch Mullins' groundbreaking Patient-Centered Involvement in Evaluating the Effectiveness of Treatments (PATIENTS) program at the School. His dissertation examines the impact of Medicare contracting reform on colon cancer treatment, survival, and outcomes.
"One of the most important parts of receiving an award such as this scholarship is acknowledging the individuals who helped me to achieve this tremendous success," said Vandigo. "This is where I must thank not only the Schwartz family for their generous support of this award, but also my mentor Dr. Mullins. Without his unwavering support and guidance, I would not have the knowledge and skills necessary to work and perform at such a high level."
The Donald O. Fedder Memorial Fellowship was established in honor of Donald Fedder, DrPH, MPH, BSP, FAPhA, a public health pharmacist and long-time faculty member at the School of Pharmacy who passed away in August 2010. His scholarly work forged the path for the inclusion of professional pharmacy in public health and brought national attention to the importance of patient behaviors and chronic disease management. This award, which supports the training and development of graduate students whose work focuses on social justice, pharmacy advocacy, or public health, was presented to Maya Hanna and Patience Moyo.
Hanna received her bachelor's degree in mathematics from Spelman College in Atlanta, Ga., and her Master of Public Health (MPH) from the Yale School of Public Health at Yale University. She worked as a statistician at Pfizer before joining the PhD in PHSR program in 2014, and currently collaborates on a number of projects with her mentor Eleanor Perfetto, PhD, MS, professor in PHSR, in the fields of comparative effectiveness research (CER) and PCOR. She recently participated in an interprofessional global health experience sponsored by a grant from the Center for Global Education Initiatives at UMB during which she and a team of faculty and students from across the University traveled to the Cape Coast Teaching Hospital in Ghana to examine the delivery of health care services to pregnant mothers and infants with HIV/AIDS.
"My work at Pfizer primarily focused on preclinical statistics, but I soon developed an interest in better understanding how drugs impact human populations," said Hanna. "My desire to have a larger impact on population-based health outcomes led me to pursue a PhD in PHSR at the School of Pharmacy. I know that Dr. Fedder was a strong advocate for public health, and I feel honored to receive this award and to carry on the lessons of his legacy with me throughout my career."
Moyo, a native of Zimbabwe, received her bachelor's degree in chemistry from Mount Holyoke College in Massachusetts. She joined the PhD in PHSR program in 2011, where — under the guidance of her mentor Linda Simoni-Wastila, BSPharm, MSPH, PhD, professor and vice chair of research in PHSR — she has been involved in a number of research projects, including the Maryland Statewide Epidemiological Outcomes Workgroup (SEOW). Her dissertation will examine whether the status and characteristics of prescription drug monitoring programs affect how opioids are prescribed to Medicare beneficiaries.
"Words cannot express how grateful I am to be recognized with one of the department's most prestigious fellowship awards," said Moyo. "I thank the Fedder family for their continued support of this award and my advisor, Dr. Simoni-Wastila, for nominating me to receive this distinguished honor."
Related News Stories