Pharmacometrician Receives Lewis B. Sheiner Lecturer Award for Outstanding Lifetime Achievements
Joga Gobburu is professor and director of the Center for Translational Medicine.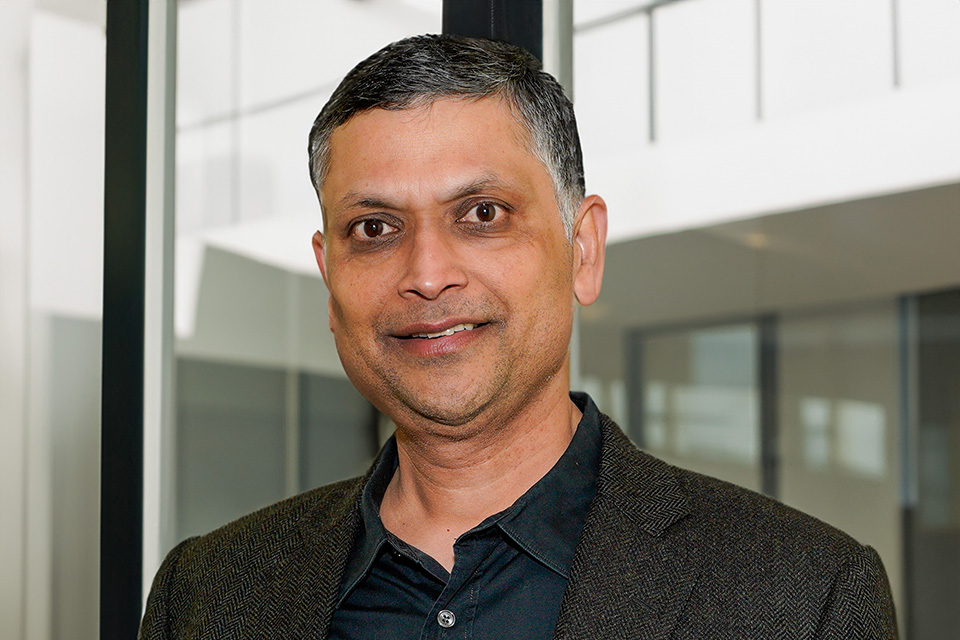 By Andrew Tie
November 13, 2023
A faculty member at the University of Maryland School of Pharmacy (UMSOP) has received a lifetime achievement award from his peers at the International Society of Pharmacometrics (ISoP).
Joga Gobburu, PhD, a professor in the Department of Practice, Sciences, and Health Outcomes Research (P-SHOR) and director of the Center for Translational Medicine (CTM), received the Lewis B. Sheiner Lecturer Award, the highest recognition from ISoP on Nov. 5 at the society's annual meeting at the National Harbor in Maryland.
The Sheiner award recognizes the outstanding lifetime achievements of a distinguished scientist or researcher who has continued the legacy of excellence in pharmacometric research and leadership established by Lewis B. Sheiner, MD, PhD, the father of the "learn and confirm" paradigm of drug development, who is internationally recognized for his work in pharmacokinetic and pharmacodynamic modeling and simulation. It was established in 2008 to honor the memory of Sheiner, who passed away in 2004.
"As an internationally renowned leader in the pharmacometrics space and devoted mentor, I can't think of a better individual more deserving of this award than Dr. Joga Gobburu," said Jill Morgan, PharmD, BCPS, BCPPS, FNAP, chair and professor of P-SHOR.
Gobburu joined the faculty at the School of Pharmacy in 2012, when he also founded the MS in Pharmacometrics program to meet an industry demand for decision-making pharmcometricians and quantitative translational scientists. The program has now graduated more than 180 students. Throughout his career, Gobburu has been keenly interested in training and mentoring the next generation of pharmacometricians.
Through his work with CTM, Gobburu is engaged in an ambitious research collaboration led by the University of Maryland School of Medicine aiming to create an artificial, shelf-stable blood product.
In addition to his academic responsibilities, Gobburu is the co-founder and CEO of Pumas-AI, a company that focuses on predictive health care analytics and strategic and scientific consultancy to accelerate drug development. He is also president of Vivpro Corp, which developed an AI-based research and development intelligence software.
Before joining UMSOP, Gobburu worked at the US Food and Drug Administration in the Office of Clinical Pharmacology, where he helped establish the Division of Pharmacometrics in 2007.
"I am humbled to receive this highest honor from ISoP for my lifetime contributions, and my thoughts turn to the heart of our work—the patients," Gobburu said. "My professional journey is defined by empowering scientists to do what they are best at."
Related News Stories