PATIENTS Program Engages Community Members at Local Health Fair
Program staff partnered with Mt. Lebanon Baptist Church to offer screenings and counseling for individuals affected by high blood pressure, diabetes, and HIV.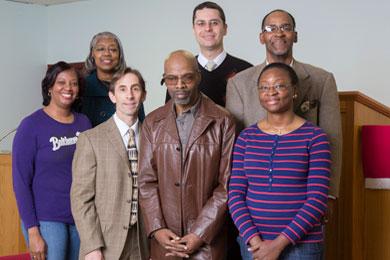 By Malissa Carroll
March 31, 2014
The Patient-Centered Involvement in Evaluating the Effectiveness of Treatments (PATIENTS) program at the University of Maryland School of Pharmacy partnered with Mt. Lebanon Baptist Church to host a community health fair on March 22. Held at the church, this health fair helped local residents access important services related to housing health, and fitness.
"Events such as the health fair hosted by Mt. Lebanon Baptist Church give community members a unique opportunity to work together to find answers to important health-related questions and make better decisions about their care," says C. Daniel Mullins, PhD, professor and interim chair of the Department of Pharmaceutical Health Services Research (PHSR) at the School of Pharmacy and director of the PATIENTS program. "Through our participation in this event, the PATIENTS program was not only supporting the needs of one of its community partners, but was also actively working to connect and communicate with community members in an honest and open fashion, building meaningful and sustainable relationships that will allow us to continue to engage with these individuals in the future."
Members of the PATIENTS program offered free blood pressure screenings and counseling for hypertension, diabetes, HIV, mental health, and fitness and nutrition to all health fair attendees.
"Having the PATIENTS program partner with us to host the Housing, Health, and Fitness Fair was truly a blessing to our congregation and community," says Franklin Lance, DMin, senior pastor at the Mt. Lebanon Baptist Church. "As a result of this event, our community members were able to access vital health screenings, gather important health information, and sign up for the Affordable Care Act at one location. Without this fair, these resources would not have been so accessible to this community in need."
"I applaud the members of the PATIENTS program who took time from their busy schedules to help make this event an overwhelming success," adds Del Price, who served as coordinator for the health fair. "Almost every member of the congregation at Mt. Lebanon Baptist Church who attended the event, including myself, took advantage of the free blood pressure screenings. I also found the health care professionals' ability to communicate information about my health concerns in a friendly, uncomplicated manner to be particularly helpful."
In addition, many community members were able to spend time discussing their health concerns in-depth with the providers who attended the fair.
"I want to thank all of the health care professionals who offered their services at the health fair today," said participant Ronald Hazell. "Although I do not have hypertension, I have a family history of the disease. My father and siblings have been diagnosed with this silent killer. While I have recently adopted a healthy lifestyle, including regular workouts and a diet rich in vegetables and fruits, it never hurts to have my blood pressure checked and learn more about what I can do to prevent this disease."
Barbara Brown Harps, another health fair participant, added, "I was happy to be here today and have access to all of these great services. I was recently diagnosed with hypertension, but have not been taking my medications regularly, as I seem to always forget. I wanted to get a current blood pressure reading, since I do not have a personal blood pressure machine at home to regularly monitor my condition."
To help provide these important services to community members, Mullins recruited several colleagues from the School of Pharmacy and the local community, including Ebenezer Oloyede, MD, MPH, clinical research specialist in PHSR; Yewande Oladeinde, PhD, postdoctoral fellow in PHSR; Tim Rocafort, PharmD, assistant professor in the School's Department of Pharmacy Practice and Science (PPS); Amanda Schartel, PharmD, ambulatory care resident at the School of Pharmacy; Aurelia Laird, RN, director of clinical and community research at Bon Secours Health System; and Chauncey Whitehead, personal trainer and president of CDW Health and Wellness.
"The health fair emphasized the spirit of true partnership between the PATIENTS program and Mt. Lebanon Baptist Church," says Oloyede. "It reinforced one of the program's primary objectives, which is to foster sustainable partnerships with local, regional, and national communities. Our program helped support a community initiative that was not only important to one of our partners, but also meaningful to those it serves."
Launched in September 2013, the PATIENTS program is supported by a $5 million grant from the Agency for Healthcare Research and Quality (AHRQ 1R24HS022135-01), which is supported by funds from the Patient-Centered Outcomes Research Trust Fund. The program empowers patients to propose questions about their health care concerns and actively participate in studies to answer them. It combines the expertise of leading researchers from the University of Maryland, Baltimore and the University of Maryland, College Park with innovative partnerships with patient communities and health care systems to ensure that patients, health care providers, and other partners are actively engaged in research.
Related News Stories