PATIENTS Day Celebrates University's Efforts to Engage Patients in Research
Day-long learning session and health fair educated members of the local community about ongoing projects in the field of patient-centered outcomes research (PCOR).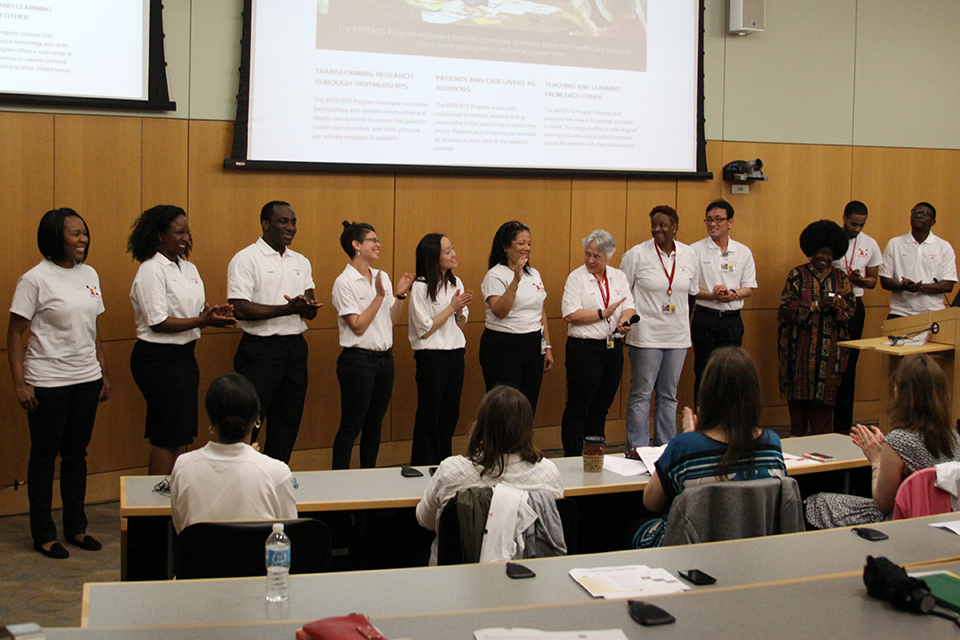 By Malissa Carroll
June 3, 2016
The Patient-Centered Involvement in Evaluating the Effectiveness of Treatments (PATIENTS) Program hosted its first annual PATIENTS Day at the University of Maryland School of Pharmacy on May 13. A day-long learning session and health fair, PATIENTS Day helped educate faculty, staff, and students from across the University of Maryland, Baltimore (UMB), as well as members of the local community about the program's ongoing work in the field of patient-centered outcomes research (PCOR).
"As the United States continues to move towards a more impactful, responsive, and successful health care system, leaders in academia, patient care, and the federal government are beginning to understand that the final arbiter in achieving truly effective health care is the patient," said Natalie D. Eddington, PhD, FCP, FAAPS, dean and professor of the School of Pharmacy, as she welcomed participants to the event. "True patient-centeredness can only be realized when we put our patients at the heart of all that we do in health care research and delivery — engaging those patients as partners to co-develop research based on questions that they have about their medical conditions. Your presence at today's event demonstrates your commitment to that philosophy."
Established in 2013, the PATIENTS Program is directed by C. Daniel Mullins, PhD, professor and chair of the Department of Pharmaceutical Health Services Research (PHSR) at the School. The program strives to help reduce health disparities by building relationships between patient communities and health care systems to ensure that patients, health care providers, and other partners are actively engaged in research. The program's inaugural PATIENTS Day offered an opportunity for its members to share updates on the research projects in which they have been involved this past year, as well as to introduce the campus and local community to some of the patients, community members, and advocates with whom they have partnered to conduct the research.
"PATIENTS Day is a celebration of the patient-centered outcomes research projects that researchers and students within the School of Pharmacy and across the University have undertaken," said Mullins. "Because we know that each participant comes to the table with a uniquely valuable perspective, this special event also offers us a chance to bring patients, caregivers, and community advocates to the University to share their stories and experiences with our researchers, and with their neighbors in West Baltimore. We hope that the individuals who attend are inspired by these stories and by the power and potential that our research has to help people just like them."
The projects for which updates were shared during the event included Mapping and Resourcing Patient and Stakeholder Engagement Along 10-Step PCOR Continuum Framework, presented by Corliss Heath, PhD, a postdoctoral fellow in PHSR, and Del Price, a patient consultant with the PATIENTS Program; Pragmatic Randomized Trial of Proton Versus Photon Therapy for Patients with Non-metastatic Breast Cancer Receiving Comprehensive Nodal Radiation: A Radiotherapy Comparative Effectiveness (RADCOMP) Trial, presented by Anna Hung, PharmD, a graduate student in the School's PhD in PHSR program; and Methods for Prioritizing Surrogate Desired Health Outcomes for Patients, presented by Susan dosReis, PhD, associate professor in PHSR, and Bev Butler, a patient advocate.
"The University of Maryland is showcasing itself as a leader in the field of patient-centered outcomes research, and the rest of the country needs to catch up," said Price, who spoke both about her role co-developing a research project with Heath as well as her personal experience as a caregiver. "I am proud to be a participant in this program. I want to help you do what you do best, and contribute to projects from which others living in my community can learn."
"Being a partner on this project with Dr. dosReis has been a wonderful experience," added Butler. "In my experience as a patient advocate, it is rare for a researcher to ask for a caregiver's perspective. It just doesn't happen. But, our project is actively engaging families. We are learning what is important to them and what challenges they face. We are not pulling this information out of thin air or reading it in a textbook. We are getting it from families, and it has been a privilege to work with a team of researchers and students who are truly dedicated to helping caregivers."
Following the presentations, participants were invited to attend a health fair in Pharmacy Hall that featured nearly 10 vendors who addressed a variety of health topics ranging from diabetes and HIV/AIDS to senior health and yoga and stress reduction. Watch the video below for a full recap of the day's events.
Related News Stories