PATIENTS Day Spotlights Community's Important Role in Research
Annual event in West Baltimore featured discussions and health fair.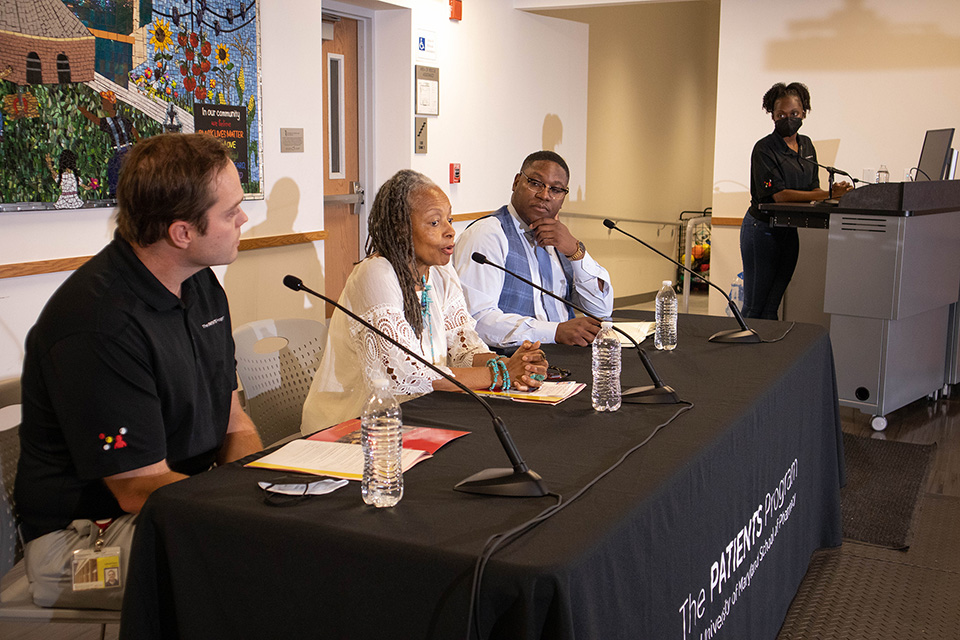 By Emily Parks
August 31, 2022
The University of Maryland School of Pharmacy's Patient-Centered Involvement in Evaluating the Effectiveness of Treatments (PATIENTS) Program welcomed nearly 200 community members, researchers, supporters, and community partners to its fourth PATIENTS Day on Aug. 16.
PATIENTS Day aims to bridge research and the community by providing critical education and information about issues pertinent to health. This year's event, the first in person one since 2019, showcased two panel discussions and an interactive health fair and was held at the University of Maryland, Baltimore's (UMB) Community Engagement Center.
The theme for this year was the four pillars of health: physical, spiritual, mental, and financial, all which support a bridge to holistic health.
The event began with words from Bishop William Thomas of St. Matthew's Gospel Tabernacle Apostolic Faith Church in keeping with the PATIENTS Program's tradition of opening every event with the patient and community voice, highlighting the importance of keeping research patient centered. Thomas appreciated how the PATIENTS Program meets the community where they are and the importance of taking a seat at the research table.
"You've got to get involved," Thomas said to fellow community members. "If you don't get involved, nothing will change. Your involvement is a gesture of hope that people can be healed."
Improving Physical, Spiritual, Mental, and Financial Health
After hearing from Thomas, as well as UMB President Bruce Jarrell, MD, FACS, the event kicked off with two panel discussions. During the first session on Community Think Tank on Research, investigators presented their research proposals to a panel of community advisors, who gave candid and frank feedback.
"Everyone has a perspective to add," said DeJuan Patterson, MPA, one of the Community Think Tank community advisors. "Everyone can insert their piece, which is their perspective, to the bigger picture to improve health outcomes."
Halfway through PATIENTS Day, Chauncey D. Whitehead led a stretch break. Whitehead is a Baltimore area fitness trainer who, at 60 years old, continues to inspire the community to take charge of their physical health.
The second panel session emphasized the importance of the four pillars of health.
"You can't help others if you don't take care of yourself first," said Ericka Lewis, PhD, LMSW, assistant professor at the University of Maryland School of Social Work, speaking about the importance of strengthening mental health. "Taking care of yourself allows you to be there for others. Be deliberate in asking how someone is doing and make specific offers to help, whether it's to listen or help run errands."
Following the panel presentations, health fair vendors gave attendees the opportunity to learn about support services to empower them to take charge of their physical, mental, financial, and spiritual health.
In closing remarks, C. Daniel Mullins, PhD, executive director of the PATIENTS Program, expressed gratitude to all those who support and partner with the program and reiterated its commitment to the health and well-being of the West Baltimore community.
"We can have a national impact, but our home and our hearts will always be in West Baltimore," Mullins said. "Our community partners and the community are central to our work. We will listen first."
The event was also live streamed on Facebook, allowing the opportunity for virtual attendance for the first time. View a recording of the PATIENTS Day event.
Related News Stories