PATIENTS Day Shines a Spotlight on Mental Health
Annual event features the mental health journey of panelists, authors, and community members.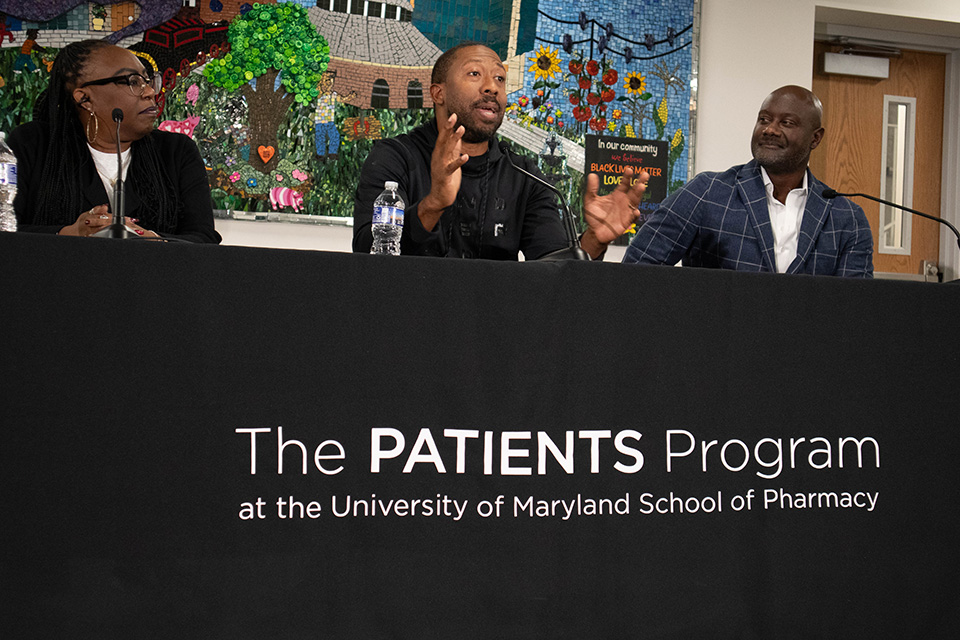 By Emily Parks
October 24, 2023
Featured image: A panel featuring (L to R) Gail Graham, PATIENTS professor and HIV advocate, Matthew Lawrence, former Baltimore Raven and founder of Lawrence International, and Luke Cooper, JD, MBA, founder of Latimer Ventures and University of Maryland, Baltimore President's Distinguished Scholar.
On Oct. 13, nearly 200 community members, researchers, and health care providers came together for PATIENTS Day, an interactive day of discussion about health issues important to the West Baltimore community.
Hosted by the University of Maryland School of Pharmacy's Patient-Centered Involvement in Evaluating the Effectiveness of Treatments (PATIENTS) Program, the event seeks to transform the way research is understood and talked about by community residents, patients, and researchers.
This year's theme centered on mental health and took place at University of Maryland, Baltimore's Community Engagement Center.
The PATIENTS Program has a tradition of opening every event with the patient voice. PATIENTS Day was opened by Barbara Palmer, community partner and 2022 graduate of the PATIENT Professors Academy (PPA).
She spoke about her experience in the PPA and the valuable role of the community advisory board member in bridging the community and research.
"Being a part of the PPA has changed my life in many positive ways," said Palmer. "Today you will hear about many health resources you can take back to your community."
After hearing from Palmer, Sarah L.J. Michel, PhD, dean and professor of the School of Pharmacy, spoke of the School's commitment to building trust in and partnering with the community.
"We are here this afternoon to learn from each other about our respective efforts related to patient-centered research," said Michel. "Patient-centeredness means putting patients at the heart of all we do in health care research and delivery. Your presence here this afternoon demonstrates your commitment to that philosophy."
Panel Discussions Discuss Mental Health
The event featured two panel discussions centering on mental health. Attendees were also able to take advantage of screenings and learn about other support services at the health fair.
The first panel focused on one of the program's latest grant awards, COmmunity-Based Collaboration to Address the Pillar of Mental Health in PCOR/CER Research (CO-PILLAR). CO-PILLAR offers training for patients, caregivers, and community representatives to talk about community mental health concerns, share promising practices in creating mental health patient-centered outcomes research (PCOR), and how they can build the capacity to co-create mental health PCOR that addresses the four pillars of health (mental, physical, financial, and spiritual).
Three members of the Council of Community Partners, who are co-developing the training and guiding the recruitment of participants, spoke about their mental health journey, the stigma surrounding mental health, and the importance of getting support.
"Today, I know I have my community to support me when I'm at my lowest," said Matthew Lawrence, former Baltimore Raven and founder of Lawrence International.
He went on to explain how social determinants of health like where you live affect mental health.
"Everyone who looked like me when I was in college knew someone who had been murdered," explained Lawrence. "So, when asked how you were feeling, the answer couldn't be 'I'm all right.'"
During the second panel session, three Baltimore-area authors spoke who have gained national attention through their memoirs and have expressed their mental health struggles through their work.
"I know how to write about grief so that it's accessible," said Kondwani Fidel, assistant professor of English at Coppin State University and author of Hummingbirds in the Trenches, a collection of his essays and poems. "I write poems to deal with feelings and help to understand grief."
Asking for help regarding mental health is hard, but treatment can help move towards a better health outcome, the panelists said.
"Suffering is a heavy weight," said Jennifer Pope, LCSW-C, founder of The Pope's Foundation, which works to lower the stigma of mental health in urban communities. She is also the author of Music is My Therapy.
"Mental health services like therapy help you build your world to be more peaceful," said Pope. "It is up to you to say, 'I deserve peace.' Prioritize your joy."
Related News Stories