Panel Discussion Highlights Opioid Crisis in Maryland
Drs. Natalie Eddington and Andrew Coop discuss how ongoing research and practice initiatives at the School of Pharmacy aim to combat substance use disorders during UMB-led panel.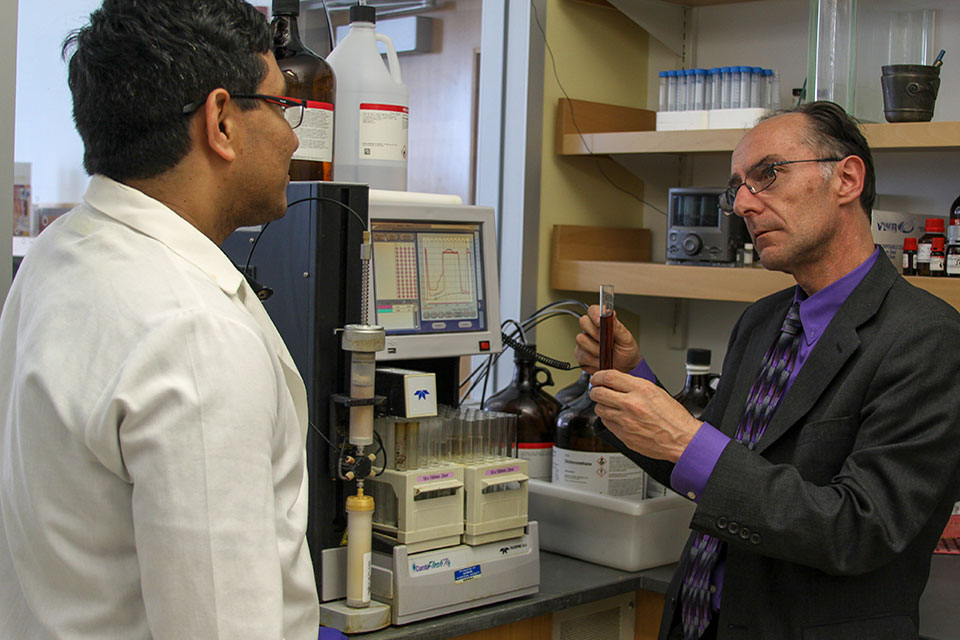 By Malissa Carroll and Patricia Fanning
May 15, 2018
Natalie D. Eddington, PhD, FCP, FAAPS, dean and professor of the University of Maryland School of Pharmacy, and Andrew Coop, PhD, associate dean for academic affairs and professor in the Department of Pharmaceutical Sciences (PSC) at the School, joined Jay A. Perman, MD, president of the University of Maryland, Baltimore (UMB), and the dean of the University of Maryland School of Social Work for an interdisciplinary panel discussion focused on the opioid crisis currently plaguing the United States. Held April 18 at Homestead Gardens in Davidsonville, Md., the panel discussion spotlighted the University's efforts to bring science to an area in which evidence-based practices are often lacking.
"As a leader in pharmacy education, scientific discovery, patient care, and community engagement across the state of Maryland and beyond, the School of Pharmacy recognizes that we have a responsibility to help address the critical public health challenges facing our nation today," says Eddington. "The current opioid crisis takes the lives of more than 115 people in the United States each day. It is an epidemic unlike any that our nation has previously experienced. There are no easy solutions, but the research and practice initiatives currently underway at our School and across UMB can help us identify measures that we can implement in our local communities to begin to curb opioid addiction."
She adds, "It was a pleasure to have the opportunity to participate in Dr. Perman's panel discussion and share the progress that we have made on those projects."
According to the Behavioral Health Administration, more than 1,500 individuals in Maryland lost their lives as a result of opioid overdoses during the first three quarters of 2017 – a number that has nearly doubled from just two years ago. To kick off the panel discussion, Perman asked attendees who had been personally affected or knew someone who had been impacted by substance use disorders to raise their hands.
Nearly every hand in the audience went up.
"This is important," said Perman. "We need to see each other in order to see this crisis for what it is, how pervasive it is, and how indiscriminate it is. We must raise our hands together, because we are not going to get anywhere if we do not erase the stigma associated with addiction."
Continuing the discussion, Coop spoke about his work to develop UMB 425 – an opioid painkiller with the potential for no abuse liability. First discovered by Coop and his team in 2013, UMB 425 is as strong as morphine, but boasts a unique dual-profile that acts on two different opioid receptors in the body. When activated at the same time, these receptors work together to provide pain relief and slow the body's development of tolerance to the drug, allowing a lower dose of the opioid to be administered for a longer time period while still achieving the same level of pain relief.
Coop emphasized that he refuses to use the term "addiction" in his research, noting that it is too imprecise and associated with a stigma that is counterproductive. Instead, he spoke about the mechanisms of disease. "If a person is motivated to take a substance to get high, that substance is 'reinforcing,' while a person motivated to use a substance to avoid withdrawal symptoms is 'dependent.' With UMB 425, we have solved the issue of dependence in animals, but we're still working on the reinforcing aspect," he said.
Speaking about other School-led initiatives aimed at stemming the local opioid abuse epidemic, Eddington highlighted the launch of a new interdisciplinary center that aims to bring science to substance use disorder services and care. The new Center for Addiction Research, Education, and Services (CARES), which will be led by the Schools of Pharmacy and Social Work, has four areas of focus that tap into the outstanding skillsets in each of the schools at UMB. Its core areas include:
Workforce development and technical assistance
Development of innovative models and systems of care
Translational addiction research, data surveillance, and management
Policy analysis, development, and education
The center will leverage the interprofessional environment already prevalent across UMB. Its work will span across disciplines to produce research and provide care that addresses the opioid epidemic in a comprehensive manner. "These are the kinds of initiatives that can help in terms of the crisis we are in and meeting the needs of patients where they are," she said.
A question-and-answer session followed the discussion, and featured comments that covered a myriad of topics, such as workforce advice for small business owners and concerns about the unregulated sales of controlled substances online. At the conclusion of the event, Perman reinforced the University's pledge to rise to the challenge presented by this important issue. "UMB's seven schools are absolutely committed to working together through comprehensive programs to address opioid addiction," he said.
Related News Stories