Palliative Care Physician Gives John W. Holaday Endowed Memorial Lecture in Medical Cannabis
Dr. David Casarett discussed cannabis as potentially evidence-based medicine.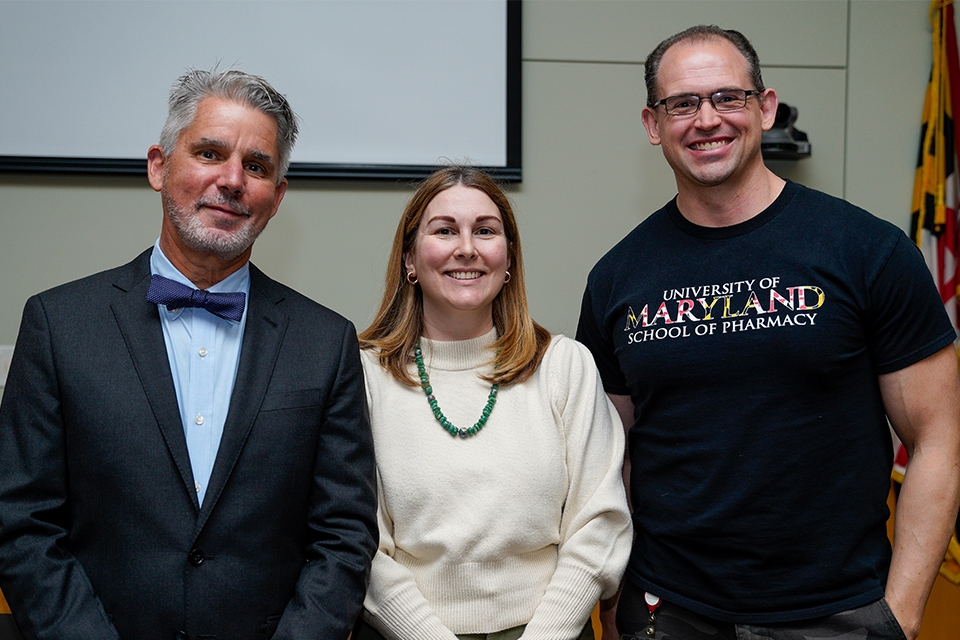 By Andrew Tie
April 10, 2023
A physician and researcher examined the existing evidence for medical cannabis use during the John W. Holaday, PhD, Endowed Memorial Lectureship in Medical Cannabis held at the University of Maryland School of Pharmacy on March 31.
David Casarett, MD, MA, professor of medicine at Duke University and chief of palliative care at Duke Health, is a health services researcher whose work focuses on improving systems of care for people with serious, life-threatening illnesses.
"As a well-known palliative care physician who also manages patients using medical cannabis, David Casarett is one of the foremost experts in this area," said Leah Sera, PharmD, MA, BCPS, associate professor in the Department of Practice, Sciences, and Health Outcomes Research and co-director of Graduate Studies in Medical Cannabis at the School of Pharmacy. "It was wonderful to have him come to our School and talk about the science and evidence, as well as the need for more evidence, for medical cannabis use."
Casarett gave a talk titled, "Is cannabis evidence-based medicine?" to a hybrid audience including many students and alumni of the online MS in Medical Cannabis Science and Therapeutics program. In short, the answer to his own question is "yes," but with a caveat that it's not as evidence based as it could or should be.
Although there is some evidence in literature that points to potential benefits to cannabis, Casarett said there needs to be a greater body of research and that some of the existing evidence provides conflicting conclusions.
Additionally, there are gaps between the medical cannabis research community and patients. For example, simplistic marketing the makes vague promises and common delivery forms like gummies or brownies can detract from viewing the medication as evidence based. Another gap is the enthusiasm from patients viewing cannabis as a medical panacea and the limited evidence in clinical trials.
"If our patients are expecting more from us than medical cannabis can deliver, that's going to be a challenge," Casarett said. "We should not only be looking at what the evidence is, but what people hope it is."
The Holaday Lecture was established at the School of Pharmacy in 2020 by a gift from Curio Wellness, a medical cannabis brand and trust health partner based in Maryland, in honor of John Holaday, PhD, a highly accomplished pharmaceutical executive, entrepreneur, and medical scholar who also served as chairman emeritus of Curio Wellness's Scientific Advisory Board.
"I liked that Dr. Casarett's talk came from a scientific and medical standpoint as opposed to just being an advocate," said Chad Johnson, PhD, assistant professor in the Department of Pharmaceutical Sciences and co-director of Graduate Studies in Medical Cannabis. "Both are important, but as of now, we need more evidence before we can claim cannabis can be used to treat various conditions, and Dr. Casarett stressed that point, arguing for continued and expanded research into this growing field."
Related News Stories