UMSOP Expert Talks Legalized Recreational Cannabis in Maryland
Leah Sera, co-director of Graduate Studies in Medical Cannabis at UMSOP, is guest on UMB's Virtual Face to Face.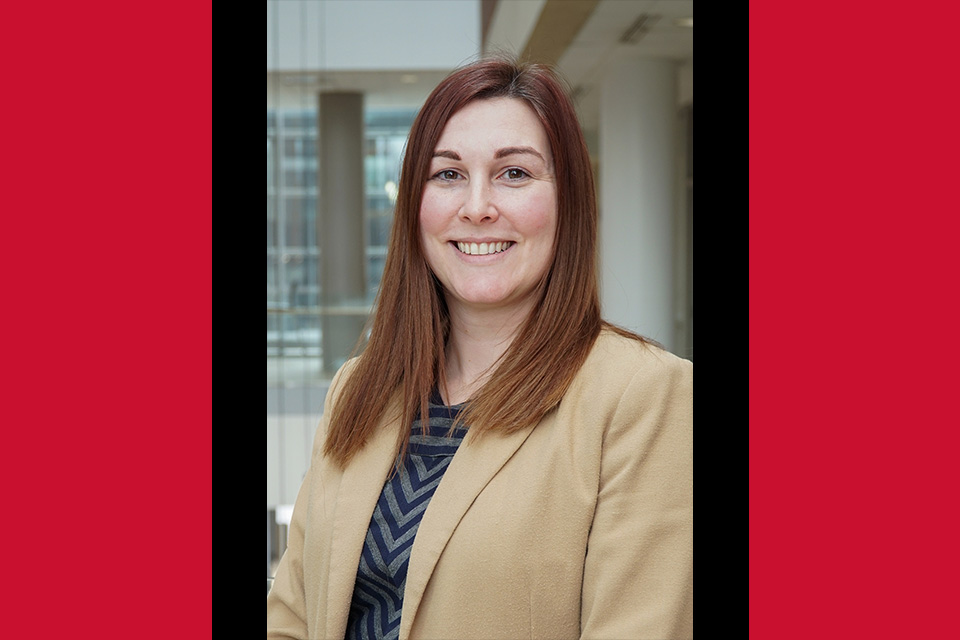 By Alex Likowski
April 6, 2023
On March 30, University of Maryland, Baltimore (UMB) Provost, Executive Vice President, and Graduate School Dean Roger J. Ward, EdD, JD, MSL, MPA, hosted a discussion on the legalization of recreational cannabis in Maryland on UMB's Virtual Face to Face series. Ward was joined by expert panelists Leah Sera, PharmD, MA, BCPS, associate professor and co-director of the University of Maryland School of Pharmacy's first-in-the-nation MS in Medical Cannabis Science and Therapeutics program, and Mathew Swinburne, JD, research associate with the University of Maryland Francis King Carey School of Law, who has worked closely with legislative committees crafting Maryland's cannabis legislation.
In just over 50 years, America's relationship with cannabis, or what used to be called marijuana, has gone from disregard as a taboo counterculture drug to widespread acceptance, first for medical purposes and now for recreational use.
In 1971, congress enacted the Controlled Substances Act, followed in 1973 by the creation of the Drug Enforcement Agency. Around that time, an NBC News poll showed that 84 percent of Americans opposed legalizing cannabis and just 4 percent said they had tried it.
Today, according to the Pew Research Center, nearly nine out of 10 Americans support legalizing adult recreational cannabis, and even several presidents and at least one Supreme Court justice have admitted they've used cannabis.
Ten years ago, Maryland joined about two-thirds of the rest of the states in approving the use of medical cannabis — to ease pain, control nausea, and even to induce a desire to eat. Dispensaries started opening in 2017. Now, physicians, nurse practitioners, dentists, and even podiatrists prescribe medical cannabis to thousands of patients each year.
Last fall, Maryland voters overwhelmingly approved a referendum making it the 20th state to approve the adult use of recreational cannabis. The Maryland General Assembly is still working on the details, but as of July 1, adults 21 and older may possess up to an ounce and a half of cannabis and grow two plants — out of sight — for personal use. There are provisions to license growers, processors, and retailers, and other provisions addressing education, driving while under the influence of cannabis, and much more.
Legislators also are working to promote social justice. Maryland has a long history of disproportionately arresting African Americans for cannabis possession. The new law will allow the re-examination of the sentences of those incarcerated, in part, for minor cannabis possession, and allow the expungement of minor cannabis possession convictions from criminal records, something that can adversely impact the ability to get a job, buy a house, receive a professional license, or get a student loan.
Lawmakers also want to ensure that communities that have been most impacted by the war on drugs reap a good share of the economic benefits. Some 400 licenses to grow, sell, and dispense cannabis could generate billions of dollars in sales and tens of millions in taxes and fees. Two states, Colorado and Washington, already derive more tax revenue from cannabis than alcohol.
Mindful that when medical cannabis was approved in Maryland, none of the initial licenses went to African Americans, legislators intend the new law to give advantage to those who have lived in "disproportionately impacted" communities and provide mentoring and startup loans.
Supporters say there are public health benefits, too. Legalized cannabis can be made safe, free from dangerous additives like fentanyl. And cannabis, they say, is less addictive and less likely to lead to serious medical problems than alcohol. But there are still calls for caution. In a Washington Post column last fall, Leana Wen, MD, MSc, former Baltimore health commissioner and now a George Washington University public health professor, detailed what she called "abundant research" showing "how exposure to marijuana during childhood impacts later cognitive ability, including memory, attention, motivation, and learning."
Wen is not alone in this view. The United Nations' International Narcotics Control Board's annual report says, "In all jurisdictions where cannabis has been legalized, data show that cannabis-related health problems have increased." The report also points a finger at certain cannabis-based products like edibles and vaping products, often marketed in attractive packaging that may appeal to young people.
Another cause for concern is the concentration of THC, the main psychoactive cannabinoid, in the cannabis grown today, which is several times higher than it was in the 1960s and 1970s.
Finally, there is still the issue of the Controlled Substances Act, in which cannabis remains listed as a Schedule 1 drug, just like heroin, ecstasy, and LSD, making it illegal everywhere in the U.S. under federal law. The act defines Schedule 1 drugs as drugs with no currently accepted medical use and a high potential for abuse. And it's not just a technicality. This single fact has made it very difficult for universities to perform meaningful research, and it restricts state-authorized cannabis sellers to being cash-only operations, since they cannot access the federally protected interstate banking system.
Watch the entire discussion, including questions from the virtual audience, by accessing the link at the top of the page.
Related News Stories