My UMSOP Story: Anyen Fon, PharmD '22, MS '22, AstraZeneca Early Clinical Development Fellow
Alumnus combines pharmacy expertise and research passion in fellowship work.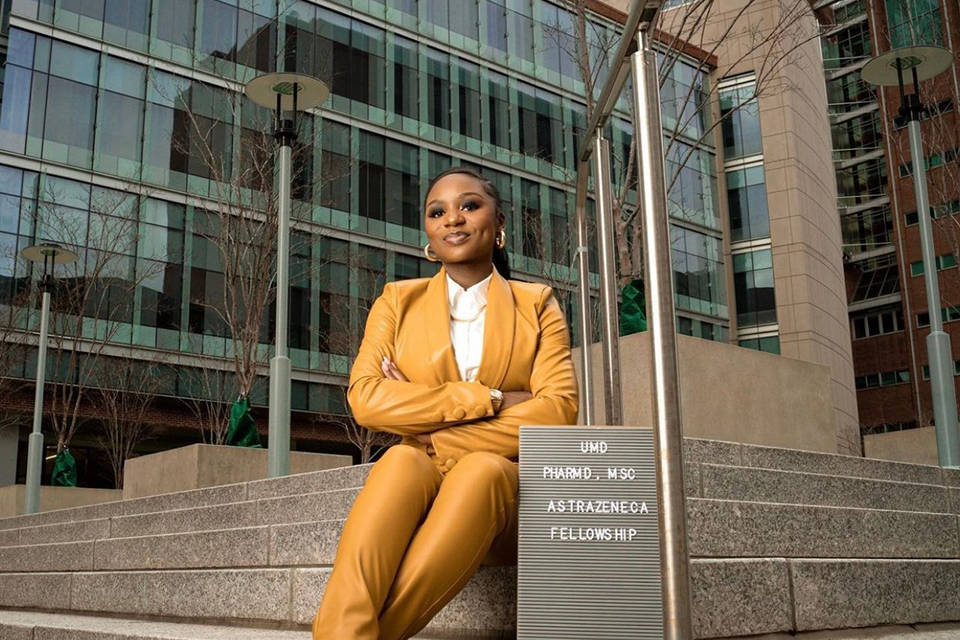 By Andrew Tie
September 14, 2022
Anyen Fon, PharmD '22, MS '22, took the unconventional route to becoming a clinical scientist, but she is well-equipped and determined to create her career path.
Fon, who began a two-year AstraZeneca-University of Maryland Early Clinical Development Fellowship in July working on cancer drug trials, has long known she wanted to work in scientific research studies. Her interest began after an internship at the National Institutes of Health (NIH). Instead of pursuing a PhD or MD, she chose pharmacy school knowing it could also lead her back to research.
"After the internship, I knew this is what I wanted to do," Fon said. "That led me to pursue pharmacy school, but I didn't go to pharmacy school to work in the community or hospital setting. The challenge was finding ways that I could merge research and pharmacy."
Pursuing a PharmD
Born in Cameroon in West Africa, Fon saw first-hand the many difficulties that her impoverished community faced, along with basic education being a privilege for many. She migrated to the United States at a young age with her mother and sister and with the many opportunities surrounding her, felt driven to focus and pursue an education. Fon grew up in Maryland and sought a school close to home that promoted research and innovation, which she found through the Doctor of Pharmacy (PharmD) program at the University of Maryland School of Pharmacy (UMSOP).
Fon explored the many opportunities available to her as a student pharmacist. In her first year, she worked with Steven Kittner, MD, professor of neurology at the University of Maryland School of Medicine, to enroll ICU patients in the study Genetic and Environment Risk Factors for Hemorrhagic Stroke. In her second year, she added to her studies by enrolling in the School's PharmD/MS in Regulatory Science dual degree program.
"The dual degrees offered by the School are a great opportunity for pharmacy students who want to broaden their careers but may not know exactly how," Fon said. "Being able to graduate with what I needed without having to go back to school was a great benefit of attending UMSOP. Tuition is also significantly less because you're already a pharmacy student."
In addition to regulatory science, Fon was part of the School's pharmapreneurship pathway and participated in Grid Pitch, a showcase for University of Maryland, Baltimore students to pitch innovative business ideas to experts and investors.
"I love research because it's very innovative coupled with problem solving, and pharmapreneurship expanded on this entrepreneurial mindset and problem solving," Fon said.
As Fon looked at clinical development careers after pharmacy school, she found an ideal position through the AstraZeneca-UMSOP fellowship located nearby in Gaithersburg, Md. The fellowship is only open to UMSOP graduates.
"This fellowship is training me to become a clinical scientist," Fon said. "A huge part of what I'm being trained to do right now is operational, such as data cleaning, which is essentially making sure the data is complete, accurate, and ready for analysis by regulatory standards. As a clinical scientist and a PharmD graduate, we also have the scientific background to be able to make decisions, so I'm building towards that."
The Intersection of Pharmacy and Research
Although the career paths for a pharmacist have traditionally included community and hospital settings, an increasing number of UMSOP graduates are looking toward industry. In 2022, Fon was one of 22 UMSOP graduates to land competitive industry fellowships.
Because Fon hasn't crossed paths with many pharmacists in research so far – she only met one in her previous job at the NIH – she brings unique knowledge to the job. At AstraZeneca, she works with an interprofessional team of regulatory experts, data managers, statisticians, physicians, and more. As a pharmacist, Fon contributes to the team through her expertise in how drugs work, their mechanisms of action, effects, and drug-drug interactions.
Fon credits UMSOP for providing students with many opportunities such as pharmapreneurship or dual degrees that supplement traditional pharmacy careers. But one of the best benefits of attending UMSOP, Fon said, was the faculty mentors she met. Specifically, the mentorship of Daniel Mansour, PharmD, BCGP, FASCP, AGSF, interprofessional clinical coordinator for the Peter Lamy Center on Drug Therapy and Aging, and Magaly Rodriguez de Bittner, PharmD, BCPS, CDE, FAPhA, the Felix Gyi Endowed Memorial Professor in Pharmapreneurship.
"Having mentors who will walk you through life and pharmacy school, who will support you and give you professional advice is really crucial to success," Fon said.
Related News Stories