First MS in Medical Cannabis Class Gathers Two Years After Graduation
The School hosted a celebration for the MCST Class of 2021.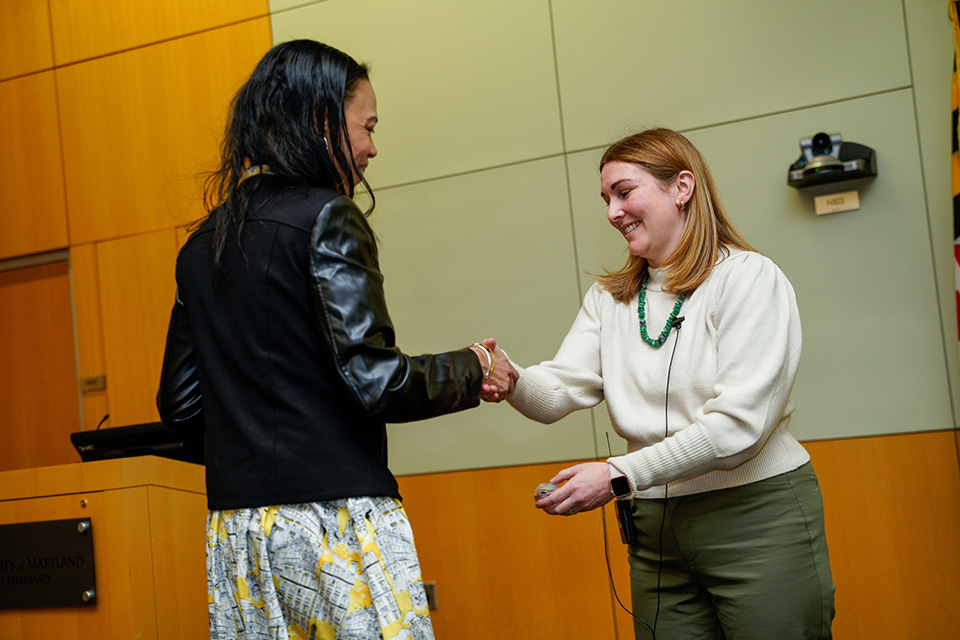 By Andrew Tie
April 13, 2023
Graduates of the MS in Medical Cannabis Science and Therapeutics (MCST) Class of 2021 received a long overdue in-person gathering to celebrate their academic achievements at the University of Maryland School of Pharmacy (UMSOP) on March 31.
These graduates, who were recognized virtually during the COVID-19 pandemic in 2021, are an especially notable class as the first cohort to receive a medical cannabis graduate degree, not just at UMSOP but in the entire country. Of the 132 graduates in the class, about 40 were able to return.
"The Class of 2021 is full of trailblazers," said Leah Sera, PharmD, MA, BCPS, associate professor in the Department of Practice, Sciences, and Health Outcomes Research and co-director of Graduate Studies in Medical Cannabis at the School of Pharmacy. "They took a chance on us and trusted us to provide them with an education in medical cannabis. It has been so gratifying to hear about their amazing accomplishments in their many professions and fields since graduating."
Like conventional graduation ceremonies, the students – now alumni – heard remarks from program administrators and a keynote address from Deborah Miran, former commissioner of the Natalie M. LaPrade Maryland Medical Cannabis Commission. The alumni in attendance were also called by name and had an opportunity to give brief remarks.
"It means a lot to see the inaugural MCST class experience the excitement of being together and experiencing an in-person graduation gathering," said Chad Johnson, PhD, assistant professor in the Department of Pharmaceutical Sciences and co-director of Graduate Studies in Medical Cannabis.
Interests in Medical Cannabis
When the MCST program launched in 2019, the School sought to attract a diverse applicant pool of people with a variety of educational backgrounds, scientific training, interests in cannabis, and professions.
Rodney Lee, MS '21, first became interested in cannabis through his wife, a physician who was learning about the plant in her work.
"While she's on the medical side of it, there's a social side of cannabis for people who are in jail for dealing with a product that is legal in just about all of the states," Lee said. "The social issue was key for me, and that's where my point of emphasis is right now."
Renee Reisinger, MS '21, a nurse practitioner who attended the University of Maryland School of Nursing, said health care providers have a duty to continue learning about new and innovative treatments.
"It's very heartwarming, and I feel very grateful to be back here to interact with my classmates," Reisinger said. "When I heard the tales of healing from patients using cannabis, I really wanted to take a deep dive into cannabis as medicine and try to understand it from a molecular level. I really do believe UMSOP rolled out an excellent program."
Related News Stories