Director of MS in Regulatory Science Program Receives International Education Award
TOPRA Awards for Regulatory Excellence recognize high achievements in regulatory affairs community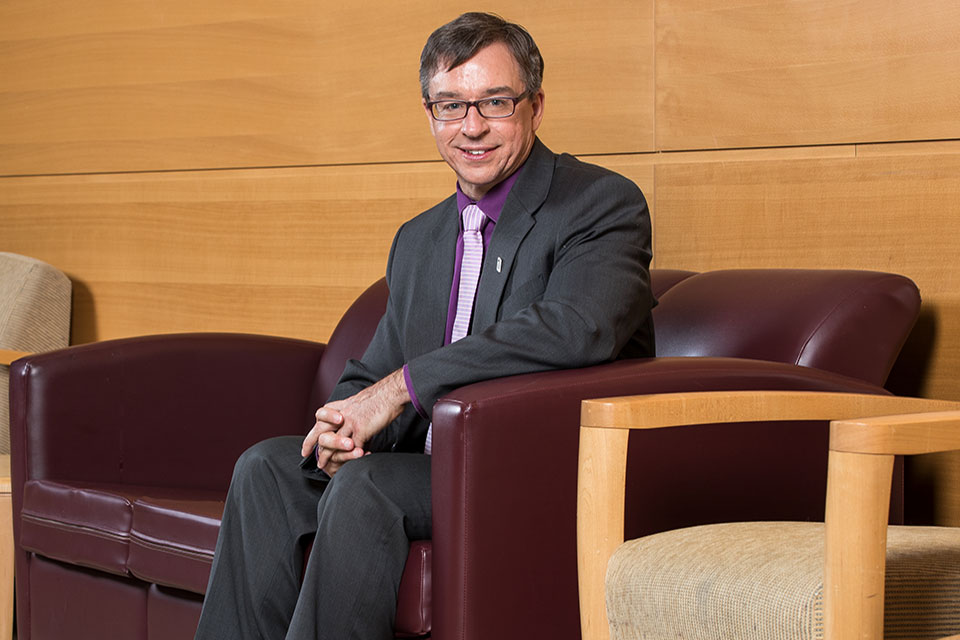 By Becky Ceraul
December 17, 2021
James Polli, PhD, the Shangraw/Noxell Endowed Chair in Industrial Pharmacy and Pharmaceutics in the Department of Pharmaceutical Sciences (PSC) at the University of Maryland School of Pharmacy, has received a 2021 Award for Regulatory Excellence from the Organization for Professionals in Regulatory Affairs (TOPRA). As the winner in the Education category, Polli is recognized for making a significant contribution to the world of regulatory education and training through the development of a formal educational qualification – the School of Pharmacy's MS in Regulatory Science program.
According to TOPRA, access to high-quality, up-to-date training and the availability of formal qualifications are important ways to help regulatory affairs professionals achieve excellence. As the 2021 recipient of the Award for Regulatory Excellence in the Education category, Polli demonstrates a creative or innovative approach to training in a complex regulatory topic and has a proven track record of producing excellent learning outcomes in the program's students.
"I am very honored to receive the 2021 Award for Regulatory Excellence in Education from TOPRA, especially since its members are so essential to medical product development and post-market safety, says Polli. "This award is dedicated to our students. Patients rely on tomorrow bringing even better medicines and medical devices, so continued learning is not an option but a necessity."
Launched in 2014, the part-time, two-year MS in Regulatory Sciences program was one of the School of Pharmacy's first online degree programs. With an emphasis on drug discovery, drug development, clinical research, and post-approval drug regulation, the program provides additional learning and training for people who currently work or would like to work in drug regulation and biologics development.
"About 20 percent of students in the program actually work at the FDA," Polli says, with others attracted from academia (including other schools at the University of Maryland, Baltimore), industry, and federal government. The program is entirely online, though students work in groups on team projects and presentations.
To date, the program has graduated 215 students and will mark its 10th anniversary in 2022.
Polli received a BS in pharmacy from the Philadelphia College of Pharmacy and Science and a PhD in pharmaceutics from the University of Michigan. He is co-director of two FDA-funded academic centers: the University of Maryland Center of Excellence in Regulatory Science and Innovation (M-CERSI) and the Center for Research on Complex Generics (CRCG). His two main research interests are maximizing oral bioavailability through formulation and chemical approaches and developing public quality standards for oral dosage forms. He has published in the areas of dissolution, drug intestinal permeability, transporter substrate requirements, prodrug design, oral bioavailability, in vitro – in vivo correlation, and bioequivalence. Polli is a fellow of the American Association of Pharmaceutical Scientists and an editorial board member of several journals. He teaches professional pharmacy students and graduate students and has served as advisor to 21 PhD graduates.
"The TOPRA award is an important recognition for the very successful MS in Regulatory Science program that Dr. Polli conceived of, developed, and has been directing for nearly a decade," says Peter Swaan, PhD, professor and chair of PSC and the School of Pharmacy's associate dean for research and advanced graduate studies.
TOPRA is the professional membership organization for individuals working in health care regulatory affairs. It works with members internationally to enable and promote excellence across the health care regulatory profession. The Awards for Regulatory Excellence were established in 2010. It's independent judging panel includes more than 20 leading figures in the regulatory sector.
Related News Stories