Cultivating a New Program
The School's MS in Medical Cannabis Science and Therapeutics brings credibility and science to a dynamic field.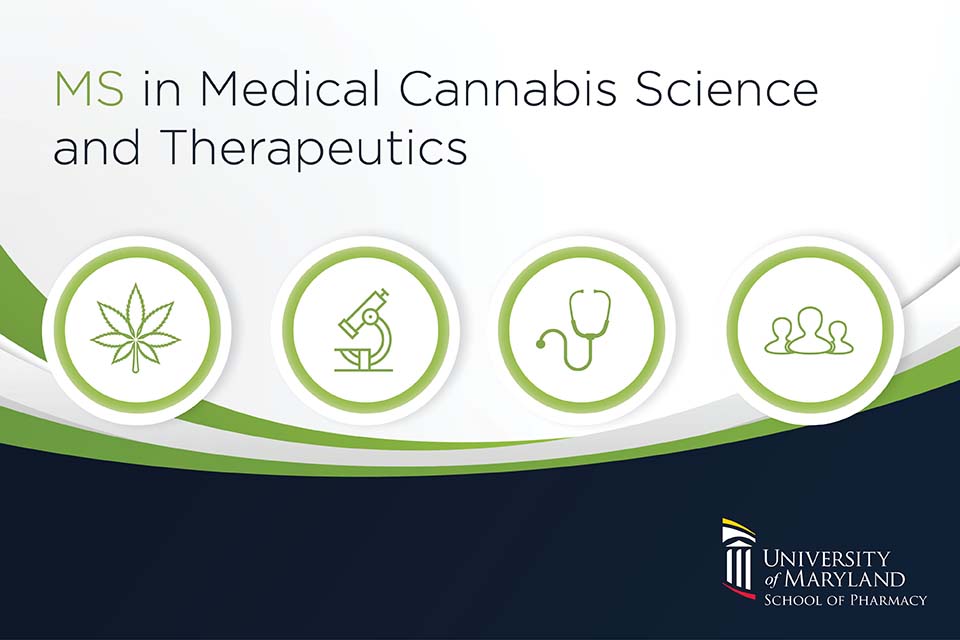 By Christianna McCausland
January 1, 2022
Catrena Almonte, MS '21, spent two decades in the United States military serving in the Navy, Navy Reserve, and the Army National Guard as a chaplaincy candidate. In the latter post, she worked with soldiers with post-traumatic stress disorder (PTSD).
Patients in the throes of a PTSD episode can be dangerous to themselves and others. They can be hard to triage as their behavior may present like a medical emergency. Almonte soon realized her chaplaincy training was not enough to meet the complexities of the condition.
"I started on a path to find a way to do my job as a chaplain within this challenging condition," she explains. "Once I found out that cannabis can be an effective treatment modality for PTSD, that's when I began looking for credible ways to understand cannabis."
Understanding of PTSD and medical cannabis are developing fields. However, research shows that cannabinoids can calm the same areas of the brain that control the hyper arousal impulse triggered in a PTSD episode. While it won't cure patients, medical cannabis can help patients live better lives, Almonte believes. But she needed to explore the therapeutic modality the right way.
"There is still stigma associated with medical cannabis and not all programs are backed by a large, reputable institution like the University of Maryland, Baltimore," she says. "I worked so hard over my 20 years in the military, and I wanted a program that was equally as professional. So when I found the School of Pharmacy program, I felt that it really matched with my background and was a natural step for me."
Almonte was one of the first 132 students to graduate in May 2021 from the School of Pharmacy's Master of Science (MS) in Medical Cannabis Science and Therapeutics (MCST). Launched in 2019, MCST is the first graduate program in the country dedicated to the study of medical cannabis. There are now more than 390 students enrolled in the two-year program.
Almonte notes that it was important to her that the program was not only master's level (there are certificate programs available elsewhere in the United States), but also grounded in science not botany.
"What I loved is that they took into account people like myself who did not have a strong background in the sciences and took challenging concepts like pharmacokinetics and the chemistry of cannabinoids and broke it down so people like me could really digest it and walk away with a strong understanding of the science and chemistry of cannabinoids," she says. "That's really given me the confidence to speak about cannabis from a different perspective."
Leah Sera, PharmD '10, MA, BCPS, associate professor in the Department of Pharmacy Practice and Science and the MS in MCST program co-director
Natalie D. Eddington, PhD '89, FAAPS, FCP, dean and professor of the University of Maryland School of Pharmacy, describes the development of the MCST program as a "journey." In 2017, the School attempted to provide a continuing education program focused on medical cannabis, but it was discontinued after Maryland's attorney general clarified what the School could and could not teach under state and federal laws. Although legalized in some states, the U.S. Drug Enforcement Administration still classifies marijuana as a Schedule 1 drug.
After close consideration, a master's program felt like a better fit for the need in educational programming. Fortuitously, the School's planning coincided with the release of a report in 2017 by the National Academies of Sciences, Engineering, and Medicine titled, "The Health Effects of Cannabis and Cannabinoids: The Current State of Evidence and Recommendations for Research." It was one of the most comprehensive studies of the potential of medical cannabis published in decades.
"The National Academies report elevated this to another level where cannabis was looked at as a medication with specific health effects," Eddington explains. "That provided us the fundamental background we could use to start the master's program."
Leah Sera, PharmD '10, MA, BCPS, is an associate professor in the Department of Pharmacy Practice and Science and the MS in MCST program director. She states that, like all things at the School, the program begins and ends with patients. Her own interest in medical cannabis can be traced to her clinical background in pain management and palliative care. As early as her pharmacy residency in 2010, her patients, like those in hospice, were asking about medical cannabis as a therapeutic option.
"Cannabis is a therapeutic treatment patients are interested in learning more about," Sera explains. "To provide good care for patients, the providers, the researchers, those running businesses and dispensaries, all need this information."
As Sera points out, the medical cannabis field is very diverse, including everyone from those who grow and package it to those who dispense or legislate its use. Thus it was decided early on that the MS in MCST needed to be open to anyone with a bachelor's degree, with no prerequisite requirements. This enables students like Almonte, who want to expand their knowledge but lack the hard science background, to enroll.
The MS in MCST has six core courses, including a history of medical cannabis, its pharmacology and chemistry, basics of pharmaceutical development, and clinical effects of medical cannabis. Students can choose three elective courses such as genomics, law, or advanced cannabis therapeutics. The two-year program is based at the Universities at Shady Grove in Rockville, Md., and conducted online with some in-person experiential learning components, enabling students from around the U.S. — Almonte, for example, was based in Rhode Island — and the world to enroll.
The student body is diverse. The greatest percentage of students come to the program with backgrounds in nursing, business, and the humanities. Course content meets students wherever they are.
"The pharmacology starts from the ground up," Sera says, "but we provide opportunities for students with more experience to go deeper in assignments."
---
More than 200 first-year students in the MS in Medical Cannabis Science and Therapeutics program gathered Sept. 17 for the program's Fall Symposium at the Universities at Shady Grove, launching their education in the burgeoning industry.
---
Stressing Science, Not Recreation
Alexandra Harris is a first-year student in the program. As a resident of California, she describes that state's legalized cannabis as a "party" industry, dominated by glitzy marketing not unlike what is seen around alcohol and tobacco consumption. Recreational cannabis has overshadowed study into the plant's medicinal properties.
Harris worked in the cannabis industry for two prominent labs conducting analytical testing for potency. She explains that in this party environment there is pressure toward higher THC (tetrahydrocannabinol, the main compound in cannabis) percentages, which is not necessarily safe and leads many labs to falsify their percentages.
"After both my labs lost their licenses, I realized there was a severe issue within the industry," she states. "I've seen things happen that aren't good science, and I'd like to see that change."
Harris likes the diversity of the MS in MCST students and looks forward to learning from others in the medical cannabis field, many of whom have very different backgrounds. Harris received her bachelor's degree in biology from the University of Hawai'i at Manoa and as a biologist, she can't wait to learn more about the mechanics of the plant as a therapeutic. She now works at a company called IsoPlexis as a field application scientist, helping researchers and biotech companies study the protein secretions that impact immunological diseases and cancer.
"I'm so excited to learn about the pharmacokinetics of cannabis, which was something I could not extrapolate in my undergraduate work in plant physiology or biochem classes," she explains. "I'm excited to have that direct application of how the body receives cannabinoids, and to apply that to the cancer research I'm doing now."
Professional, reputable, evidence-based — these are some of the adjectives used by students and professors to describe the MS in MCST. "We didn't set out to legitimize the field, but we've found that people say our program professionalizes the industry," Sera says.
Almonte says there are those in the chaplaincy core who ostracized her over her commitment to understanding medical cannabis as a treatment for PTSD. She was warned that this "was not the path God wanted me to take." But she says she gives critics little credence.
"I've gotten nothing but positive responses about this program," she states. "When I applied for the Psy-D program I will now be attending and I told them I had a master's in medical cannabis science and therapeutics from the University of Maryland School of Pharmacy, they were so impressed. They said no one else in their student body had the information I had."
MCST operates in a dynamic arena, with states taking varied approaches to legalizing the plant — or not. The program's international students add a unique layer. Sera says the School encourages students to be aware of the laws in their state and country, and many students are using their studies to advocate for wider acceptance of medical cannabis.
Harris is the vice president of the Medical Cannabis Student Association at the School of Pharmacy, which hosts educational events for students and alumni. They also have plans for legislative advocacy, such as writing letters to state and federal lawmakers about the potential for medical cannabis as a therapeutic modality.
"I'm proud to be part of advocacy work that can help decrease the barriers to federal funding for cannabis research," Harris says. "Change begins with good research that can produce good education and inform the public."
Next Steps
Eddington would like the next step in expanding MCST and the study of medical cannabis to be clinical studies. For example, given the differences in human metabolism, patients need to titrate with medical cannabis to get their preferred outcome.
She sees research potential in formalized dosing. Whether that research and those clinical studies can happen in Maryland is part of the dynamics of an ever-changing legal landscape, but Eddington says the School of Pharmacy is committed to proactively pursuing the science of medical cannabis.
"We're helping patients better understand how cannabis might be helpful in their health. Not too many universities touched this, and we did because we thought this was something that could help patients. I'm very proud of this, and I think we've done the right thing," she says.
"Graduates of our program are going to be excellent ambassadors for medical cannabis and the understanding of the plant, its health effects, and of the need and the hope it can bring to certain patients."
Related News Stories