White Coat Ceremony Welcomes Class of 2027 to Pharmacy Profession
School of Pharmacy hosted the annual ceremony on Sept. 8.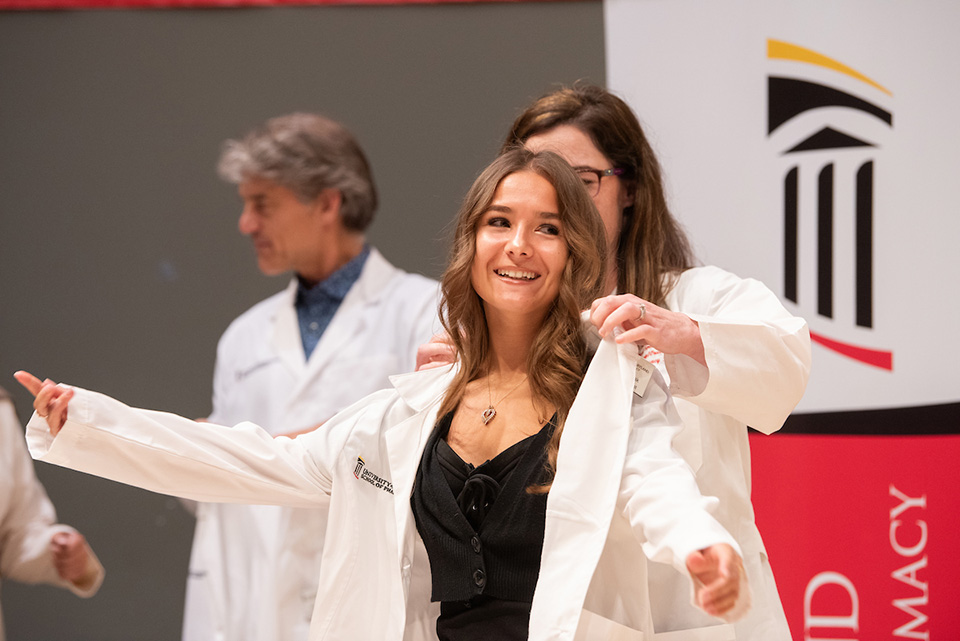 By Andrew Tie
September 20, 2023
On Sept. 8, the University of Maryland School of Pharmacy's Doctor of Pharmacy (PharmD) Class of 2027 participated in the annual tradition of the White Coat Ceremony, signifying the start of their pharmacy journeys.
During the White Coat Ceremony, first-year student pharmacists receive their clinical white coats, which symbolize the importance of professionalism and the role of a health care provider, from faculty members.
"Your journey to become a pharmacist includes your academic training but also training in professionalism, which starts today with our White Coat Ceremony," said Sarah L.J. Michel, PhD, interim dean of the School and professor in the Department of Pharmaceutical Sciences. "It is important that you think about how you will treat your patients, their families, and your colleagues when you are in your white coat. Professionalism should be at the core of your actions. If it is, you will excel as a pharmacist."
Endless pathways in pharmacy
The keynote address was given by Hema Gowda, PharmD '05, senior global development scientist director at AstraZeneca, where she supports registrational studies investigating immunotherapy in lung cancer.
Gowda's career has included roles outside of the traditional retail and community pharmacy settings, such as medical writing and medical affairs and clinical development. She advised the Class of 2027 to embrace the endless possibilities that will be available to them.
"It's only after I started working that I appreciated the pharmacy profession's true breadth," Gowda said. "Dismiss the idea that you must select one of these options before you graduate and continue with it for the rest of your career. Take the chance to learn and expand your skillset in each chapter of your career."
Excitement among the Class of 2027
First-year student pharmacists expressed their enthusiasm for the ceremony's arrival.
"I'm nervous but I'm excited," said Alex Biji. "It's going to be the big kickoff to our next four years. It's going to be the start of our professional careers. It's a small world in pharmacy, so I want to make a good impact as I start patient care."
With many families and friends in attendance, this was a momentous occasion for the first years and their support network. Some called it the fulfillment of a dream.
"I'm so proud of everybody here today," said Tatyana Bell. "Everyone's been looking forward to this day since orientation."
Related News Stories