White Coat Ceremony Signifies Start of Pharmacy Journey for Class of 2026
School of Pharmacy hosted the annual ceremony on Sept. 23.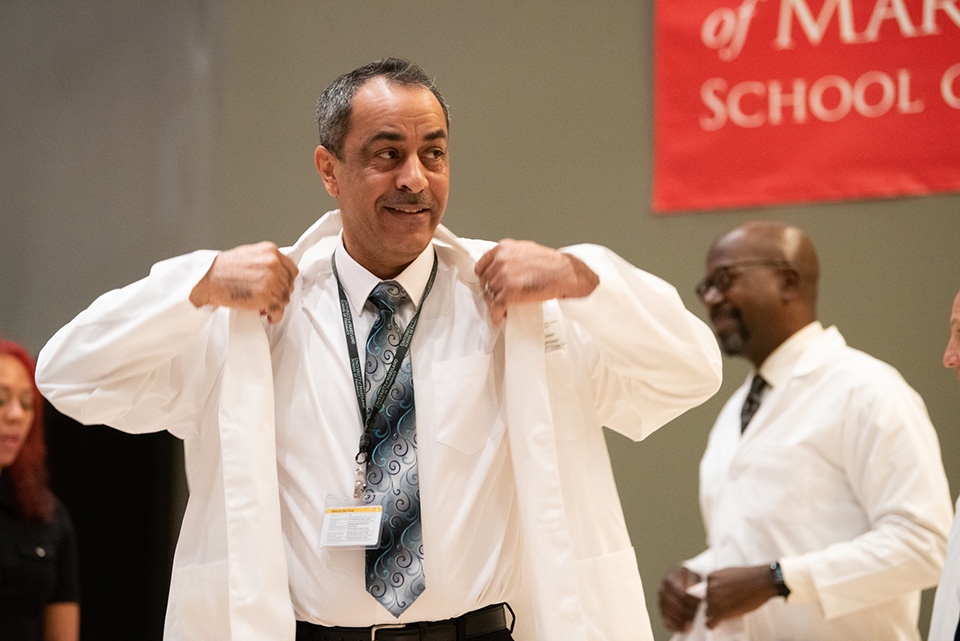 By Andrew Tie
October 3, 2022
Keeping with traditions of the health care profession, the University of Maryland School of Pharmacy (UMSOP) welcomed its first-year students to the pharmacy profession in a White Coat Ceremony on Sept. 23 at Leadership Hall on the University of Maryland, Baltimore campus.
During the White Coat Ceremony—the first held in person since 2019 at UMSOP—Natalie D. Eddington, PhD, FAAPS, FCP, dean and professor of the School, advised the students to embrace the ideals of professionalism on their career journey.
"Professionalism encompasses a variety of characteristics—altruism, duty, honor, integrity, and respect," said Eddington in her remarks. "I emphasize professionalism today because it is the cornerstone of our profession. Once you embrace this concept, then you truly become a student pharmacist."
The keynote address was delivered by Kun Yang, PharmD '15, CEO and co-founder of Pricklee, a beverage startup in the consumer-packaged goods space. Yang, who once sat where the first-year student pharmacists sat, worked in multiple positions within the biotechnology industry before transitioning to entrepreneurship through Pricklee, which has been featured on the TV show Shark Tank.
"You're now part of a world-class institution," Yang said. "You have access to some of the most incredible research facilities, faculty, hospital systems, the FDA [Food and Drug Administration], industry, and alumni that most pharmacy students across the country would only dream about. If you really make the most of your next four years at this institution, you'll walk away with a foundation to accomplish things in your life that you never dreamed were possible."
Student Perspectives on the White Coat
When time for the coating came, Jace Jones, PhD, assistant professor in the Department of Pharmaceutical Sciences and the Class of 2026 faculty advisor, read student names with help from Emma Wehrman, a third-year student pharmacist and president of the Student Government Association.
Reginald Briscoe, president of the Class of 2026, said he felt excited, happy, and more determined to finish school. "The white coat signifies a sign of professionalism, knowledge, and commitment to health care," he said. "A white coat of this nature makes me want to be committed to helping people in the world and further health care."
For Yolande Ekenja, the ceremony marked a milestone in her path to pharmacy school. "It took me two years, but I made it here," she said. "I'm happy I'm here. I'm finally at the pharmacy school, and that's been my long dream."
The ceremony comes a little more than a month after the academic year began, and Wajhee Zaidi said he's enjoyed his time in pharmacy school so far, despite the challenges that come with graduate education.
"It's nice to be around such a welcoming community," Zaidi said. "It's a nice environment, the School is amazing, and the curriculum is very challenging."
Related News Stories