School of Pharmacy Celebrates Frank Palumbo's 48-Year Career and Retirement
Colleagues and friends gather to honor the pharmaceutical health services research professor who retires on June 1.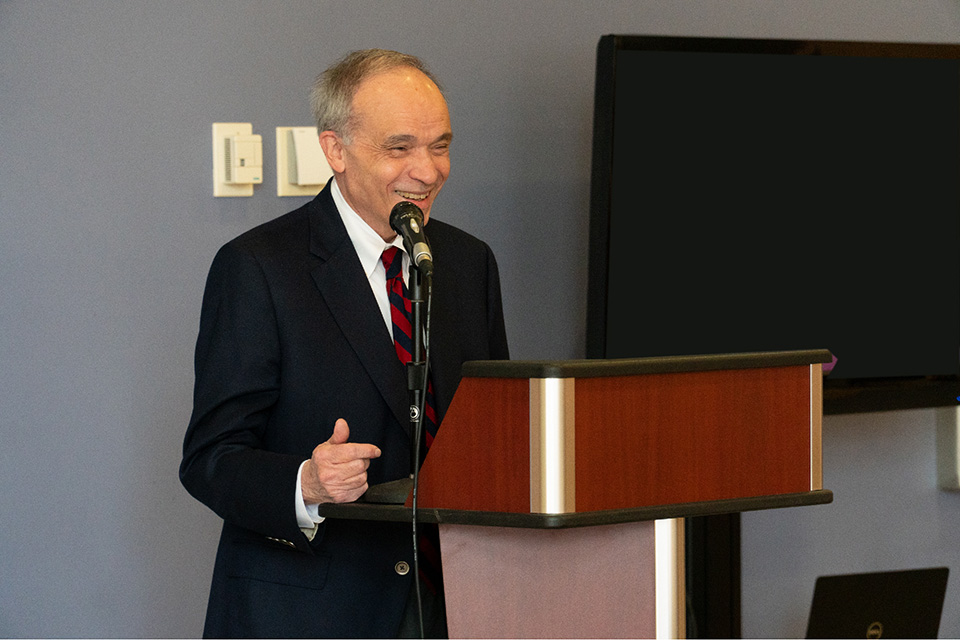 By Andrew Tie
May 16, 2022
When Francis (Frank) Palumbo began working at the University of Maryland School of Pharmacy (UMSOP) in 1974, he and his wife, Karen, only planned to be in Baltimore for three years. The three years came and went, and Palumbo didn't want to leave. He felt at home at UMSOP, and the years soon turned into decades.
After a distinguished 48-year career, Palumbo, PhD, JD, MS, professor in the Department of Pharmaceutical Health Services Research (PHSR) and executive director of the Center on Drugs and Public Policy, embarks on the next phase of his life: retirement, which begins on June 1.
"This is a wonderful place to be, it has been a wonderful place, and will be a wonderful place to be, and it's because of all of you," Palumbo said in remarks during a celebration to honor his career on May 11. "I'm particularly thankful to the leadership we have here at the School and in our own department. It's been a pleasure to work here and work with all of you."
Palumbo has been a stalwart of the UMSOP faculty for decades, as a professor at the School of Pharmacy and as an adjunct professor at the Francis King Carey School of Law beginning in 1995.
"Pharmacy and law students appreciate Frank's deep knowledge, guidance, thoughtful feedback, and willingness to go the extra mile to help them with their research," said Natalie D. Eddington, PhD, FCP, FAAPS, dean and professor of the School. "Frank, thank you again for your exceptional contributions over the last 48 years. You are the epitome of expertise, influence, and impact. I am honored to count you as a treasured colleague and friend."
Pharmacy and Law Expert
Palumbo received his bachelor's degree in pharmacy from the Medical University of South Carolina, his master's and PhD in health care administration from the University of Mississippi, and his law degree from the University of Baltimore. He continues to be a licensed pharmacist and member of the Maryland and District of Columbia Bars.
Over the years, Palumbo taught pharmacy management, medical care organization, health economics, and pharmacy law at the School of Pharmacy. In the 1980s, he co-founded the School's graduate program in PHSR. At the School of Law, Palumbo taught food and drug law. In 2019, he was named the University of Maryland, Baltimore's (UMB) Educator of the Year.
A prolific academician, Palumbo produced countless journal articles, books, chapters, and presentations and held leadership roles in national organizations, including serving as chair of the Food and Drug Law Journal's editorial advisory board.
He is a highly regarded voice on issues related to the Food and Drug Administration, sought after for his input on the legal and policy ramifications of health care, and has served on National Institutes of Health study sections.
Before retirement, Palumbo will serve one final role: honorary faculty marshal at the UMB commencement on May 19.
Eddington announced UMB has granted Palumbo professor emeritus status in recognition of his many years of dedicated teaching and scholarly service. Palumbo becomes the 20th School of Pharmacy faculty member to hold emeritus status.
Tributes from Palumbo's Colleagues
At the retirement celebration, numerous tributes from Palumbo's past and current colleagues spoke to his generosity and kindness and the impact he's had on their careers and lives.
"People turn to Frank when they're trying to make important decisions," said C. Daniel Mullins, PhD, professor and chair of PHSR. "When I've had to make important decisions, I've appreciated you being there guiding me. And when I make bad decisions, allowing me the room to recover and teaching me how to be a person of grace."
Another theme of the remarks was stories from faculty members, including Mullins and Fadia Shaya, PhD, MPH, professor of PHSR, who recounted that they first came to UMSOP because Palumbo recruited them.
"Everyone has said, one way or another, you had a hand in having them here," Shaya said. "You have that powerful presence that will be missed, but I know you will come back."
Related News Stories