Study Shows Significant Increase in Prescribed Stimulant Use Among Adults
Prescription stimulant use among privately insured adults, particularly women, outpaced use among children and adolescents from 2010 to 2014.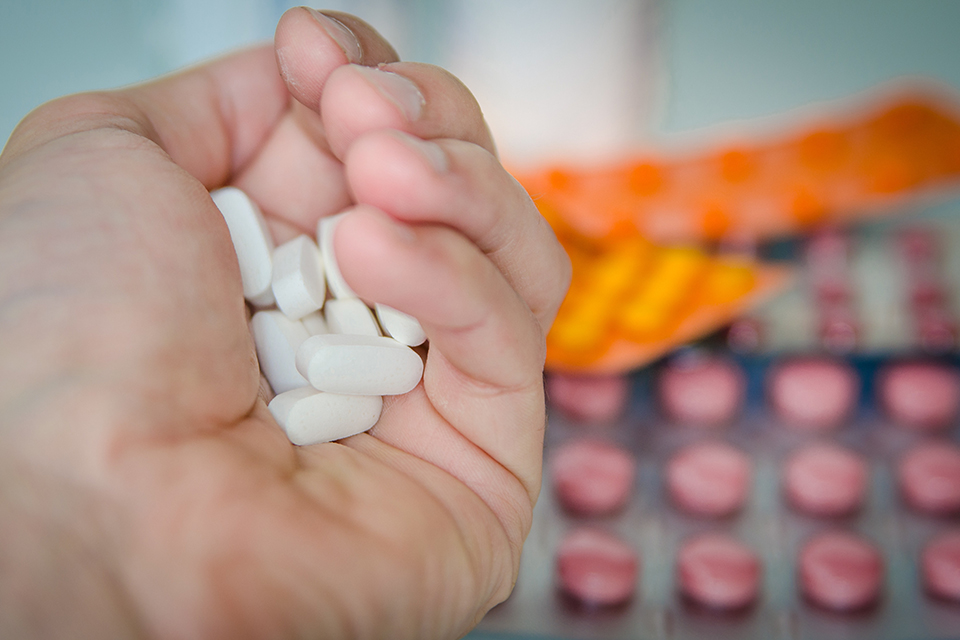 By Malissa Carroll
September 20, 2016
A new study led by Mehmet Burcu, a doctoral candidate in the PhD in Pharmaceutical Health Services Research (PHSR) Program at the University of Maryland School of Pharmacy, has found that, although prescription stimulant use across all age groups has increased in recent years, the increase in the use of these medications among adults has exceeded the use in youth. Published in the psychiatry-focused Journal of the American Medical Association (JAMA Psychiatry), the study also found that, while more boys are prescribed stimulants among youth populations, women are more likely to be prescribed these medications in adult populations.
"This study is a continuation of our research examining national trends in attention-deficit/hyperactivity disorder (ADHD) diagnoses across children and adult populations," says Burcu. "In a previous study, we found that, as expected, ADHD diagnoses were more common in children than adults. However, what we did not expect to find was that the growth in use of prescription stimulants appeared to be substantially greater among adults than children and adolescents, particularly in women. This study gave us the opportunity to dig a little deeper to better understand stimulant prescribing patterns among privately insured populations in the United States."
Stimulants such as dextroamphetamine (Adderall) and methylphenidate (Ritalin) can be used to treat a number of health conditions, including ADHD and narcolepsy. However, research has shown that these medications are increasingly being misused to treat nonmedical conditions, such as weight loss and performance enhancement – a dangerous trend as the use of stimulants can lead some patients to develop tolerance to the medications, progressing to increased use and addiction in some individuals.
"Because the conditions for which stimulants are typically prescribed are diagnosed more often in children and adolescents than adults, there is significant evidence that supports the use of these medications for treatment in youth," says Julie Zito, PhD, professor in PHSR who served as a mentor for the research. "By contrast, such an evidence base examining the use of these medications in adults is more tenuous. With the results of this study, we now know that prescription stimulant use among adults is increasing at a significantly greater rate, and that much more attention to benefit-risk is needed in adults."
To examine recent trends in stimulant use across different age groups and genders, Burcu and his colleagues applied a repeated cross-sectional design to insurance claims data from 2010 to 2014 among children and adolescents ages 0-19 years and adults ages 20-64 years who were continuously enrolled in a BlueCross BlueShield health insurance plan in Illinois, New Mexico, Oklahoma, or Texas during that time. Although the researchers found an increase in stimulant use across all age groups, they noted that the increase was significantly greater among adults versus children and adolescents.
More importantly, the researchers noted that — while many of the children who were prescribed stimulants had been diagnosed with ADHD — a large proportion of the adults who were prescribed these medications lacked an ADHD diagnosis. "The lack of a corresponding diagnosis raises important concerns about the potential nonmedical use of prescription stimulants among adults. Are these medications being used for an appropriate indication? Have these medications been prescribed for an off-label indication that has not been well-studied?" Burcu questions.
Collaborating with Burcu and Zito on the study were Daniel J. Safer, MD, associate professor of psychiatry and pediatrics at Johns Hopkins Medicine; Leanne Metcalfe, PhD, senior director of consultative data science at BlueCross BlueShield of Illinois, Texas, Oklahoma, New Mexico, and Montana; and Howard Underwood, MD, FSA, vice president and actuary enterprise clinical analytics at BlueCross BlueShield of Illinois, Texas, Oklahoma, New Mexico, and Montana.
Related News Stories