SOP's Future Health Services Researchers Honored with Scholarship Awards
Four students from the School's PHSR PhD Program receive the Arthur Schwartz Memorial Scholarship and Donald O. Fedder Memorial Fellowship in recognition of their superior academic performance.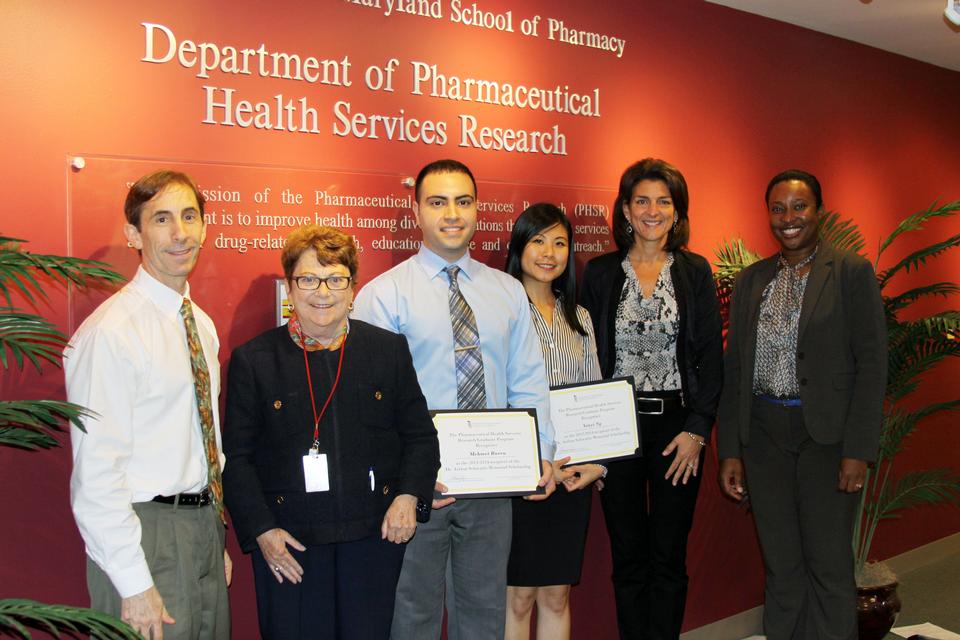 By Malissa Carroll
November 12, 2014
The Department of Pharmaceutical Health Services Research (PHSR) at the University of Maryland School of Pharmacy hosted its annual Graduate Program Awards Presentation and Reception on Oct. 15, to present the Arthur Schwartz Memorial Scholarship and Donald O. Fedder Memorial Fellowship to four exceptional students in the department's graduate program.
"The awards that we are presenting today were established in memory of two amazing individuals who shared very special relationships with the PHSR PhD Program at the School of Pharmacy," said C. Daniel Mullins, PhD, professor and chair of PHSR. "These awards offer us the opportunity to continue sharing the memories and legacies left by these individuals with future generations of health services researchers."
Ebere Onukwugha, MS, PhD, assistant professor and director of the PHSR PhD Program, continued, "We are very grateful to have this opportunity to honor our current students and allow them to reflect on the events that have led them to their current positions, while remaining cognizant of the importance of 'paying it forward' by living a life of service as epitomized by both Dr. Fedder and Dr. Schwartz."
The first student admitted to the PHSR PhD Program, Arthur (Artie) Schwartz demonstrated a keen interest in drug use and pharmaceutical marketing issues. Following his death at an early age, his wife Karen Schwartz established the Arthur Schwartz Memorial Scholarship in his honor to provide funding for future students in the program based on academic standing and financial need.This year, the scholarship was presented to two of the program's graduate students: Mehmet Burcu and Xinyi Ng.
Originally from Cyprus, Burcu received his bachelor's degree in biochemistry from Ohio Wesleyan University. He spent four years as a laboratory research assistant at the University of Maryland Marlene and Stewart Greenebaum Cancer Center before enrolling in the PHSR PhD Program. Under the guidance of his mentor Julie Zito, PhD, professor in PHSR, Burcu is studying the use of antipsychotic combinations with antidepressant and anticonvulsant medications in treating children and adolescents enrolled in Medicaid to determine if these complex regimens increase children's risk for developing type 2 diabetes.
"I'm incredibly grateful to the Schwartz family for this award," said Burcu. "Their generous support will allow me to continue my passion of exploring public health questions that have the potential to directly influence health care policy as well as the decisions made by both patients and health care providers."
Ng's interest in the field of health services research began when she was an undergraduate at the National University of Singapore. After receiving her bachelor's degree in pharmacy, she began a career as a pre-registration pharmacist at Singapore General Hospital. With support from her family, she applied and was accepted into the PHSR PhD Program in 2011. Her dissertation, which will be completed under the mentorship of Susan dosReis, BSPharm, PhD, associate professor in PHSR, will focus on prioritizing the concerns and desired outcomes of patients with systemic lupus erythematosus, as well as examining the risk-benefit trade-offs made by patients seeking corticosteroid treatment.
"I am truly honored to receive this award," said Ng. "Dr. Schwartz set great expectations during his life that I must now live up to, and I thank not only his family for their gracious support, but also Dr. dosReis for her kind and patient guidance as I continue to progress through the program."
The Donald O. Fedder Memorial Fellowship was established in honor of Donald Fedder, DrPH, MPH, BSP, FAPhA, a public health pharmacist and long-time School of Pharmacy faculty member who passed away in August 2010. His scholarly worked paved the trail for the role of professional pharmacy in public health and brought national attention to the importance of patient behaviors and chronic disease management. This award, which supports the training and development of graduate students whose work focuses on social justice, pharmacy advocacy, or public health, was presented to Abdalla Aly and Viktor Chirikov, doctoral degree candidates in the PHSR PhD Program.
Originally from Egypt, Aly received his undergraduate degree from Misr International University in 2007. He practiced as a pharmacist before enrolling in the PHSR PhD Program, where he currently serves as Mullins' graduate research assistant. His dissertation focuses on the impact of heterogeneity of treatment effect on survival, cost effectiveness, and coverage of androgen deprivation therapy in patients with metastatic prostate cancer.
"One of the questions that I want to address with my research is which patients will benefit most from a specific treatment," said Aly. "Health care costs are skyrocketing in the United States, and we need more measures to improve the cost effectiveness of care. Dr. Fedder was a strong advocate for public health, and to help improve public health, we need to make sure that providers are giving the best treatments to those patients who will benefit most."
Chirikov, a native of Bulgaria, received his bachelor's degree in bioengineering and biopharmaceutical engineering from Lehigh University, where he also completed a master's degree in health and biopharmaceutical economics. He joined the PHSR PhD Program in 2010. Under the guidance of his mentor Fadia Shaya, MPH, PhD, professor in PHSR, Chirikov has been involved with a number of research projects that have demonstrated his skills in community-based research. His dissertation examines contextual factors that determine whether disabled patients with Hepatitis C – the leading cause of liver cancer in the United States — who are enrolled in Medicare will have a delayed diagnosis, and explores patterns of quality of care and treatment in this vulnerable population.
"I feel very privileged to receive this award," said Chirikov. "I have been blessed with a number of advantages throughout my life, and this award not only represents my personal success as a graduate student, but also the success of the family members, colleagues, and friends who have helped me reach this point in my life."
Related News Stories