Student Pharmacists Find "Matches" in Residency Programs Nationwide
Pharmacy residency programs across the nation learn which students will join their programs next year.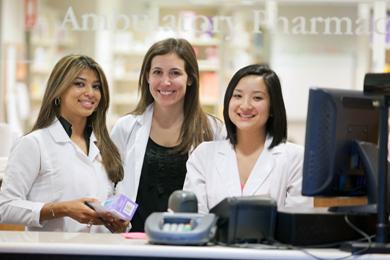 By Malissa Carroll
April 2, 2013
On Friday, March 22, thousands of fourth-year student pharmacists across the country learned their fate as the American Society of Health-System Pharmacists (ASHP) announced its Residency Match Day results. Forty-eight students from the University of Maryland School of Pharmacy were matched to residency positions at institutions such as Johns Hopkins Hospital, the University of Virginia, Ohio State University, and the Veteran's Affairs Health Care System. Approximately 67 percent of students from the School who applied for residency positions using the Pharmacy Online Residency Centralized Application (PhORCAS) were matched.
"Students who are interested in pursuing careers as clinical pharmacists or careers in academia, particularly those who have a specialty practice interest such as oncology or hospital administration, are encouraged to pursue residency training as a way to refine and expand their skills," says Kristin Watson, PharmD, BCPS, associate professor of pharmacy practice and science and director of the Residency and Fellowship Program at the School of Pharmacy. "For most positions with clinical pharmacist responsibilities, many employers now require one or two years of residency training."
Over the years, pharmacy students have shown an increased interest in residency training in helping them obtain more specialized roles within the health-system setting. In 2010, only 22 percent of graduates from the School of Pharmacy went on to pursue residency or fellowship training. In 2012, that number increased to 35 percent.
One of the 39 fourth-year students from the School of Pharmacy to receive a residency match was Eric Brandenburg. He will be completing his training at MedStar Union Memorial Hospital, a specialty hospital in Baltimore. Before learning about his match, Brandenburg participated in two five-week rotations in the hospital's pharmacy department and completed an ambulatory care rotation in the hospital's coagulation clinic.
"I loved the time I spent at Union Memorial Hospital. Everyone I worked with, including the pharmacy staff, the medical residents, the attending physicians, and the medical students, was great," says Brandenburg. "The attending physicians and medical residents are very proactive in integrating pharmacists into the medical team and allowing us to help care for patients, so I knew this hospital would be a great place to continue my training."
Another fourth-year student from the School of Pharmacy to receive a match was Rawmina Keshavarzi, who will be joining the residency program at the University of California Davis Medical Center.
"The residency program at UC Davis Medical Center will provide me with an excellent learning environment, exposure to diverse patient populations, and a wide variety of rotation opportunities," says Keshavarzi. "The pharmacy staff are very supportive of the residents and are committed to helping them attain their professional goals. This experience will really help me to grow as a clinical pharmacist."
The School of Pharmacy's joint residency program with the University of Maryland Medical Center also had a successful match. Thirteen new first- and second-year residents will join the program in July to advance their knowledge and skills in a number of specialty areas, including ambulatory care, community pharmacy, geriatrics, oncology, and pediatrics.
"With my strong interest in pain management and palliative care, and my desire to help patients and their families across the continuum of disease treatment, I knew the pain management and palliative care residency program at the University of Maryland would be the best fit for me," says Nina Cimino, a pharmacy graduate from the University of Michigan College of Pharmacy. "I am very excited to have the opportunity to work with excellent clinical preceptors and acquire teaching experience with the School of Pharmacy."
"I am interested in a career in academia, so I especially appreciate that the University of Maryland Medical Center is associated with the School of Pharmacy, which is dedicated to leadership in interprofessional education and training," continues Kashelle Lockman, a fourth-year student at the School of Pharmacy who will be continuing in the School's residency program. "I am looking forward to evolving as a clinician and educator under the mentorship of the excellent pharmacy practitioners at the Medical Center and School of Pharmacy."
This year, more than 4,400 graduating pharmacy students and new practitioners participated in the ASHP's Resident Matching Program. Approximately 2,495 first-year residency positions were matched, with another 601 second-year residencies also receiving matches.
Related News Stories