Fourth-Year Students Find Their "Match" in Residency Programs Nationwide
Pharmacy residency programs across the nation learn which students will join their programs this summer.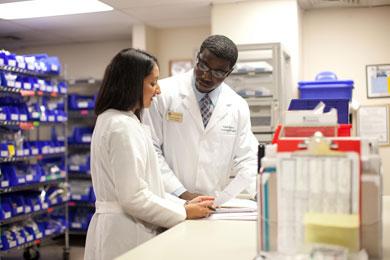 By Malissa Carroll
April 9, 2014
On March 21, thousands of fourth-year student pharmacists across the country learned their fate as the American Society of Health-System Pharmacists (ASHP) announced its Residency Match Day results. Forty-one students from the University of Maryland School of Pharmacy were matched to residency positions at institutions such as Yale-New Haven Hospital, Johns Hopkins Hospital, Kaiser Permanente Mid-Atlantic States, and the Veteran's Affairs Health Care System.
"Pharmacy residencies offer students a great opportunity to continue developing their knowledge and skills in an environment where they can be closely mentored by a practicing pharmacist," says Cherokee Layson-Wolf, PharmD, CGP, BCACP, FAPhA, associate dean for student affairs and associate professor in the Department of Pharmacy Practice and Science (PPS). "The number of employers that require applicants to have one or two years of advanced training beyond the completion of their Doctor of Pharmacy (PharmD) degree continues to grow. To stay competitive in this advancing job market, students now actively seek opportunities to pursue residency training."
Over the years, pharmacy students have shown an increased interest in residency training to help them obtain more specialized roles within the health-system setting. In 2010, only 22 percent of graduates from the School of Pharmacy went on to pursue residency or fellowship training. In 2013, that percentage increased to 25 percent.
One of the fourth-year student pharmacists at the School of Pharmacy to receive a residency match was Christopher Min, who was matched with the residency program at the University of Chicago Medical Center, a large academic hospital that offers a broad spectrum of specialty and primary care services.
"There were a number of qualities that attracted me to the University of Chicago Medical Center, from its wide range of diverse, yet individualized rotation and training opportunities to the way pharmacists are integrated into the health care team, allowing us to have a greater impact on patient care," says Min. "I knew this was the place for me, and I cannot wait to continue developing my clinical skills while working with a great team and exploring an amazing new city."
Two additional fourth-year students from the School of Pharmacy to receive matches were Jamie Elsner and John Dolan, who will be joining residency programs at the Johns Hopkins Hospital and Carroll Hospital Center, respectively.
"After completing an experiential rotation at the Johns Hopkins Hospital, I knew it was the place where I wanted to complete my residency training," says Elsner. "I am positive that the program's rich learning environment, meaningful research and teaching experiences, and dedicated preceptors will help refine and expand my clinical and research skills and enable me to become a highly qualified independent practitioner. The hospital is renowned for its legacy of excellence as an academic learning center and is one of the top hospitals in the nation. I am honored to become a part of its established pharmacy residency program."
"Having grown up in a small town, I knew that I wanted to match with a hospital where community and teamwork were core values," adds Dolan. "Carroll Hospital Center in Westminster, Md., exemplifies both of those attributes. I am thrilled to have been accepted into its residency program, and look forward to sharpening my clinical skillset while serving as a valued member of a close-knit team of health care providers."
The School of Pharmacy's joint residency program with the University of Maryland Medical Center also had a successful match. Twenty-one new residents and fellows will join the program in July to advance their knowledge and skills in a number of specialty areas, including ambulatory care, cardiology, geriatrics, pain and palliative care, and psychiatry.
"Our residency and fellowship programs offer innovative educational, research, and practice settings in which residents and fellows can gain the knowledge and skills they need to become successful practicing pharmacists and obtain competitive positions in their respective specialties," says Kristin Watson, PharmD, BCPS, AQ Cardiology, associate professor in PPS and coordinator of the Residency and Fellowship Program at the School of Pharmacy. "We are tremendously proud of this year's successful match, and look forward to meeting all of our new residents and fellows this summer."
Christine Puschak, who will join the School of Pharmacy following the completion of her first year of residency training at Thomas Jefferson University Hospital in Philadelphia, Pa., is the first resident to be matched with the School's new Post-Graduate Year 2 (PGY-2) Cardiology Residency Program.
"Initially, I was drawn to the School of Pharmacy's cardiology residency program because of its diverse learning opportunities and enthusiastic preceptors," says Puschak. "The program offers the perfect mix of inpatient, outpatient, and teaching experiences that will prepare me for a career as a cardiology specialist. I am excited to work with such a great team of health care professionals and gain new experiences from a new institution."
The School also received the first match for its new Ellen H. Yankellow Health Outcomes Fellowship, a two-year program for individuals who want to develop skills as an independent researcher in health outcomes and health services research. This first-of-its-kind fellowship is supported by a gift from alumna Ellen H. Yankellow, PharmD '96, BSP '73, president and chief executive officer of Correct Rx Pharmacy Services, Inc., who donated $1.1 million to the School in September 2013 — the largest gift ever from a female graduate.
Remaining at the School of Pharmacy for an additional year of specialized training is current resident Allison Hollis, who early committed to the School's PGY-2 Critical Care Residency Program in Fall 2013. "The wonderful preceptors and wide range of critical care experiences available at the University of Maryland made my decision to stay in the program to pursue an additional year of training an easy one. The University of Maryland Medical Center is one of the best hospitals for critical care in the country. I have learned so much during my time in the program, and am looking forward to absorbing even more knowledge in the year to come," she says.
This year, more than 4,700 graduating pharmacy students and new practitioners participated in ASHP's Resident Matching Program. Approximately 2,640 first-year residency positions were matched, with an additional 706 second-year residencies receiving matches as well.
Related News Stories