Student Pharmacist Honored with University Diversity Award
Fourth-year student pharmacist Elodie Tendoh receives the UMB Martin Luther King, Jr. Diversity Recognition Award for Outstanding Student for her efforts to promote diversity and inclusion in the pharmacy profession.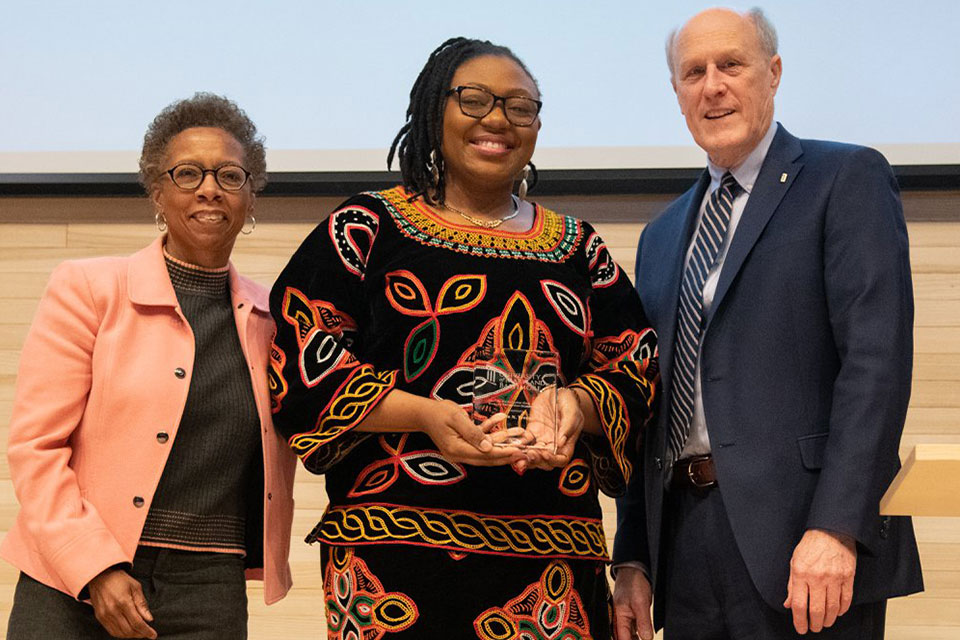 By Lou Cortina
February 6, 2020
Elodie Tendoh enjoys acquiring knowledge and is deeply committed to sharing it.
A former biology teacher in her native Cameroon, Tendoh is a fourth-year student at the University of Maryland School of Pharmacy, working on her Doctor of Pharmacy (PharmD) degree as well as a Master of Science in Palliative Care. She's also made her mark as a mentor at the School of Pharmacy and the University of Maryland, Baltimore (UMB), providing guidance to middle school students and up.
"I believe knowledge is power," Tendoh says. "Mentorship is important to me because it's a form of service through which l can share my knowledge with someone else, guiding them to make thoughtful and well-informed decisions. Taking time to enrich others with the knowledge l have acquired gives me satisfaction, especially when it leads to the achievement of their goals."
Tendoh has mentored fellow and prospective pharmacy students through the Student National Pharmaceutical Association (SNPhA) and the American Pharmacists Association-Academy of Student Pharmacists (APhA-ASP). She is a former mentor in the UMB CURE Scholars Program, which prepares sixth- to 12th-grade students in Southwest Baltimore for competitive and rewarding research, STEM, and health care careers. And through health fairs and her Baltimore Collegetown LeaderShape fellowship, she has advocated for healthier diets and improved access to fresh fruits and vegetables in the city.
Tendoh's mentorship and efforts to promote diversity and inclusion in pharmacy and health care-related fields have not gone unnoticed at UMB, where she is the winner of a 2020 Diversity Recognition Award as Outstanding UMB Student and was honored at the University's Dr. Martin Luther King Jr. and Black History Month celebration on Feb. 5.
"I believe Elodie embodies the values of Dr. Martin Luther King Jr. because she gives back in so many ways," says JuliAna Brammer, MBA, director of admissions, records, and registration at UMSOP. "She has not only mentored middle and high school students but also her fellow classmates during their undergraduate career. In the mentorship program through SNPhA, she helped prospective students navigate the admissions process and current students obtain leadership roles.
"She has been involved with eight student organizations at the School of Pharmacy and around UMB. Elodie has a long record of giving back to her classmates and the community. She is truly a leader our students and everyone at UMB can look up to."
In Cameroon, Tendoh spent three years in a teacher's training college and became an elementary school biology teacher before immigrating to the United States with her husband eight years ago. She decided to pursue a career in patient care and did pharmacy prerequisite work at Anne Arundel (Md.) Community College before being admitted to the School of Pharmacy.
"The School of Pharmacy is ranked among the top 10 pharmacy schools in the nation," Tendoh says. "This drove me toward the school, because l wanted the best education l could get. And during my research l found out that the faculty is stellar and the culture allows students to excel both in academics and personal growth and development."
Brammer lauds Tendoh for the impact she's made at the school, noting that as a regional coordinator for APhA-ASP, she brought together students from 21 pharmacy schools for a midyear conference.
"Over 300 student participants learned about leadership development, leading with passion, and embracing the call to explore and serve the Baltimore community," Brammer says. "During her tenure as coordinator, there was a 25 percent increase in participants and the highest number of exhibitors who exposed students to a variety of pharmacy career paths."
Tendoh, who is the mother of two girls, Kayla and Kerone, is on track to graduate in May and aims to continue her training at a teaching hospital and become a clinical pharmacist, specializing in palliative care and geriatrics. In her career, she hopes to continue "to make an impact on the lives of others and advocate for those who cannot advocate for themselves."
As for the UMB Diversity Recognition Award, she describes it as "the greatest honor of my life."
"I feel humbled that my name can be mentioned in the same sentence with one of the greatest advocates of all time in Dr. Martin Luther King Jr.," Tendoh says. "To me, this means that my journey has just begun, that my work has just begun. This award gives me a platform to exemplify Dr. King's life and mission of diversity and inclusiveness, creating equal opportunities for all.
"One of his quotes that resonates with me a lot is: 'The time is always right to do what is right.' As l get ready to leave the UMB community, l hope to take this with me and impact everyone who crosses my path."
Related News Stories