Student Organization Named American Pharmacists Association-Academy of Student Pharmacists Chapter of the Year
The honor is the first in School history for the student chapter.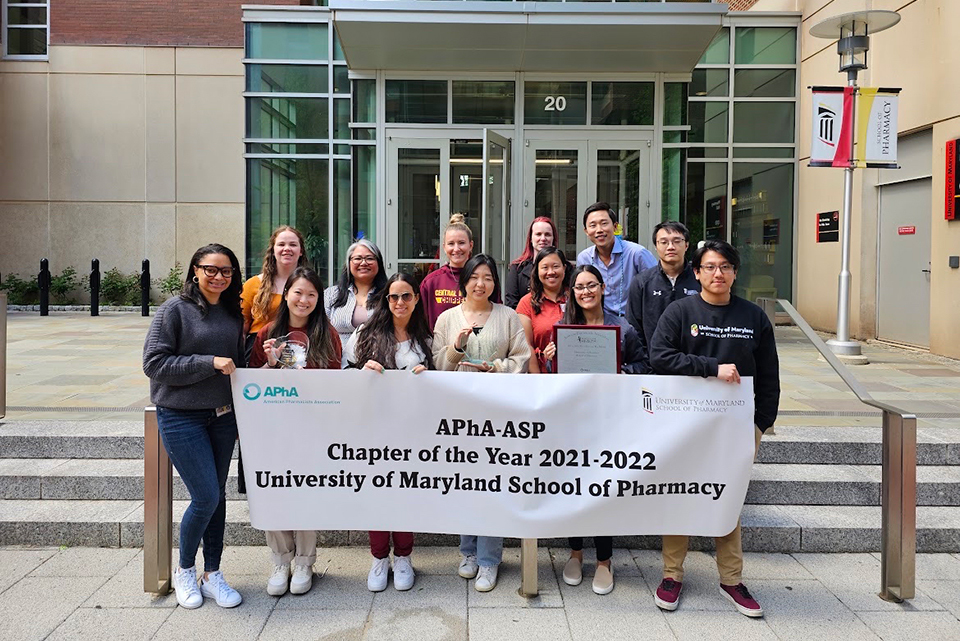 By Andrew Tie
May 2, 2023
For the first time in School history, the University of Maryland School of Pharmacy's chapter of the American Pharmacists Association-Academy of Student Pharmacists (APhA-ASP), received the APhA-ASP Chapter of the Year Award at the organization's annual meeting in March.
APhA-ASP is the largest student pharmacy organization in the country and gives a variety of awards and honors each year. The School of Pharmacy's Chapter of the Year recognition is for its work and activities in the 2021-2022 academic year.
"It is truly an honor to be recognized as the top chapter out of more than 140 chapters across the country," said Cherokee Layson-Wolf, PharmD, BCACP, FAPhA, professor in the Department of Practice, Sciences, and Health Outcomes Research (P-SHOR), associate dean for student affairs, and co-faculty advisor for the chapter. "This award is evidence of the commitment the chapter makes to outreach and awareness of health issues, as well as to leadership development of its members. Our students' innovative ideas regarding awareness and support are what stood out to the awards committee. This recognition builds on years of continued engagement, improvement of activities, and leadership by our student pharmacists."
In addition to the Chapter of the Year honor, the School's APhA-ASP chapter received two other recognitions for topic-specific programming. Operation Heart won first place for its cardiovascular events and Operation Reproductive Health received a first runner-up award for health and wellness services.
"We are so incredibly proud of our APhA-ASP Chapter," said Deanna Tran, PharmD, BCACP, FAPhA, associate professor of P-SHOR and co-faculty advisor for the chapter. "They worked so hard all year on patient care outreach, education, and awareness campaigns, and we are happy they are being recognized for their work. An award like this takes a village – this includes new practitioner mentors, including Dr. Amy Howard, and past officers who helped pave the way for this award."
APhA-ASP Active in Event Programming
According to Julie Jeong, fourth-year student pharmacist and president of APhA-ASP during the award-winning 2021-22 period, the chapter placed a heavy emphasis last year on increasing patient outreach, participation, and engagement.
The chapter worked with 35 organizations and hosted 73 collaborative patient outreach events, including vaccine clinics and patient education events. Other events included talks from members of the Maryland Pharmacists Association, partnering with the Maryland Pharmacy Coalition on Legislative Day, and professional development sessions for first- and second-year student pharmacists.
"Our officers worked so hard, and I am thankful to have led such a supportive, driven team," Jeong said. "I am so proud of our level of innovation and engagement and am excited to see what the future holds for our chapter. I also want to acknowledge our amazing advisors, new practitioner mentors, and past officers, who helped lead our chapter to this award."
The chapter began the 2022-23 academic year building upon the previous year's activities. Anyelis Rosario, a third-year student pharmacist and current president of APhA-ASP, said the goal this year was to hold more collaborative events with other student organizations and professional schools. The chapter has so far worked with 12 other student organizations on topics around pediatric health, breast cancer, and hygiene.
"As the current president, I feel extremely proud to see the hard work of the current and past executive board be recognized," said Rosario, who attended the annual meeting to receive the award on behalf of the chapter. "We aim to continue creating innovative events and collaborations to benefit our community's health and advance the professional development of our students."
Related News Stories