Student Booster Day Delivers a Dose of Hope, Too
Students grateful to UMB for on-campus clinic that provided easy access to COVID-19 vaccine booster shots.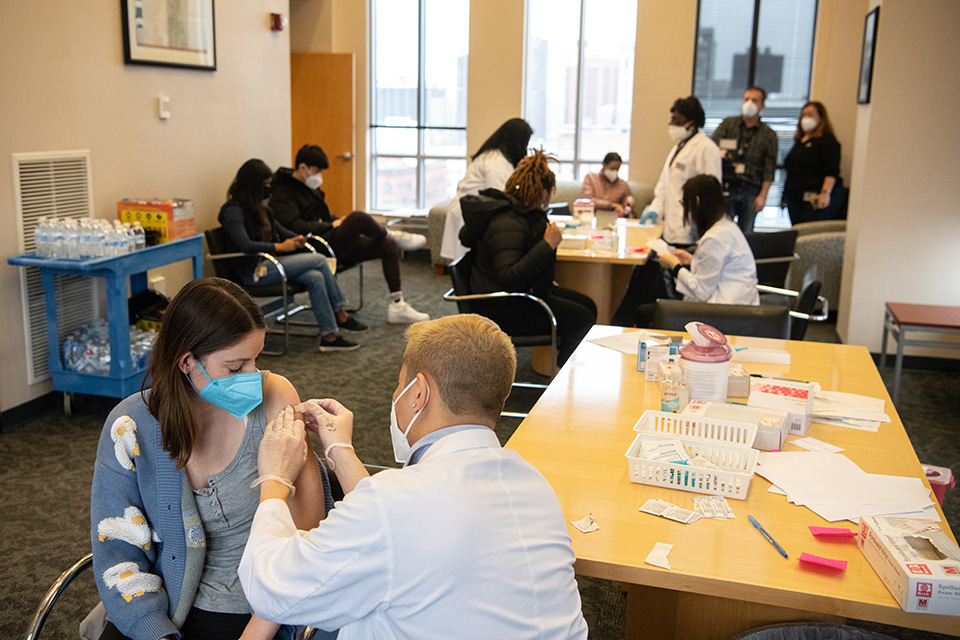 By Mary Therese Phelan
February 10, 2022
When University of Maryland Francis King Carey School of Law student Katerine Delgado received an email from the University of Maryland, Baltimore (UMB) providing details about Booster Day, a free clinic being held on campus for students to receive COVID-19 vaccine booster shots, she immediately registered for the event.
"I was really excited. I thought it was very convenient that the school was offering an opportunity for us to get our booster shots so close by," Delgado said as she waited to receive her shot.
The clinic took place Feb. 4 in the 15th-floor Sky Lounge of University Suites at Fayette Square on West Fayette Street and was sponsored by the University of Maryland School of Pharmacy (UMSOP) and Safeway. Under the guidance of faculty, UMSOP students administered COVID-19 boosters to UMB students, gaining hands-on educational experience while helping to reduce the spread of the coronavirus. (See video below.)
"It's very important for students to have the opportunity to get their booster shots so that they can protect themselves and protect those around them, especially in this learning environment at UMB," said Cherokee Layson-Wolf, PharmD, BCACP, FAPhA, associate professor and associate dean for student affairs, UMSOP.
"It's so important for our students to have that hands-on opportunity to provide vaccinations to their colleagues on campus," she continued. "They receive an opportunity to engage and communicate, but also, more importantly, to vaccinate the students on campus."
Students are excited to come back to campus and interact with one another again, Layson-Wolf says. "Receiving these boosters just allows them to do that a little bit more safely," she added.
"Safeway is proud to partner with the University of Maryland School of Pharmacy to provide COVID-19 vaccine booster shots to UMB students," said Krista Hein, PharmD, AAHIVP, patient care services manager and residency program director, Safeway Mid-Atlantic Division. "The partnership we have not only provides COVID-19 vaccines to students, but it also provides a valuable clinical experience for pharmacy students."
Last year, UMSOP students and faculty, along with their counterparts from the University of Maryland School of Nursing (UMSON), also participated in preparing doses and administering COVID-19 vaccines at a clinic established at the SMC Campus Center.
UMSOP student Minh Ta volunteered to administer vaccines at Booster Day. "It gives me an opportunity to step up and help in the pandemic," he said.
While students patiently waited to receive their shots, they expressed appreciation for having a booster clinic so readily available.
"I live in [nearby] Pascault Row, I'm in the evening program, and I work full time," Delgado said. "It just felt so nice and convenient that the school was giving us that opportunity to get our booster shot, and it felt like they cared about our health." She had tried numerous times to make appointments for a booster shot at CVS and Walgreens, but finding a time slot that fit her schedule was a frustrating exercise.
Like Delgado, Adrienne Kambouris, an MD/PhD student at the University of Maryland School of Medicine, said she was happy to receive an email from UMB about Booster Day. "I'm here in my lab all the time, and this was so convenient," she said.
She received her first and second doses of the COVID-19 vaccine last year and knew she wanted to add a booster to her plan of attack against the virus. Receiving a booster shot will help her return to normal activities, she said.
"I would like to resume daily living," Kambouris said when asked why she was getting a booster. "I'm just trying to do my part to end the COVID pandemic."
UMSON student Tucker Arvin, a resident of University Suites at Fayette Square, also was preparing to roll up his sleeve at the clinic. A policy set by the University System of Maryland requires all residential students of its schools to be boosted. He was grateful for how easy it was to walk out of his fifth-floor apartment, ascend several floors in the elevator, and cross receiving a booster shot off his to-do list.
"It really is incredible," Arvin said. "I didn't have to walk anywhere. It was just super easy."
Having worked in an ICU, Arvin knows firsthand the devastation caused by the pandemic.
"I've seen what COVID-19 does to people," he said. "You don't want to go through that. So, get vaccinated. It works."
For people who are not sure they want to get a booster, Safeway pharmacist Chioma Ohiri, BPharm, had a simple message: "Come and get it, because this is the way to go. People want to move forward. Nobody wants to be in this pandemic anymore."
Related News Stories