State Regulation Expands Medication Access and Pharmacist Capabilities
Students are first in the state to receive training on long-acting injectable medications.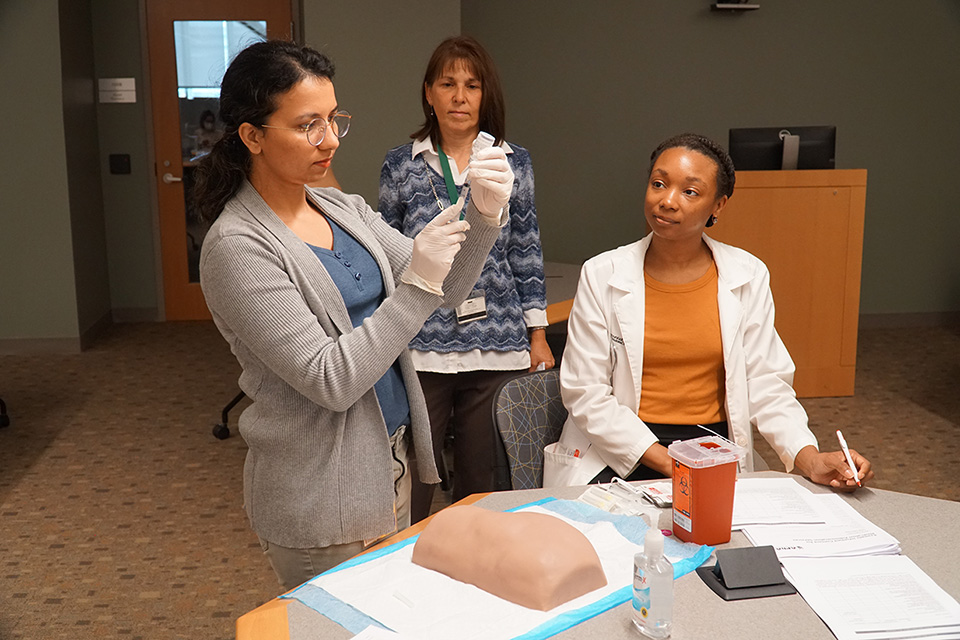 By Andrew Tie
November 21, 2022
The University of Maryland School of Pharmacy became the first in the state to train its student pharmacists on the administration of long-acting injectable medications as a result in changes to state regulations. In June, a new regulation was implemented that authorized pharmacists, with approved training from the Maryland Board of Pharmacy, to administer maintenance injectable medications in the community setting.
Third year students in the School's Abilities Lab 5 course received instruction in late October on how to intramuscularly administer HIV, substance use disorder, and antipsychotic medications. Maryland now joins many other states in allowing pharmacist administration of these long-acting forms of medications.
"This training allows our students to hit the ground running upon graduation and normalizes the pharmacy as a place for pharmacists to administer medication," says Jill Morgan, PharmD, BCPS, BCPPS, FNAP, professor and chair of the Department of Practice, Sciences, and Health Outcomes Research (P-SHOR).
The implementation of this new training into the School's curriculum is the result of long-term advocacy from P-SHOR faculty members Megan Ehret, PharmD, MS, BCPP, Raymond Love, PharmD, BCPP, FASHP, and Neha Pandit, PharmD, BCPS, AAHIVP, to state policymakers on the need for expanded pharmacist authority. Previously, the State of Maryland only allowed pharmacists to administer medications, such as insulin or eye drops, that a patient could also give to themselves.
"During the COVID-19 pandemic, many patients receiving regular long-acting injectable medications lacked easy access to them," says Love. "Maryland's new law allowing pharmacists to administer these injectable maintenance medications is the perfect solution. Community pharmacists are the most accessible health professionals, and as they showed during the pandemic, can also serve as the most accessible providers to administer these medications."
"Increasing access to medications is essential for Maryland's citizens," says Ehret. "These long-acting injectable medications are lifesaving, and at times, prescribers might not have offered these treatments due to administrative concerns. Now, patients can get these medications at local pharmacies as well as prescriber offices. I am very excited to train our students to be on the cutting edge of pharmacy practice."
During the training, students learned how to properly administer these injections and assess administrative considerations.
"As with any injectable medication or vaccine, it is essential to understand how to administer it correctly and safely," says student Gabrielle Jones. "Many of the medications have additional safety considerations, but this training ensures that pharmacists are appropriately educated on handling them. I am excited that I can provide patients with expanded access to their medications now."
Related News Stories