SOP's Palliative Care Graduate Program Celebrates First Convocation
More than half of the online program's 47 graduates attended the ceremony in Pharmacy Hall to receive their degrees.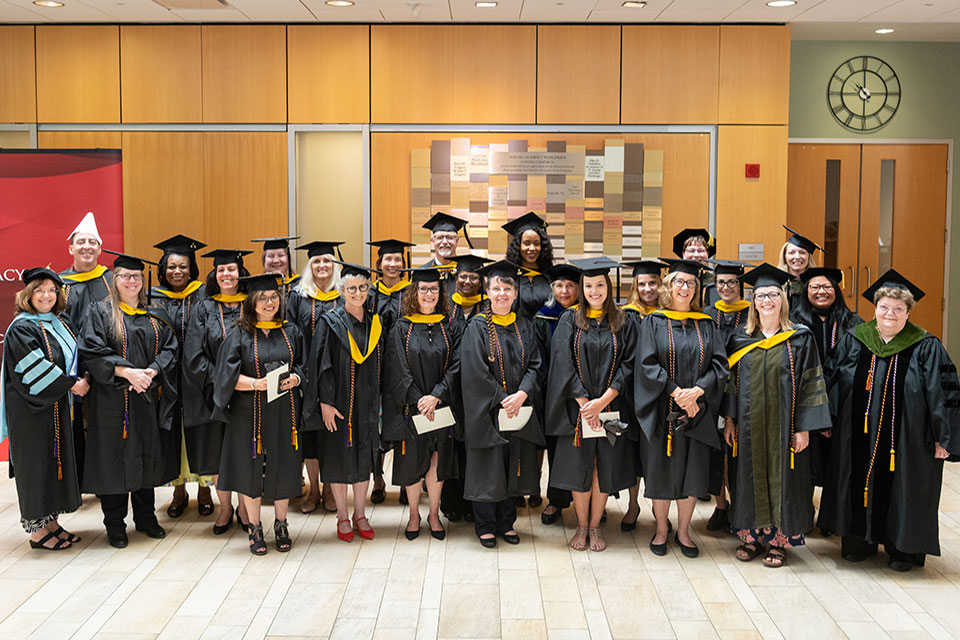 By Malissa Carroll
September 16, 2019
Faculty and staff from the University of Maryland School of Pharmacy joined family and friends on Aug. 16, to celebrate the first graduating class of the online Master of Science (MS) and Graduate Certificates in Palliative Care program. More than half of the program's 47 graduates traveled to Pharmacy Hall from across the state of Maryland and beyond to receive their master's hoods and graduate certificates during the convocation ceremony.
"I am incredibly proud and excited to host the first graduation celebration for our online MS and Graduate Certificates in Palliative Care program," said Mary Lynn McPherson, PharmD, MA, MDE, BCPS,  professor and executive director for advanced post-graduate education in palliative care in the Department of Pharmacy Practice and Science (PPS) at the School of Pharmacy. "While all of the students in our program are amazing, this first cohort holds a special place in my heart. This day truly has been a long time coming."
The ceremony began with remarks from Jill A. Morgan, PharmD, BCPS, BCPPS, professor and chair of PPS at the School of Pharmacy, and Mary Jo Bondy, DHEd, MSH, PA-C, assistant dean for graduate academic programs at the University of Maryland Graduate School, who assured graduates that they have been provided with the knowledge and skills necessary to lead the development and implementation of palliative care and hospice services at their workplaces and encouraged them to take the next step in advancing their careers.
"Earning your master's degree or graduate certificate in palliative care now positions you to make an incredible impact in your field," said Morgan. "You have been well-prepared to engage more deeply and fully in your careers – caring for your patients, developing hospice or palliative care programs, earning promotions, or specializing in a specific area within palliative care. I encourage you all to go out and take great care of your patients and the profession. Truly, there is no limit to what you can achieve."
"The University of Maryland, Baltimore is on a mission to solve real world problems," added Bondy. "Through your education and training, you are now uniquely prepared to help us fulfill this mission. With your expert understanding of the social, spiritual, and health care needs of patients dealing with chronic and end-of-life illness, you are well-equipped to guide and lead the delivery of care for this vulnerable population. The knowledge and skills that you have developed over the last two years will certainly serve you well."
The message from the class was delivered by Martha Martin, MD, MS '19, consulting psychiatrist at Montgomery Hospice. Martin emphasized how the numerous unique features of the program, including its flexible format, interdisciplinary coursework, and emphasis on student creativity, came together to foster an experience for students that not only facilitated professional learning, but also personal growth.
"We have been challenged, but it has been the best kind of challenge," said Martin. "We had the extraordinary privilege of being taught by all of the pioneers in this developing field – luminaries lighting the path for us as we join the ranks of professionals dedicating our lives to this burgeoning field. We are now all a part of something far greater than ourselves, and we too are contributing to the richness of the future."
Following Martin's remarks, graduates who completed the MS in Palliative Care received their master's hoods, while those who completed the Graduate Certificate in Palliative Care were presented with a certificate of completion. Graduates and their families joined faculty and staff from the School of Pharmacy for a fun-filled reception after the ceremony concluded.
Established in 2017, the online MS and Graduate Certificates in Palliative Care program addresses the growing need for interprofessional education across the fields of hospice and palliative care. The program is well-suited for a wide range of professionals, including physicians, pharmacists, thanatologists, nurses, advanced practice nurses, physician assistants, psychologists and counselors, social workers, chaplains, and administrators. It is designed for any professional who currently works or wishes to work in hospice and palliative care, and who wants to gain a deeper understanding of the physical, psychological, spiritual, and social needs of patients and families affected by serious illness.
"If you have a desire and passion to practice in palliative care or hospice, this program will fill the knowledge gaps that you might have and help you become a complete practitioner," says Chris Schaeffer, MS '19, RN, CHPN, ASN, BS, staff development manager and admissions nurse at Seasons Hospice & Palliative Care of Maryland. "The fact that there are physicians, nurse practitioners, nurses, pharmacists, and chaplains enrolled in the same program is absolutely incredible, because we are all able to learn from each other. It is very empowering and encouraging, and it has given me incredible confidence to be able to speak to people from all different disciplines in my day-to-day work."
View the short video below to see highlights from the convocation ceremony. To learn more about the online MS and Graduate Certificates in Palliative Care program, visit the program's website.

Related News Stories