SOP's Palliative Care Graduate Program Celebrates Convocation
Virtual ceremony honors the program's 44 graduates as they prepare to take the next step in their careers improving quality of life for patients impacts by serious illness.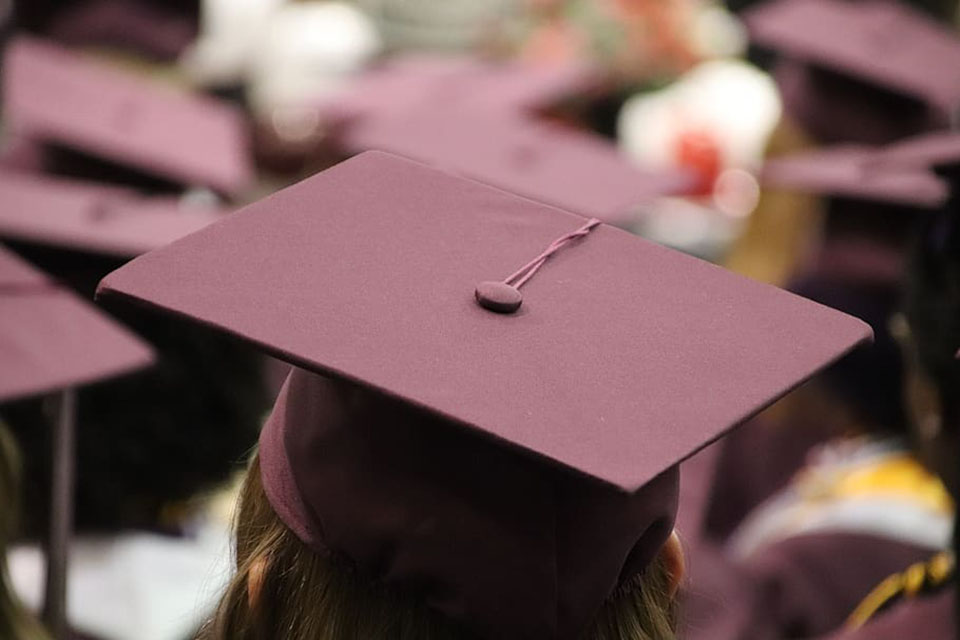 By Malissa Carroll
August 25, 2020
The online Master of Science (MS) and Graduate Certificates in Palliative Care program at the University of Maryland School of Pharmacy celebrated its second convocation on Aug. 21. To help safeguard the health of faculty, staff, graduates, and their families during the COVID-19 pandemic, the program honored the hard work and dedication of the 44 graduates of its Class of 2020 with a virtual graduation celebration and happy half-hour hosted by Mary Lynn McPherson, PharmD, MA, MDE, BCPS, professor in the Department of Pharmacy Practice and Science (PPS) and executive director for advanced post-graduate education in palliative care at the School.
"Graduation marks the culmination of all of the blood, sweat, and tears, that our students have poured into this program over the past two years," says McPherson. "I am inordinately proud of each of our graduates for all that they have accomplished. When I think about the impact that they will have in their careers, caring for people at the most vulnerable point in their lives, I get goosebumps. I thank all of them for jumping into the great unknown of this program, trusting that they would receive a quality experience."
The virtual graduation celebration kicked-off on YouTube with the premiere of a special convocation video that featured inspiring messages to the class from Natalie D. Eddington, PhD, FCP, FAAPS, dean and professor of the School of Pharmacy; Jill A. Morgan, PharmD, BCPS, BCPPS, professor and chair of PPS; Diane E. Meier, MD, FACP, FAAHPM, director of the Center to Advance Palliative Care (CAPC); and McPherson.
"When thinking about the graduates of our online MS and Graduate Certificates in Palliative Care program, several words come to mind: brave, intrepid, daring, and innovative," said Eddington. "My advice to you during this unprecedented time in the world is to continue to focus on what is important to you; to be leaders who challenge the status quo approach and contribute to the greater good; to be optimistic and use your knowledge, your skills, and your passion to drive innovation and change; to recognize all that you have to offer. Truly, there is no limit to what you can achieve."
"All of you have gone through so much to complete this program, and I know that you will go on to take great care of your patients with the new knowledge and skills that you have gained," added Morgan. "My heartfelt congratulations to each of you; go on and be great and wonderful."
The video also featured a message from graduate Layne Heller, MS '20, missionary with Voices of the World, who spoke about an experience she had with a patient who was near the end of her life during one of her missions and how that experience motivated her to pursue further study in the field of palliative care.
"That's the honor that is bestowed on us – that, in this season of life, when people are deciding what is most important and who is most important; when they are deciding how to spend their last days, weeks, or months, we are included," said Heller. "This is holy work."
Following the conclusion of the video premiere, graduates and their families joined McPherson and the program's faculty for a virtual "Happy Half-Hour," hosted on Zoom, where they reminisced about their time in the program, sharing favorite memories and thoughts about what is to come in the future as they begin to leverage the knowledge and skills gained from their coursework.
Arif Kamal, MD, associate professor of medicine and population health sciences at Duke University School of Medicine and an instructor in the online MS and Graduate Certificates in Palliative Care program, was also announced as the program's 2020 Teacher of the Year during the virtual happy half-hour.
Established in 2017, the online MS and Graduate Certificates in Palliative Care program addresses the growing need for interprofessional education across the fields of hospice and palliative care. The program is well-suited for a wide range of professionals, including physicians, pharmacists, thanatologists, nurses, advanced practice nurses, physician assistants, psychologists and counselors, social workers, chaplains, and administrators. It is designed for any professional who currently works or wishes to work in hospice and palliative care, and who wants to gain a deeper understanding of the physical, psychological, spiritual, and social needs of patients and families affected by serious illness.
To view the graduation video, visit the School of Pharmacy's YouTube channel. For more information about the program, visit the online MS and Graduate Certificates in Palliative Care website.
Related News Stories