SOP's McPherson Honored with USM Board of Regents Award
Internationally renowned pharmacy educator receives highest honor presented by University System of Maryland Board of Regents in recognition of her distinguished performance in the field of teaching.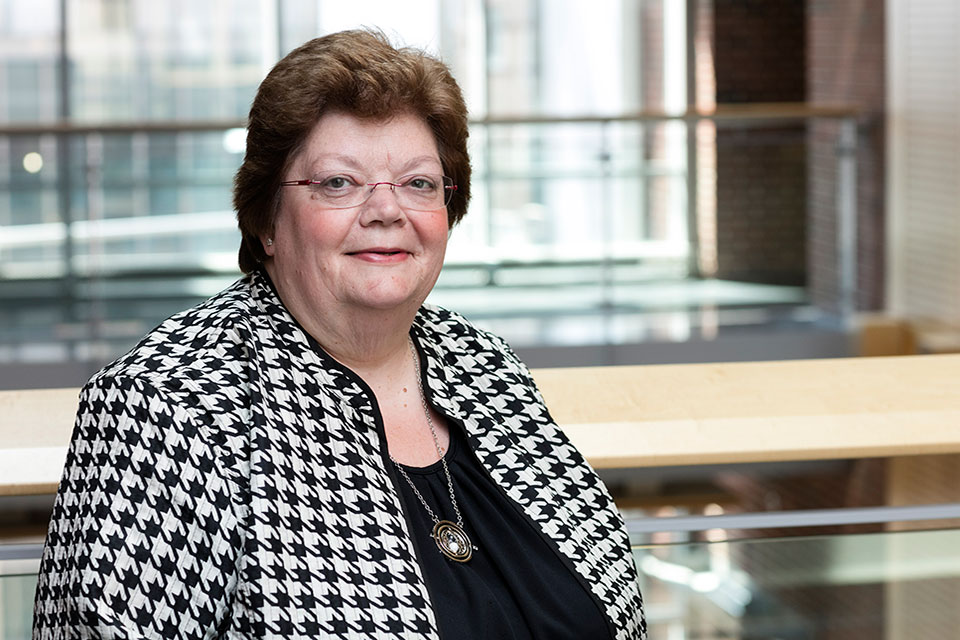 By Malissa Carroll
May 9, 2019
Mary Lynn McPherson, PharmD, MA, MDE, BCPS, CPE, professor and executive director of advanced post-graduate education in palliative care in the Department of Pharmacy Practice and Science at the University of Maryland School of Pharmacy, was named the 2019 recipient of the University System of Maryland (USM) Board of Regents Award for Excellence in Teaching. The USM Board of Regents Awards represent the highest honor presented to faculty members in recognition of exemplary performance in the fields of teaching; scholarship, research, or creative activity; public service; mentoring; and innovation.
"I must admit that I was not surprised to learn that Dr. McPherson was selected to receive this year's USM Board of Regents Award for Excellence in Teaching," says Natalie D. Eddington, PhD, FAAPS, FCP, dean and professor of the School of Pharmacy, who nominated McPherson for the award. "Dr. McPherson lives in a state of motivation. She is always looking for new ways to accelerate and enhance what she is doing – whether that's in the classroom or in her professional scholarly activity. I am incredibly proud to have her as a member of our faculty. She serves as such an important role model for all of us, and is most deserving of this prestigious honor."
An international expert in the field of palliative care and pain management, McPherson received her Doctor of Pharmacy (PharmD) from the School of Pharmacy in 1986, joining the faculty just four years later in 1990. She has maintained a practice in both hospice and ambulatory care throughout her career, while teaching extensively in the School's PharmD program on pain management and end-of-life-care.
She also established one of the first palliative care pharmacy residency programs in the United States at the School, and led efforts to develop pain management and palliative care traineeships for national professional organizations.
"I am a big believer in self-determined learning," says McPherson. "I think that students know what they need to learn better than I know what road they need to travel. Certainly, we as educators need to convey the basics to our students, but at a certain point, the students should take the wheel and pave their own path."
Continuing her work to revolutionize education in the fields of palliative care and pain management, McPherson also recently launched an online MS in Palliative Care program. The 30-credit interprofessional graduate program is designed to meet the educational needs of a wide range of professionals who currently work or wish to work in hospice and palliative care, including physicians, nurses, therapists, chaplains, and others.
"Our obligation as teachers is to create interesting and engaging active learning," says McPherson. "I want my students to be able to put what they have learned to use immediately. In my online master's program, the best compliment that I often receive is, 'I learned this on Monday night, and on Tuesday, I used it at work.'"
McPherson was one of 16 recipients – six of whom are faculty members at the University of Maryland, Baltimore (UMB) – honored with a USM Board of Regents Award during a meeting of the USM Board of Regents on April 19.
"I was delighted to be selected as this year's recipient of the USM Board of Regents Award for Excellence in Teaching," says McPherson. "It is an incredibly humbling honor to receive, because we have so many awesome teachers here at the School of Pharmacy, and certainly across the entire University System of Maryland. I thank our administration for honoring teaching effort on par with scholarship and service at our School. It's no coincidence that our graduates are among the best and brightest!"

Related News Stories