SOP Hosts Eighth Annual "America's Got Regulatory Science Talent" Competition
Team of second-year student pharmacists awarded first place in contest that aims to promote student interest in the field of regulatory science.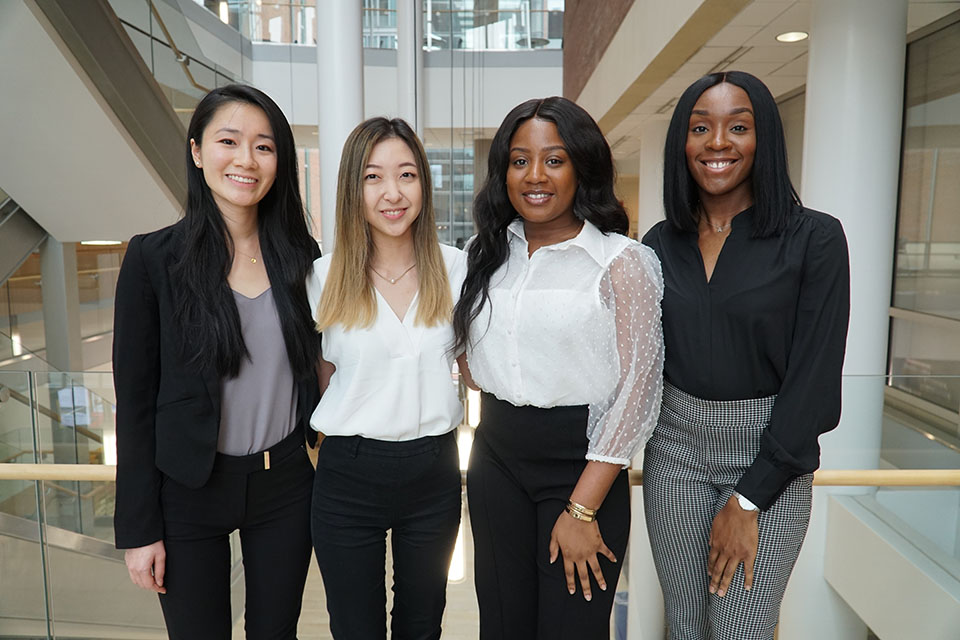 By Malissa Carroll
March 23, 2020
Second-year student pharmacists Adaeze Amaefule, Breanna Owoo, Hannah Kim, and Sydney Yuen had reason to celebrate in February, when their team was announced the winner of the eighth annual "America's Got Regulatory Science Talent" Competition. Hosted by the University of Maryland Center for Excellence in Regulatory Science and Innovation (M-CERSI), the "America's Got Regulatory Science Talent" Competition aims to promote student interest in the field of regulatory science – the science of developing new tools, standards, and approaches to assess the safety, efficacy, quality, and performance of products regulated by the U.S. Food and Drug Administration (FDA).
"Regulatory science is an area that many faculty and students in the health professions think about each day," says James Polli, PhD, the Shangraw/Noxell Endowed Chair in Industrial Pharmacy and Pharmaceutics at the University of Maryland School of Pharmacy and co-principal investigator for M-CERSI. "This competition offers students an opportunity to become more immersed in the field, examining the challenges encountered by researchers and investigating potential solutions. For me, it is always one of the highlights of the year, especially when I see how many FDA science staff took time from their busy schedules to serve as team mentors to the students."
A Solution that Benefits Patients, Providers, and Manufacturers
This year's competition featured presentations from nine teams, each of which identified a unique unmet need in the area of regulatory science. However, it was Amaefule, Owoo, Kim, and Yuen who earned first place with their proposal to develop a new mobile app known as MeDevice, which would synthesize all information currently available for the more than 4,000 medical devices tracked by the FDA into one convenient location that patients, health care providers, and device manufacturers alike could easily access.
"The FDA website already includes a great section on medical devices," says Yuen. "The problem is that there are several databases to look through, several kinds of information that you find. We wanted to synthesize all of that information into one convenient place. MeDevice takes you from the beginning of learning about a medical device, all the way to reporting an adverse event associated with your device."
MeDevice would allow users to search medical devices based on the device name, the manufacturer's name, or device barcode. Users could save a device to their profile or mark it as a "Favorite," which would allow them to quickly access the device's profile in the future to learn more about it. The app would include photos of the device, the device name, the manufacturer's name, and the device class, as well information provided by the manufacturer and how the device is used. Information about associated adverse events and recalls would also be available in the app, as would clinical trial and post-market surveillance data.
"Ultimately, we want to enhance and promote understanding of how medical devices are used," says Yuen. "With MeDevice, we are trying to take the most important parts of the FDA's existing website and format them in such a way that the consumer can easily learn more about a device and take charge of his or her health."
The team also explained that users could also report any adverse events they experienced while using a medical device through a link in the app that would direct them to the FDA's MedWatch page. "Manufacturers will find the app helpful for their post-market surveillance efforts, as they could analyze the adverse events reports submitted by consumers to more quickly determine if a recall should be issued," adds Yuen.
She continued, "Health care providers will also benefit from easy access to a wide range of information that will help them select which medical device might be most appropriate for their patients."
Innovation that Extends Beyond Medical Devices
While judges Silvana Borges, MD, associate director for regulatory science in the Office of Drug Evaluation II at the FDA, and Alemayehu (Alex) Akalu, PharmD, senior staff fellow in the Oncology Program in the Office of Hematology and Oncology Products at the FDA, awarded Amaefule, Owoo, Kim, and Yuen with first place for their innovative proposal to streamline and simplify information about medical devices, they also recognized two other teams as runners-up in the competition for their out-of-the-box thinking to address issues concerning biologics manufacturing and drug disposal.
Second-year student pharmacists Karen Nguyen, Hanna Lefebo, Amanda Dinh, Anthonia Azubike, Andrew SyBing, and Jeffrey Banaszak were recognized for their proposal to manufacture biologics on-demand in emergencies using an innovative portable manufacturing system. Another team of second-year student pharmacists that included Anyen Fon, Hang Vo, Chidiogo Eke, and Olamide Olujohungbe were celebrated for their proposal to create a mobile app that would allow users to find drop-off locations for drug disposal, as well as offer instructions about how to dispose of medications when visiting a drop-off location was not possible.
"I had the best experience attending this year's 'America's Got Regulatory Science Talent' Competition as a judge and as a first-timer," says Akalu, one of the competition's judges. "All nine teams showed great enthusiasm and dedication. Most of the teams incorporated current technologies to enhance the health care system and alleviate some of the big issues it faces. I hope to see these brilliant ideas/concepts evolve into tangible projects and reach their intended destinations."
Due to the COVID-19 (novel coronavirus) pandemic, the traditional in-person visit to the FDA for the winning teams will now held online. However, the agency plans to invite teams to its campus this fall to meet with regulatory science staff members.
Related News Stories