Annual Competition Spotlights Student Innovation in Regulatory Science
Third-year student pharmacists take the gold for their proposal to develop a transparent tracking system for emerging CAR T-cell gene therapies.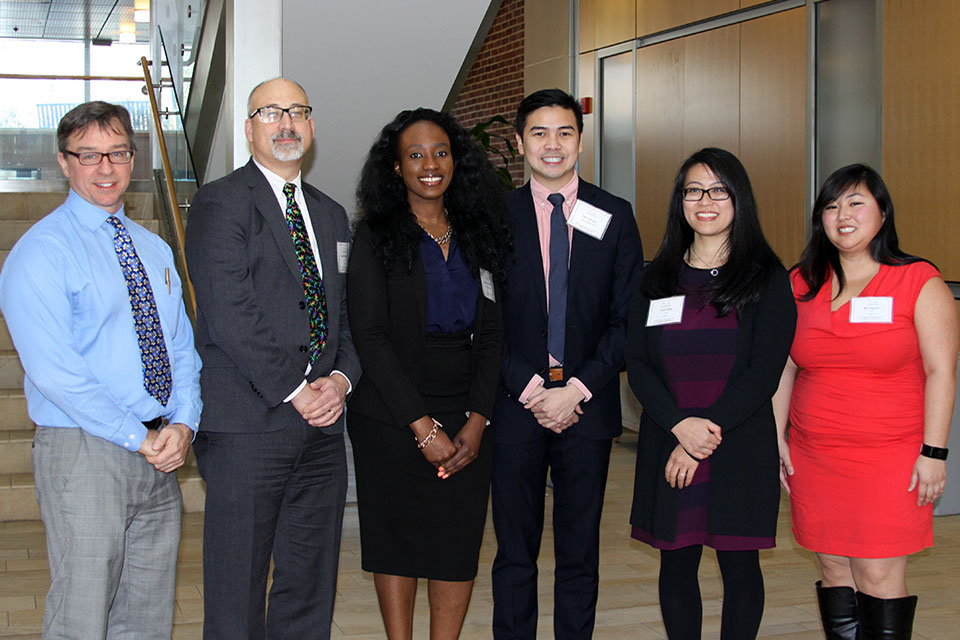 By Malissa Carroll
February 12, 2018
Although treatment options for patients diagnosed with cancer have been historically limited to surgery, radiation therapy, or chemotherapy, the emergence of new immunotherapies that leverage patients' immune systems to attack cancer cells has offered tremendous promise for individuals fighting the ultimate battle for their lives, particularly those who have not responded to or have relapsed after traditional treatments. Unfortunately, no universal tracking system currently exists to help drug manufacturers, regulatory agencies, health care systems, and patients monitor the manufacturing and post-market distribution of these products, an important concern when one considers that the safety and effectiveness of these therapies depends on quality manufacturing.
To help address this unmet need, third-year student pharmacists Nam Nguyen and Laetitia N'Dri developed a proposal for GeneTrack – a universal tracking system that could capture the manufacturing process, perform live tracking, and identify adverse events associated with each individual drug for one of the most advanced immunotherapies available today: CAR T-cell therapy. Nguyen and N'Dri presented their proposal to a panel of three judges from the Food and Drug Administration (FDA) at this year's "America's Got Regulatory Science Talent" Competition on Feb. 2, who awarded them first place for their innovation and creativity.
"Our team was honored and humbled to be selected as the winner for this year's 'America's Got Regulatory Science Talent' Competition," says Nguyen, who served as captain of the team and is currently pursuing a dual degree with the School's MS in Regulatory Science program. "My strong interest in oncology research and drug development initially influenced the idea for our project, and I am very appreciative of my teammate Laetitia, who worked collaboratively with me to help realize the idea for GeneTrack. I also thank our mentor Million A. Tegenge, PhD, pharmacology/toxicology scientist at the FDA, for his guidance and support in fostering the growth of our idea. All of the teams that participated worked so hard, and I am inspired by all of my peers at the School."
CAR T-cell therapy uses an inactive virus to genetically engineer T-cells that have been separated from a patient's blood to produce special receptors on their surface called chimeric antigen receptors (CARs). Once infused into the patient, the modified T-cells are able to recognize and kill cancer cells that harbor a specific protein on their surfaces. Only two CAR T-cell therapies have been approved by the FDA to-date, one to treat children with acute lymphoblastic leukemia and the other for adults with advanced lymphomas. Both are last line therapies used only in patients who have not experienced success with other available treatment options.
"The manufacturing process for CAR T-cell therapy is quite extensive and involves a number of complex steps," said N'Dri. "Yet, there are currently very few tools available to capture the manufacturing and post-market distribution for this therapy. There is also a concerning lack of transparency in communication between manufacturers, regulatory agencies, and health systems. The question for us was: what can we do to ensure that all stakeholders – including manufacturers, regulatory agencies, health care professionals, and patients – know with certainty that the therapy has been tracked and monitored appropriately from one site to another?"
Nguyen explained how the GeneTrack system – a publicly available tracking database – would capture the manufacturing process — including the extraction of T-cells from patients' blood and subsequent gene modification — and help to ensure the quality, safety, and efficacy of the therapy once it arrived in the hospital or clinic.
"The system would employ a simple two-step process," said Nguyen. "The first step would involve a user generating a unique gene tracking number for each therapy prior to cell extraction and gene modification. The tracking number would be linked to the therapy's packaging via a RFID chip that could be scanned at pre-determined checkpoints, allowing for live tracking and alerting if the product becomes damaged due to external circumstances, such as an unanticipated change in temperature."
He added, "For the second step, staff from the manufacturing center or health system would complete separate online forms with detailed questions about the drug development, manufacturing, and distribution process."
Nguyen and N'Dri also noted that the cornerstone of their system would be its ability to track adverse events (side effects) for each therapy through a MedWatch-integrated form.
"Because CAR T-cell therapy is an individualized therapy, each patient treated will likely experience different adverse events," said N'Dri. "However, because these therapies are new to the market, there is no system in place to collect reported adverse events. By allowing patients and health care professionals to use each therapy's unique gene tracking number to report any adverse events that they experience or witness, our GeneTrack system will establish the foundation for long-term risk-benefit studies associated with these treatments."
She concluded, "Our system will not only streamline manufacturing for CAR T-cell therapy, but also increase transparency and improve collaboration among all stakeholders in the drug development process, including manufacturers, regulatory agencies, health care professionals, and patients."
Before announcing Nguyen and N'Dri as the winners of this year's competition, judge Scott Winiecki, MD, medical officer in the Center for Drug Evaluation and Research at the FDA, took a moment to congratulate all of the teams. "Selecting the winning team for today's competition was not an easy task. All of the teams tackled incredibly complex subjects, and your hard work was reflected in the proposals that you presented. I truly appreciate the fresh, new thinking that each of you demonstrated," he said.
Four teams competed in the talent competition, with second place awarded to first-year student pharmacists Anna Dizik, Jordan Fraker, and Michelle Nguyen for their project AlesiaRx, a mobile application that would leverage diverse data and artificial intelligence to help improve medication adherence among patients.
Two additional teams of third-year student pharmacists also delivered presentations during the competition. Waleed Khan and Ghania Naeem spoke about GlycoLow – a mobile application that would help prevent complications in patients with diabetes who are at high risk for developing hypoglycemia – while My Ngo and Eric Sohn spotlighted their plan to improve inhaler technique through the use of improved illustrated and video instructions for patients.
"The 'America's Got Regulatory Science Talent' Competition is one of my favorite student events at the School of Pharmacy," says James Polli, PhD, the Shangraw/Noxell Endowed Chair in Industrial Pharmacy and Pharmaceutics at the School and co-principal investigator at the University of Maryland Center of Excellence in Regulatory Science and Innovation (M-CERSI), which sponsored the competition. "It's an event that truly pushes the envelope, taking students beyond the curriculum that we teach in the classroom and introducing them to the vital role that regulatory science plays in all that we do in drug discovery and development. I continue to be impressed by the time and dedication that our students commit to their proposals."
Individuals who are interested in pursuing a career in the field of regulatory science are encouraged to explore the Master of Science and Graduate Certificate in Regulatory Science programs offered at the School of Pharmacy.
Related News Stories