Solinsky Wins Award for Pulmonary Pharmacy Work
Paul Solinsky, a clinical staff member at the School, named Health System Pharmacist of the Year.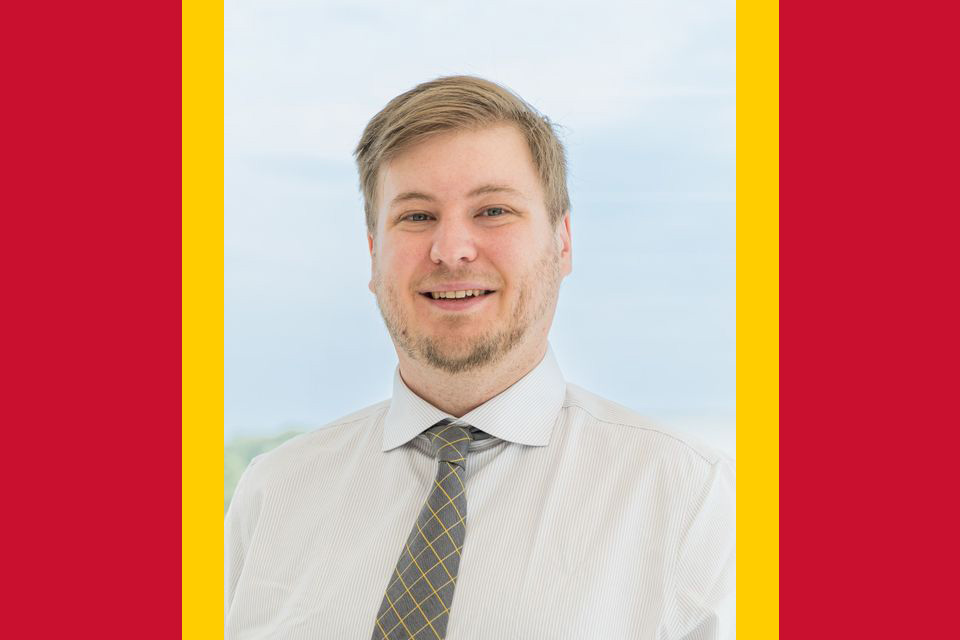 By Andrew Tie
October 4, 2023
A clinical pharmacist at the University of Maryland School of Pharmacy has received statewide recognition for his work on COPD readmission prevention.
Paul Solinsky, PharmD, an advanced practice pharmacist in the Department of Practice, Sciences, and Health Outcomes Research (P-SHOR) who works at the University of Maryland Baltimore Washington Medical Center (UM BWMC), received the Health System Pharmacist of the Year Award from the Maryland Society of Health-System Pharmacy (MSHP).
The award is presented annually to a pharmacist who has demonstrated outstanding contributions to the practice of health-system pharmacy with an impact on Maryland citizens, health-system pharmacists, or pharmacy practice within the past year.
The recognition honors Solinsky's work on an interdisciplinary team that aimed to prevent hospitalizations and readmissions from chronic obstructive pulmonary disease (COPD). UM BWMC created the Acute Interdisciplinary Response for COPD (AIR-COPD) team to better coordinate care across the inpatient and outpatient spectrum. The team, consisting of a pulmonary provider, pharmacist, and transitional nurse navigator, aimed to improve chronic medication optimization, coordinate transitions of care, and improve pharmacy access.
"This is a great honor for Dr. Solinsky and recognizes his expertise as a pulmonary pharmacist," said Jill A. Morgan, PharmD, BCPS, BCPPS, FNAP, professor and chair of P-SHOR. "Dr. Solinsky's work with COPD readmissions prevention shows the impact that pharmacists have on patient care and their role in improving medication optimization. They have found a creative way to keep patients out of the hospital, which decreases health care costs, but more importantly, helps patients live healthier lives."
Solinsky's role on the team was to ensure correct and cost-effective COPD medications were prescribed for patients seen in the hospital. Patients in the AIR-COPD program had a lower readmission rate and were able to be optimized on guideline-recommended COPD therapy.
Solinsky and the UM BWMC team were also recognized earlier this year when they won the Minogue Award for Patient Safety Innovation from the Maryland Patient Safety Center.
In addition to working with COPD, Solinsky works in other transitions of care areas. In the transitional care diuresis clinic, where patients with congestive heart failure are seen after discharge from the hospital, Solinsky helps provide intravenous diuretics, which can help prevent hospital admissions for patients with excess fluid due to their heart failure.
"It is a great honor to be awarded Maryland Health-System Pharmacist of the Year," Solinsky said. "I'd like to thank MSHP and my peers who recognized me with this award. I'd also especially like to thank the University of Maryland School of Pharmacy and BWMC for supporting my practice of pharmacy that serves patients with cardiovascular and pulmonary conditions."
Related News Stories