Shapiro Named UMB David J. Ramsay Entrepreneur of the Year
Shapiro and UMSOM's Jeffrey Hasday, MD, honored for discovery of a novel class of drugs that selectively inhibits an enzyme's role in promoting disease-causing inflammation and has been licensed to GEn1E Lifesciences.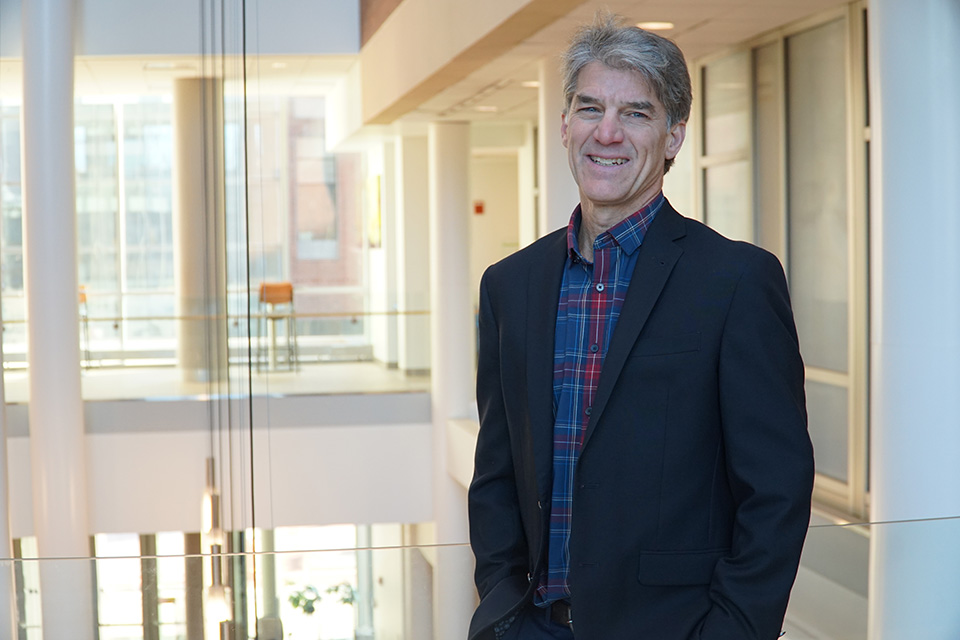 By Jen Badie
October 5, 2023
When Jeffrey Hasday, MD, invited Paul Shapiro, PhD, to the University of Maryland Inflammation Research Group (IRG) weekly seminar about 10 years ago, the resulting encounter was what Hasday calls "a Reese's Peanut Butter Cup moment" — a nod to the famous 1970s TV commercials where chocolate meets peanut butter to produce a great new taste.
In the case of Hasday and Shapiro, two great research teams met, resulting in an impactful, cross-disciplinary collaboration that aims to discover new approaches to fight inflammatory disease.
Shapiro, professor in the Department of Pharmaceutical Sciences and associate dean of research and advanced graduate studies, University of Maryland School of Pharmacy (UMSOP), was working on developing novel drugs that target a class of enzymes called kinases — specifically ERK mitogen-activated protein kinases (MAPK) that are important in cancer — that instruct cells to perform certain functions and are implicated in many diseases.
Hasday, the Dr. Herbert Berger Professor of Medicine and division head, pulmonary and critical care medicine, University of Maryland School of Medicine (UMSOM), was working on the role of a related enzyme called p38 MAPK in acute respiratory distress syndrome (ARDS), a lung disease with high mortality and few available treatments.
"We used Paul's strategy for ERK inhibitors to develop a new class of p38 inhibitors, and it seems to work," Hasday said of the collaboration, which is exactly what IRG is set up to do at UMSOM — facilitate the exchange of ideas about mechanisms of inflammation across disciplines and research laboratories to lead to new ideas.
Now, a decade later, Hasday and Shapiro are co-inventors of technology that is focused on treatments for inflammatory diseases, including ARDS, and has been licensed to GEn1E Lifesciences, a biotech company based in Silicon Valley. For their discovery, they have been recognized as the University of Maryland, Baltimore's (UMB) 2023 David J. Ramsay Entrepreneurs of the Year.
Working to develop compounds to target inflammatory processes — with funding from UM Ventures, which is UMB's tech transfer arm, and the UMB Institute for Clinical and Translational Research (ICTR) — Hasday, Shapiro, and their research team discovered a novel class of drugs that selectively inhibits the function of p38 MAPK that promotes disease-causing inflammation but preserves its beneficial functions. Previous approaches to target this enzyme had been unsuccessful because the drugs that had been developed turned off the enzyme, which blocked its beneficial effects and caused unwanted toxicity.
"Many kinases have diverse functions, some of which are involved in disease and others that are beneficial for normal cell functions," Shapiro said. "Most drugs that have been developed to block kinases in disease turn off the kinase completely, which limits their therapeutic benefits. Our drug discovery program demonstrates that it may be more beneficial to tweak the function of the kinase rather than turn it off so we can selectively eliminate the disease-causing activity and preserve the beneficial functions."
GEn1E Lifesciences purchased exclusive rights to the therapeutics, known as the p38α mitogen-activated protein kinase inhibitor program. The company hopes the therapeutics will help its efforts to combat ARDS, which kills 40 percent of the people that contract it due to excess lung inflammation and has few therapeutic options.
"Through their multidisciplinary research, Drs. Hasday and Shapiro have developed several very creative and innovative compounds," said James L. Hughes, MBA, UMB's senior vice president and chief enterprise and economic development officer. "They worked to identify potential commercial partners for their technologies and found a great partner in GEn1E Lifesciences, a biotech startup led by Dr. Ritu Lal, an alum from our School of Pharmacy. Now, several years later, this close partnership is helping move more of Drs. Hasday's and Shapiro's ideas out of the lab and into the marketplace."
Shapiro and Hasday said working with GEn1E Lifesciences has allowed their research to be put into clinical trials faster than if they had created their own startup.
"When GEn1E came around, we realized that a full-time CEO with experience in fundraising and drug regulation would give us the best chance of advancing our new drugs quickly," Hasday said. "It has certainly worked out that way as we have gone from discovery to Phase II clinical testing in six years. I believe that is much faster than if we had gone the startup company route."
Shapiro said they did not have the resources for the preclinical evaluation that is required before testing drugs in humans. "GEn1E filled that gap," he said.
Hasday and Shapiro called the financial and administrative support from ICTR and the UMB Office of Technology Transfer "critical."
"Drs. Hasday and Shapiro are great examples of entrepreneurial-minded inventors at UMB," said Phil Robilotto, DO, MBA, associate vice president for technology transfer and UMB's executive director of UM Ventures. "Early on, they saw the commercial potential of the compounds they were developing. By working closely with our technology transfer and commercialization team, they were able to take advantage of several UMB funding initiatives to advance and de-risk their technology, so we could ultimately license it to GEn1E Lifesciences."
Hasday said that because inflammation is so important to many human diseases, their drug discovery could someday be used to treat other diseases.
"The strategy that Paul and colleagues developed and we have applied to p38 MAPK is a very novel approach to drug design that can be applied to many other kinases and many other human diseases," he said. "Since we are not just turning off all functions of the kinases we target, we can tweak the structure of the drugs to fine-tune their biologic effects."
Shapiro said their team continues the research in identifying new chemical compounds that modulate kinase functions regulating inflammation in diseases.
"We are evaluating these compounds and their potential for treating other diseases with inflammatory components including asthma, muscular dystrophies, traumatic brain injury, and different types of cancer," he said.
Hasday said his group also is studying how changing body temperature can worsen or improve ARDS, and he and Shapiro found the same changes in temperature can affect p38 MAPK structure and function.
"We have shown that changing temperature between 33°C [91.4°F] and 39.5°C [103.1°F] directly causes a change in p38 MAPK structure and function. Interestingly, the changes in p38 structure occur close to the target on p38 for our novel drugs," he said, adding that UMB is the lead institution for a Department of Defense 14-site, Phase 2b clinical trial of therapeutic hypothermia in patients with ARDS, which is in the second year of a four-year enrollment period.
Hasday, who has worked at UMSOM since 1986, and Shapiro, who has worked at UMSOP since 1999, said they were surprised and grateful to be named UMB Entrepreneurs of the Year. They emphasized that their discoveries and research have been a team effort and thanked UMSOP collaborators who have been integral in the design and synthesis of the drugs, including Alex MacKerell, PhD, Grollman-Glick Professor of Pharmaceutical Sciences and director of the Computer-Aided Design Center, and Steve Fletcher, PhD, associate professor of pharmaceutical sciences.
"My own success in developing into a productive physician-scientist since joining the faculty is a testament to the supportive environment, resources, and collaborative colleagues at UMB," Hasday said.
Related News Stories