Second Annual Giving Day Rallies School of Pharmacy Community
Donations from nearly 200 faculty, staff, students, alumni, and friends raise more than $32,000 for the School.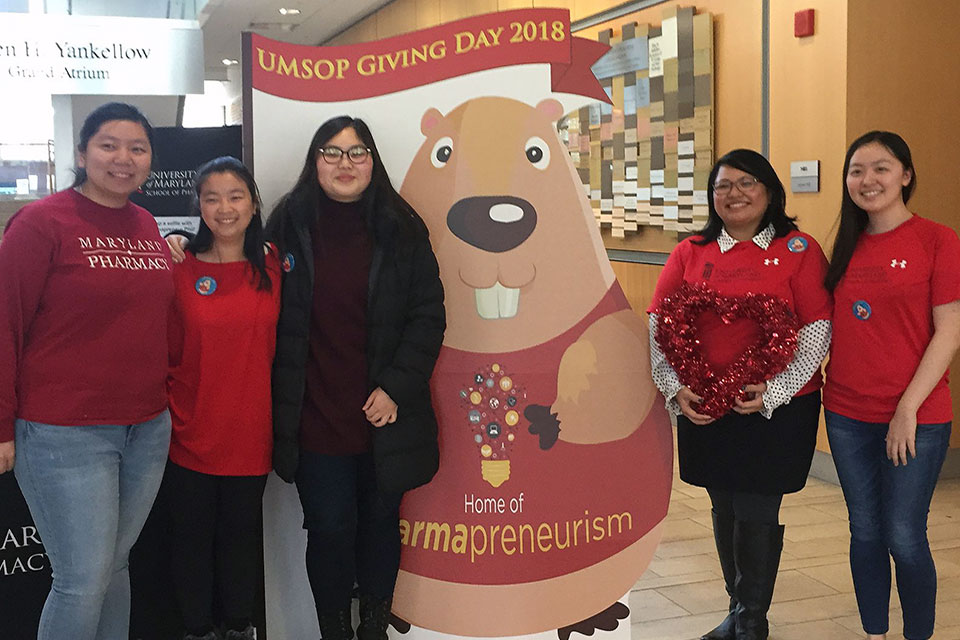 By Malissa Carroll
February 21, 2018
The University of Maryland School of Pharmacy hosted its second annual Giving Day on Feb. 2 to help generate gifts for its annual fund and three departments – the Departments of Pharmaceutical Health Services Research (PHSR), Pharmacy Practice and Science (PPS), and Pharmaceutical Sciences (PSC). The event built on the success of the School's first Giving Day — which was held in early 2017 — and raised more than $32,000 from 187 faculty, staff, students, alumni, and friends of the School.
"The impressive results from our second annual Giving Day demonstrate the remarkable strength of our community here at the School of Pharmacy," says Natalie D. Eddington, PhD '89, FCP, FAAPS, dean and professor of the School. "Our faculty, staff, students, alumni, and friends came out in full force to show their support for the School and our leading education, practice, research, and community programs. I am inspired and energized by the enthusiasm that we generated during this momentous day, and truly humbled by everyone's generosity."
In addition to direct mail solicitations, Giving Day leveraged the power of social media to bring together the School's faculty, staff, students, alumni, and friends for a 24-hour philanthropic event. Themed to coincide with Groundhog Day, the event began at 12 a.m. on Feb. 2, and concluded at 12 a.m. on Feb. 3. To help engage audiences, several challenges were held to increase the impact of the donations received, including a Faculty and Staff Giving Challenge for which Eddington — who is a 1989 alumnus of the School — pledged to donate $1,000 if 65 faculty and staff members made a gift to the School before 4 p.m. In the end, 70 faculty and staff made contributions to the School.
Adding to the contributions from faculty and staff, Giving Day generated donations from 89 alumni, 17 students, and 22 friends of the School. It raised $18,908 for the School's annual fund; $7,312 for PHSR; $3,665 for PSC; and $2,930 for PPS.
All funds raised will help support student scholarships and academic resources, as well as faculty practice and research initiatives at the School.
View the short video below for a recap of this year's Giving Day.
Related News Stories