School of Pharmacy Welcomes the Class of 2015
Students from Shady Grove and Baltimore assembled at the June New Student Welcome Day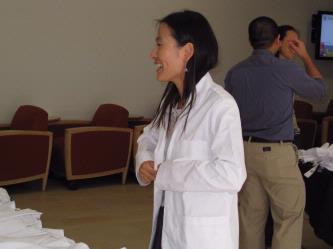 By Dana Benedetti
June 24, 2011
On June 17, more than 100 students from the PharmD Class of 2015 gathered in Pharmacy Hall to take a glance at the next four years during the School of Pharmacy's annual New Student Welcome Day. Students met their classmates, got sized for their white coats, received an overview of the fall semester curriculum, and learned about student life at the School.
JuliAna Brammer, recruitment coordinator, says the purpose of the day is to give incoming students preliminary information about entering in the fall. "They have a chance to meet each other, find potential roommates, speak with upperclassmen and student organizations, and get a feel for what to expect. It is a good overview of how to prepare for entering our program."
In his opening remarks, Richard Dalby, PhD, a professor of pharmaceutical sciences and associate dean for academic affairs, advised the class that the curriculum was going to be challenging and urged them to begin preparing themselves for adjustments in their priorities. "Your main responsibility will be to learn how to improve the health of your patients," he said.
He guaranteed the students that they will receive the very best education from their faculty, advisors, and peers. And he reminded the incoming class that they are attending a highly-established, top 10 school of pharmacy.
Eric Wong, a third-year student pharmacist and president of the School's Student Government Association, encouraged the new students to get involved in the more than 20 student organizations active at the School. Wong shared a video of this past year's student-organized activities and events, with a very important message throughout. He said, "University of Maryland School of Pharmacy students are leaders, advocates, and scholars."
All 160 members of the Class of 2015 will attend new student orientation at the School August 16-19.
Related News Stories