School of Pharmacy Students Host USM Chancellor Jay A. Perman as Part of American Pharmacists Month Festivities
Virtual chat focuses on leadership, interprofessional education, and advocacy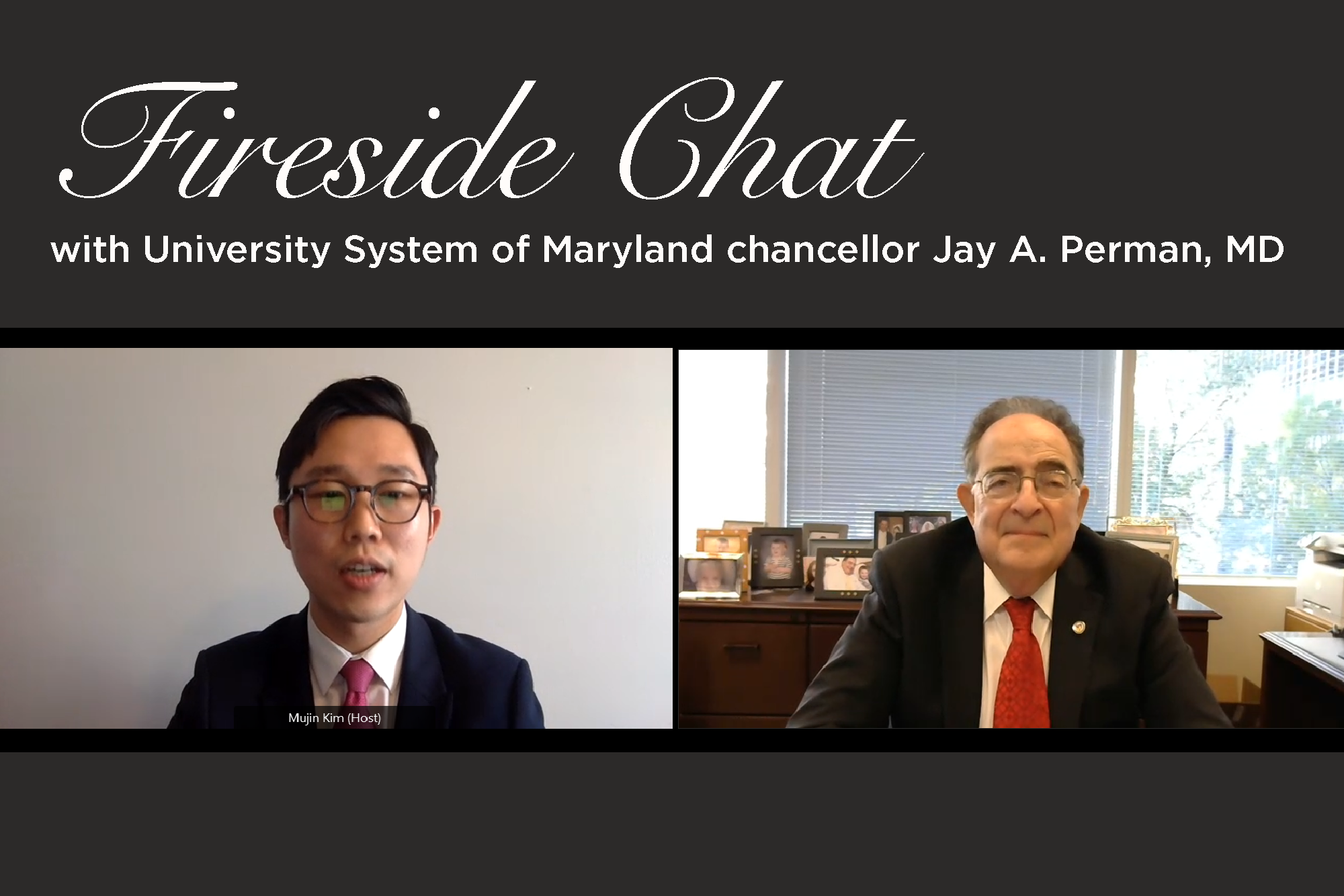 By Becky Ceraul
October 29, 2021
University System of Maryland (USM) chancellor Jay A. Perman, MD, joined more than 80 University of Maryland School of Pharmacy students, faculty, and staff on Oc. 27 for a virtual fireside chat during which Perman shared his career journey and provided words of advice on developing as a leader, the value of interprofessional education and practice, and the importance of advocacy.
Perman's chat was organized by the School of Pharmacy's Student Government Association (SGA) as part of American Pharmacists Month, a time to reflect on accomplishments, thank peers and colleagues, share stories, and spread the word about the valuable services pharmacists provide.
"The role pharmacists play in our health, our communities, and our lives has never been more crucial, more heroic, or more appreciated," said Sean Kim, a third-year student pharmacist and president of the SGA in his opening remarks. "We are excited to have Dr. Perman with us today as the finale for this very special month."
Perman became the fifth chancellor of USM in January 2020. Prior to this appointment, Perman served as president of the University of Maryland, Baltimore (UMB) for nearly a decade. A pediatric gastroenterologist, he still practices medicine once a week, teaching team-based health care to students in UMB's six professional schools.
"It's nice to be back," Perman said. "I have maintained my faculty home at UMB where I continue to see patients with students, including lots of students and faculty from the School of Pharmacy."
As chancellor, Perman is committed to advancing higher education affordability for all Maryland students. He is building on the USM's reputation for innovation, particularly in research, economic development, and community engagement. Above all, he seeks to fulfill what he sees as his most fundamental obligation: ensuring that every person in Maryland who wants a college education can access it.
Perman said that he doesn't see his role as chancellor as a deviation from health care. "What I've learned is that the social determinants of health we see as physicians, pharmacists, nurses, and dentists can be ameliorated with an education. My transition from the classical role of a physician to advocating and being passionate about higher education is still health care to me."
A native of Chicago and the only child of Eastern Europe immigrants, Perman received his Doctor of Medicine degree—with distinction—from Northwestern University. After his residency in pediatrics at Northwestern's Children's Memorial Hospital, he completed a fellowship in pediatric gastroenterology at Harvard Medical School and the Children's Hospital Medical Center in Boston.
In addition to UMB, Perman has held faculty and leadership positions at UCSF, Johns Hopkins University, Virginia Commonwealth University, and the University of Kentucky.
"Students always ask me if I knew I wanted to be a medical school dean and president of a university," he said. "The answer each time is of course not. So how does that happen? Leadership."
Perman recalled being content with patient care and research as a division head at Hopkins, but he found that supporting and helping junior colleagues succeed in their careers was particularly rewarding. "Those moments made my day," he recalled. "That's when I knew I wanted to be in a position to create a platform where others can succeed. My greatest satisfaction is being 'other-directed' and seeing other's success."
Addressing many of the inequities and determinants of health depend on interprofessonal care, a hallmark of Perman's pediatric gastroenterology clinic and his tenure as UMB's president. "If we are caring for people with chronic conditions who are affected by social determinants of health, you need a health care team," he said. "As president of UMB, I saw the richness of our schools and knew we needed to learn together.
Perman related his experience with one of UMB's first interprofessional education days, when hundreds of students from across campus come together for simulations with standardized patients. "At the end of the day, when we regrouped, I asked them what they had learned," he recalled. "The first response was from a graduate student in nursing who said she learned that the pharmacy students know everything."
Kim asked Perman his thoughts on the future of pharmacy. "Dispelling the myths and stereotypes associated with pharmacy," he said. "Pharmacists are in a position to be medical entrepreneurs, not just concerning drug development, but also regarding approaches and delivery of care."
Perman concluded the session with advice to students – be a good listener, make hard decisions, live up to your professional responsibilities, study hard, and do what you love and you'll never burn out.
Related News Stories