School of Pharmacy Launches New, Online Graduate Program in Palliative Care
Interprofessional program will provide students with the knowledge and skills needed to help improve the quality of life for patients and their families facing a serious illness.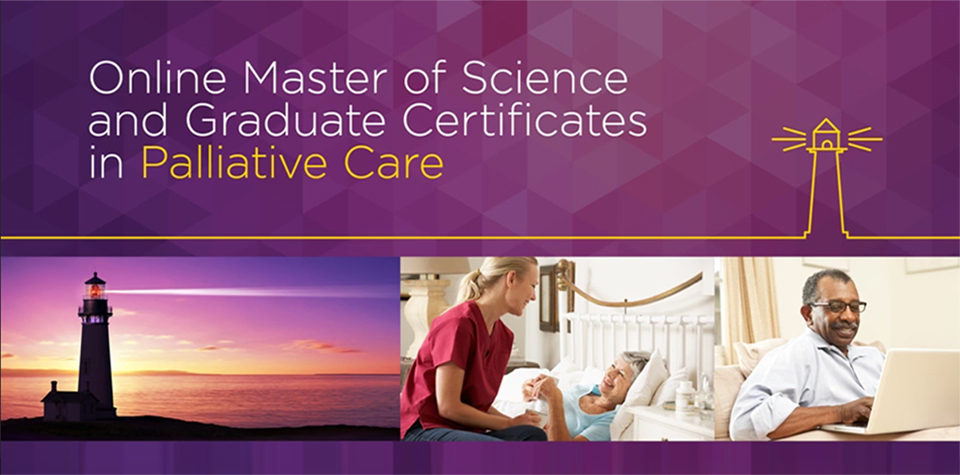 By Malissa Carroll
March 27, 2017
To meet the growing need for interprofessional education in hospice and palliative care, the University of Maryland School of Pharmacy has launched a new, online graduate program in palliative care. Directed by Mary Lynn McPherson, PharmD, MA, MDE, BCPS, CPE, professor in the Department of Pharmacy Practice and Science (PPS) and executive director for advanced post-graduate education in palliative care at the School, the online Master of Science (MS) and Graduate Certificate in Palliative Care program is an interprofessional program designed for all palliative care practitioners, including physicians, pharmacists, nurses and advanced practice nurses, physician assistants, therapists, psychologists and counselors, administrators, social workers, chaplains, thanatologists, and bereavement and volunteer specialists.
"In the field of palliative care, health care professionals practice as a team, so it makes perfect sense for the practitioners enrolled in our program to learn as a team," says McPherson, an internationally recognized leader in the field. "One of the most important priorities for our program is fostering an interprofessional, team-based approach to caring for an incredibly vulnerable population – individuals and their families who are facing a serious illness. In fact, each course in our program is taught by two or more faculty members from different disciplines to better model interprofessional practice for our learners."
The term palliative care refers to the specialized care often offered to patients and their families who are facing a serious illness. Palliative care aims to improve the quality of life for these individuals and their families through the prevention and relief of physical, psychosocial, and spiritual problems. Palliative care services are rapidly expanding in both hospitals and communities across the nation in response to the increasing number of individuals living with serious and chronic illnesses.
"We know that knowledgeable and well-trained palliative care clinicians can greatly improve the quality of life for patients and caregivers, as well as reduce the cost of care," says Eduardo Bruera, MD, FAAHPM, chair of the Department of Palliative Care and Rehabilitation Medicine at the University of Texas MD Anderson Cancer Center, and one of McPherson's colleagues in the field. "At this time, there is an increased demand for palliative care clinicians, but an insufficient number of individuals with the proper training to meet this need. The MS and Graduate Certificate in Palliative Care program has been designed and developed by a world class leader in the field, and comes at the right time to fill this gap in patient care in the United States."
Students who enroll in the MS and Graduate Certificate in Palliative Care program can choose to earn a graduate certificate in palliative care or complete the full program to receive the master's degree. All learners must complete four required courses in the first two semesters. Each course is eight weeks long, and together culminate in the awarding of a Graduate Certificate in Principles and Practice of Hospice and Palliative Care. Upon completion of the certificate, students can choose to pursue the master's degree offered through the program by completing an additional four elective courses, as well as two more required courses. The elective courses can be completed in a specific track, including clinical, administrative and leadership, psychosocial and spiritual, or thanatology.
"After an extensive search for a post-graduate palliative care program that offered both a flexible and learner-friendly approach to the field, I found the MS and Graduate Certificate in Palliative Care program and am confident that it will address all of my needs as a palliative care practitioner," says Neive George, a chaplain with Community Hospital in Cocorite, Port of Spain, and one of the more than 20 members of the program's inaugural class. "This program provides cutting-edge, interprofessional instruction through a rich, patient-centered academic experience. Its comprehensive curriculum is well rounded and puts the patient's humanity and dignity first."
"Throughout my two-decade career as a registered nurse, I have learned that patients' palliative care needs far exceed the relief of physical symptoms, and often encompass emotional and legal issues, issues of faith and relationships, and grieving and mourning," adds student Jason Ware, RN, physician relations manager at Montgomery Hospice. "I enrolled in the MS and Graduate Certificate in Palliative Care program to hone the knowledge and skills necessary to help relieve the symptoms and stressors born from serious illnesses that occur throughout patients' lifespans. I appreciate the program's flexible design, online platform, and access to faculty experts, and am confident that the lessons I learn will be invaluable in my professional development."
The next deadline for admissions for the MS and Graduate Certificate in Palliative Care program is June 30, with classes beginning in Fall 2017. To apply online, attend a virtual open house, or learn more, please visit the program's website.
Related News Stories