Resilient PharmD Class of 2023 Celebrates Graduation
Natalie Eddington presides over final graduation as dean.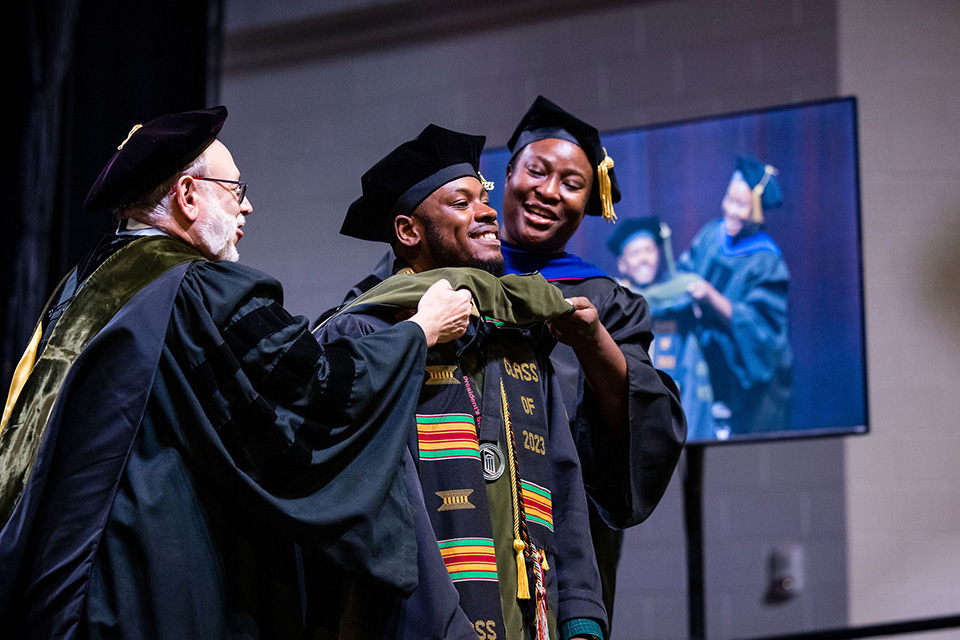 By Andrew Tie
May 19, 2023
The University of Maryland School of Pharmacy (UMSOP) celebrated 104 graduating Doctor of Pharmacy (PharmD) students at Chesapeake Employers Insurance Arena at the University of Maryland, Baltimore County on May 19.
The PharmD Class of 2023 experienced, accomplished, and persevered through enormous challenges during their four years in pharmacy school. They unexpectedly pivoted to all virtual school in March 2020 – the spring semester of their first year – when the COVID-19 pandemic began, and many served on the front lines of the country's mass vaccination efforts in 2021, gaining real world public health experience. A handful augmented their PharmD studies through pathway curricula or dual degrees in law, business, and regulatory science. And many others participated in student organizations, research, and community pharmacy work or got married and started families.
This class is also notable as the final graduating class under the leadership of Natalie D. Eddington, PhD, FCP, FAAPS, dean and professor of the School, who is stepping down at the end of May after 15 years as dean.
"I want you all to know how joyous and fulfilling the last 15 years as dean have been for me. It has been the pinnacle of my professional career to lead this amazing and historic institution, which is also my alma mater," Eddington said. "I look forward to continuing to cheer on our students in their journeys through our programs, celebrating your achievements, and sitting in the audience as a faculty member at future graduation ceremonies."
Farrakhan Speaks to the Class Once More
The PharmD Class of 2023 chose Tecoya Farrakhan, PharmD '02, MBA, MS '21, CHC, co-founder of the health and wellness transformation advisory and education company, Rootimentary Wellness, to serve as the keynote speaker. It was a full circle moment for the students and Farrakhan, who was the class's White Coat Ceremony speaker in September 2019.
As in 2019, Farrakhan spoke about connection and networking but now with four years of experiences for both her and the graduates to draw upon. Since then, Farrakhan's career has evolved, as she was part of the first graduating class of the MS in Medical Cannabis Science and Therapeutics program in 2021 and changed professional roles.
Using her own career to exemplify the importance of networking, Farrakhan said seven of the nine professional roles she's had have been a direct result of connecting with people in her network.
"Simply talk to those you're connected to," Farrakhan said. "Those you've found that align with you, your mission, your ethics – all of these will be broadened beyond your imagination once you start to engage with others."
Graduates Reflect on their Journey
Jenoy Merchant, PharmD '23, class president, said he was overwhelmed and amazed to experience graduation. A native Jamaican, Merchant said his accomplishment represents more than just himself, but it also symbolizes a success for his family and home community.
"I'm truly ecstatic, I'm happy, and I am a little overwhelmed, but I know all my hard work and dedication has brought me to this point, and it's really amazing that I could bring that to fruition," Merchant said.
In the coming months, Merchant will begin a pharmaceutical industry residency and fellowship that entails a residency in the first year and then a fellowship in the second year with Bristol Myers Squibb in New Jersey.
Chantiel Awkard, PharmD '23, described the moment as surreal following the ceremony.
"I'm really excited for myself and my classmates," Awkard said. "I'm also a little sad because some of my classmates are moving, but I'm thankful for the opportunity to attend UMSOP, for the amazing faculty, and meeting so many new friends and essentially family."
Awkard will soon begin a position with Safeway in Maryland.
To view more photos and video from this momentous occasion, please visit the School of Pharmacy's Facebook, Instagram, and Flickr pages.
PharmD Class of 2023 Awards and Prizes:
Preceptors of the Year: Emily Seidl, PharmD, BCPS; Nephthalee Edmond Tefera, PharmD, BCPS; Maika Patino, PharmD, BCACP, CDCES, TTS; Fengtian Xue, PhD
Class of 2023 Teacher of the Year: Zachary Noel, PharmD, BCCP
Andrew G. DuMez Award for Superior Proficiency in Pharmacy: Chelsey Ali
Terry Paul Crovo Award in Pharmacy Practice for Performance and Promise to Uphold the Highest Standards of the Profession: Esther Opeyemi Famurewa, Carla Michelle Quinones Jurgensen, Delaney McGuirt
Lambda Kappa Sigma, Epsilon Alumnae Chapter-Cole Award for Proficiency in Pharmacy Administration: Alexandria Gayle Howell
William Simon Memorial Prize for Superior Work in the Field of Medicinal Chemistry, Practical and Analytical Chemistry: Lucia Hwang
Wagner Pharmaceutical Jurisprudence Prize for Meritorious Academic Achievement in Pharmaceutical Jurisprudence: Arissa Falat
John F. Wannenwetsch Memorial Prize for Exceptional Performance and Promise in the Practice of Community Pharmacy: Matthew William Benjamin
Conrad L. Wich Prize for Exceptional Work in Medicinal Chemistry and Pharmacognosy: Negar Hamidi
L.S. Williams Practical Pharmacy Prize to the Student Having the Highest General Average in Basic and Applied Pharmaceutics: Chelsey Ali
Academic Excellence Award: Ameha Seleshi Aynalem, Arissa Falat, Delaney McGuirt, Kyle Wesselman
Maryland Pharmaceutical Society Award: Jaden Cory Todd
Maryland Society of Health-System Pharmacy Award: Jaden Cory Todd
Maryland Pharmacists Association Award: Sung Jin Jeong
Maryland-ASCP Award: Eric Tao
Alfred Abramson Entrepreneurship Award: Alexandra Wilson
Viatris Excellence in Pharmacy Award: Celeste Chung
Leadership Awards: Chantiel Lia Awkard, Sean Mujin Kim, Amie Lette, Delaney McGuirt, Linfah McQueen, Jenoy Asseam Merchant, Ashlyn Grace Narins, Pushti Tushar Shah, Amanda Elizabeth Summers, Charlene Rudo Tugwete
Related News Stories